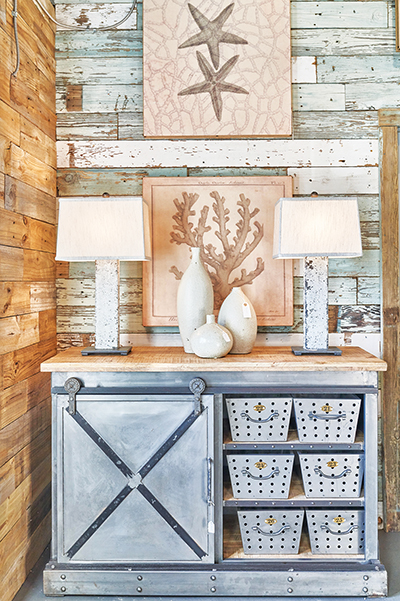 Tactile, is the first thought that comes to mind when visiting the Maison 30A's furniture showrooms on Panama City Beach Parkway.
From the cool, smooth edge of the industrial chic cement dining tables, to the rugged, hewn feel of the hand carved teak sculptures and occasional tables, everything at Maison 30A is intended to be touched, seen and experienced.
Indeed, as soon as you enter it is clear that owner and designer, Chris Bailey deliberately seeks to evoke the senses and stimulate the eye. In the interior showroom, a lit candle lingers subtly in the background, the walls are covered in part by soft pastel shades of recycled wood, once strewn aside by Hurricane Michael, contrasting starkly with opposing walls finished in rugged corrugated iron. Wood samples and color swatches are set out in an alluring display on the table, all setting the tone for a memorable shopping experience.
With success has come growth, and what was once a warehouse is now a spacious extension of their interior showroom, featuring on-trend French Bistro chairs, intriguing geometric side tables and an abundance of furnishings in all manner of colors, shapes and creativity.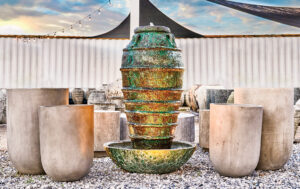 This is not a shopping experience to be rushed. Maison 30A is both dog and people friendly, and visitors are encouraged to slow down and linger over the many, many furnishings ideas on display. In addition to Chris' signature industrial line of large, heavy furniture, there are numerous, much smaller accent pieces interspersed among the furniture. All intended to give you a perspective on how individual pieces might fit into your own home.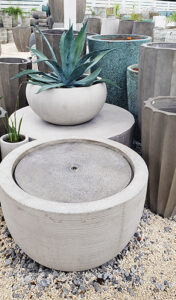 Outside there is an equally large space featuring pots and planters from around the world. So many pots and planters! From gleaming, glazed Mediterranean style pots in bold colors, to their much sought-after collection of subtle, neutral-toned pots and water fountains. All in sizes large and small and everything in between.
Not sure exactly what you want or don't see exactly what you want? No problem, Daniel is always on-hand to gently guide you through your selection, and private appointments with Chris are suggested if you are in the building and design process, or seeking to undertake a major remodel.
Large or small, statement piece or delicate accent, you are sure to find a memorable treasure at Maison 30A.
Conveniently located on 98 near the junction with Highway 79, Maison 30A offers ample parking and is open daily Tuesday through Saturday, 10 a.m. to 6 p.m.
The post Furnishings with Flair appeared first on South Walton Life | 30A News, Events and Community Information.