At Kwiker Liquor they know that the key to having a great selection of Fine Wines, is knowing a great selection of Vintners and Winemakers. And they take pride in cultivating these relationships to bring the very best to their customers on the Beach and beyond. This month we will explore California wines with Consulting Winemaker, Julien Fayard.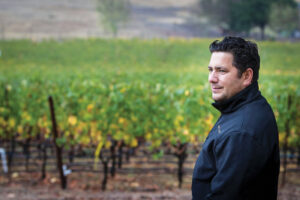 In the American wine business—especially in its leading regions like Napa and Sonoma—consumers are becoming more savvy and discerning in their taste and purchase decisions. There is a new evolution of palates looking for fresher, less-manipulated wines; Napa winemaker Julien Fayard calls it "American wine with old-world restraint."
One of Fayard's brands, Nicholson Jones, captures what today's wine drinkers are seeking from the bottle: better balance and increased ageability. The brand, which originated in 2003, is owned by part-time Naples, Fla. residents Cal Nicholson and his wife Pam Jones who brought Fayard on board as winemaker in 2006. At the time, Fayard had been working as Philippe Melka's Director of Winemaking, and Nicholson was the first vintner to recruit him to save their 2005 vintage. He did, and Fayard has been the winemaker for Nicholson Jones ever since.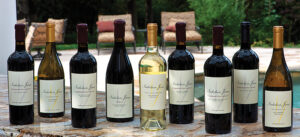 Throughout the past 15 years, Nicholson Jones has evolved to become a true collaboration between vintner and winemaker. Nicholson and Fayard share a common vision to produce California-style wines with a traditional French accent, shining a light on unique, small vineyards in Napa Valley's most famed AVAs. The result is a diverse portfolio of terroir-driven, single-vineyard wines and blends.
"Napa has an incredibly wide array of soils. What is good for us as winemakers and for those who enjoy the wines is that there are so many expressions due to that soil variance and undiscovered expressions still waiting to be revealed," said Fayard.
For Fayard and Nicholson Jones, terroir-driven wines are defined by respecting the vines. Fayard believes that it is his job to bring out the specific characteristics and personality of each site. He doesn't have a set equation for any wine. He is in the vineyards daily, tasting the fruit around harvest, deciding when they pick based on each specific site. He will go to the vineyard, look at what is happening in a given row with the soil, the vines and the fruit. That holistic approach of keeping in mind all aspects of nature that provides us this fruit is what sets great wine apart from good wine.
"We make wine naturally, not artificially. The winemaking process has the least impact on the fruit, the vineyard dominates," said Fayard. "It's finding the balance between farming and winemaking that gives you certain flavors that are consistent over time and shine through the vintages. You can credit it to the terroir."
Take the Sugarloaf Vineyard, located in the very south part of Napa Valley between Coombsville and Carneros, for instance. Nicholson Jones sources Cabernet Sauvignon and Syrah from this site for a single-vineyard, single-varietal Cabernet Sauvignon and the Proprietary Cuvee. The vineyard sits on a volcanic rocky bench, in a cooler climate widely influenced by the bay. The vineyard is positioned high on the hills guarding the entrance to Coombsville. In general this vineyard has long hang time and very low yields. Standing in this beautiful vineyard, one can see the most northern part of the San Francisco Bay. Fayard and Nicholson like this terroir because it creates fresh acidity, a balanced wine with elegance and finesse that is a distinguishing factor in both wines.
"With great vineyards you can make beautiful wines, but having the presence and involvement of the owners is what truly makes the difference for us," said Fayard. "Wine has a soul. It is a people business, especially for us. I thrive on producing value with high quality and new areas that are still to be explored."
The post Wine of the Month: California Wines appeared first on South Walton Life | 30A News, Events and Community Information.