Passion. Purpose. Painting.
By Lori Leath Smith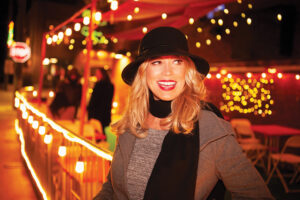 "I have always loved art, music and nature, especially the beach; they've served as relaxing "escapes" for me," says budding artist Sherri Springer. "As a child, composing at the piano seemed to ease any anxieties of mine, and creating or "doing my own thing" was a natural tendency."
Sherri painted her first landscapes a few years ago. But when her mom was diagnosed with end-stage cancer recently, painting took a whole new meaning. As she and her sister were caretaking for their mom, Sherri found herself painting more and noticed her mind focused on another place—blank and calm. "This was especially good for someone like me and helped me cope with the reality before me," says Sherri. "I truly believe God's hand was in it, as part of a preparation for me that Mom was going to be leaving us in the earthly sense."
Sherri and her mom shared this special interest together; her mom also painted and was a very talented oil artist for most of her life. Sherri says her mom was extremely happy about her discovering this art outlet and fostering it more deeply. "It became a passion of mine, and she got to witness it! We had many great moments this past year with me asking her for feedback and guidance on certain pieces, and that bond brought us much joy. It was clear this was to be a real purpose in my life going forward." Sherri feels part of the depth and talent that she portrays in her artwork is, in a sense, her mom's legacy as well.
Originally hailing from Montgomery Ala., and growing up vacationing in Panama City Beach, Sherri has now become a local, saying she finds a calm connection with the emerald green Gulf and the sugary sands after having worked in an office environment for 20 years.
Her favorite type of painting is simply experimenting and creating colorful abstracts out of the blue! However, she also paints quite a variety of subjects and colors. "I suppose this might be a reflection of who I am as well— diverse, maybe a little hard to peg; passionate, whimsical, fun, and free spirited, but also quite detailed, serious and focused."
And, Sherri has certainly engrained herself in our piece of paradise. Her art is displayed locally in five places along 30A, including a permanent spot as part of the "Grayt Wall of Art" across from the recently rebuilt and opened Red Bar, at Emerald Coast Theatre Co. at Grand Boulevard and at Little Village in Panama City. Among her many accomplishments are being the featured Artist for the Cancer Wellness Foundation of Central Alabama's 2020 Holidays of Hope with an original work of art that is offered in a limited-edition print and a holiday greeting card. And she was discovered on Instagram by Hansford and Sons Fine Art (London) and asked to join their Emerging Artist Platform.
To see more of Sherri's art, visit Insta @paintingsbysls and her FB page: paintingsbysls/.
"It is my hope to bring insight, light, warmth and joy to people through my story, as well as my art. Passion. Purpose. Painting."
The post Meet Local Artist Sherri Springer appeared first on South Walton Life | 30A News, Events and Community Information.
South Walton Life | 30A News, Events and Community Information South Walton Life | 30A News, Events and Community Information READ MORE