By Cali Hlavac, To Do in Destin
Last year at this time, as it began to get cooler, we noticed different species of fish migrate into our Gulf waters – specifically Flounder and Sheepshead. That's good for us since the cooler weather means the fish will school up in one area, making them easier to catch once you track them down.
"Flounder and Sheepshead are two popular winter/spring fish that anglers target in this area," says Captain Lionel James of Lion's Tale Adventures Fishing Charter. "Flounder will start to school up in October as they prepare to migrate during winter with the cooler water," he says, "typically heading out into the nearshore Gulf areas." This move allows them to settle on natural and artificial reefs to spawn at this time.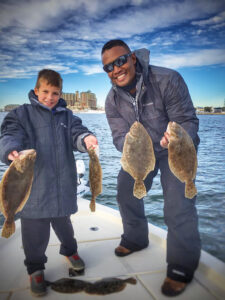 Find Flounder burrowing along the bottom, waiting for their prey. One of the best things about targeting Flounder is that they will come back for your bait if you miss the bite, making them easy to catch. Typically, they're found around 200 yards off the beach, in depths of 20 to 60 feet.
Sheepshead actually become more active with the colder water and are usually found hanging near structures like jetties and bridges, where oysters and barnacles grow. "Sheepshead can be a little trickier to catch," Captain James says. "They like to steal your bait and leave the hook exposed. So, you've really got to feel for that subtle bite. Once you hook them though, they're quite a fight!"
Both these fish are abundant. So, the season is open year-round for these species. The limit per angler is 10 flounder per day, and 15 sheepshead per day. Many anglers will tell you they love catching these fish and bringing them home for dinner. Both species are considered prime seafood, with a delicious white meat that's never oily or "fishy" in taste. Before it gets too cold, we recommend getting out and hitting the waters to stock up while they're easy to find!
The post Winter Fishing? Try Flounder and Sheepshead appeared first on South Walton Life | 30A News, Events and Community Information.