By Deborah Carloni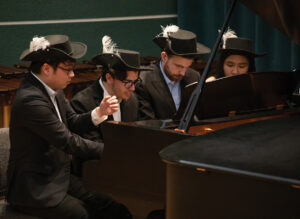 Ludwig Van Beethoven said, "Music can change the world!" And the Emerald Coast Music Alliance (ECMA) was formed to do just that locally—not for the entire world, but for our small piece of paradise. ECMA was founded in 2017 by Israeli-born classical pianist, Artistic Director Alon Goldstein who describes performing for children and adults who might not normally have access to classical music concerts, as "life changing and transformative," and they're bringing it on!
Alon is a passionate advocate for classical music education and is devoted to sharing the beauty of classical music to under-served communities. Since becoming a U.S. citizen, he's had this vision. Perhaps that's what drives his passion for the mission of ECMA, calling it "bringing Carnegie Hall to the people." He makes his performances an interactive experience for children and adults, weaving in stories or asking kids questions, captivating them not only with his music, but also his welcoming interaction. In turn, he hopes some are impacted to develop an appreciation for classical music as well.
Alon could probably have chosen a zillion other places to pursue this passion, but he chose Northwest Florida to form the ECMA and we are the ones that benefit. Alon is one of the most original and sensitive artists of his generation, admired for his musical intelligence and dynamic personality. His artistic vision and innovative programming have made him a favorite with audiences and critics alike throughout the United States, Europe and Israel. Since his orchestral debut at age 18 with the Israel Philharmonic, Alon has since performed with the Los Angeles Philharmonic; Philadelphia Orchestra; the San Francisco, Baltimore, St. Louis, Houston, Vancouver, Kansas City, Indianapolis and North Carolina symphonies; and orchestras on tour in Paris, Mexico, Russia, Romania and Bulgaria.
The ECMA works in partnership with the Northwest Florida Symphony Orchestra and relies solely on donations to fund its efforts. Through these funds, ECMA has been able to schedule a week in January each year since its creation, to invite renowned classical musicians from throughout the world to perform in Northwest Florida, FREE of charge, for local schools, senior centers, assisted living facilities and organizations serving special needs populations. Guest musicians have come from Israel, Italy, Belarus, Korea, China and the U.S. In addition to Alon's performances on the piano at each festival, the 2019 festival featured guest musicians Amit Peled and the Peabody Cello Group of Johns Hopkins University. The 2020 Festival featured guest musicians and the winners of the 2016 and 2018 Concert Artists Guild International Competition; Jiji (Guitarist) and Mitya Nilov (Percussionist) respectively.
Since 2017, the ECMA Festivals have grown exponentially from five performances in the first year, to 46 performances by 12 musicians in 2020.
The 2021 Festival planning is currently underway, tentatively scheduled for January 9-29, 2021. Although Covid-19 concerns will prevent live performances in most venues, ECMA is committed to presenting concert performances via streaming video and other technologies such as Zoom featuring live question and answer sessions for students. Guest musicians will be announced soon on emeraldcoastmusic.org.
You can donate any amount to support ECMA's ongoing mission at emeraldcoastmusic.org/donate. Sponsorships are also available for a specific concert venue. All donations are tax deductible. Please visit emeraldcoastmusic.org or contact via email at info@emeraldcoastmusic.org.
The post ECMA Brings Classical Music to Northwest Florida appeared first on South Walton Life | 30A News, Events and Community Information.
South Walton Life | 30A News, Events and Community Information South Walton Life | 30A News, Events and Community Information READ MORE