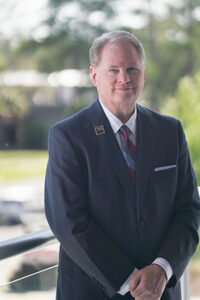 Now more than ever, I am grateful for our community, who have funded, volunteered, celebrated and advocated for us throughout the years. Your unwavering support throughout this time of great uncertainty has helped Northwest Florida State College thrive. This year, we are overwhelmed and humbled by the community's response to assist our students through the College's Student Emergency Fund and major scholarship endowment donations.
We are fortunate to live in such a generous community with deep roots in patriotism and loyalty. Let us all pause in gratitude for the men and women who have served to protect our great nation. I am thankful for the sights and sounds of freedom that can regularly be seen and felt outside my home and office windows. I am proud that we are doing our part to serve our active duty service members, veterans, and their family members at our one-stop Veterans Success Center (VSC) by offering a tranquil, professional and respectful space, where veterans and their family members can study or pursue other scholastic assignments.
Above all, I am thankful for the overall health and wellbeing of our College community. I am humbled by the resiliency and resolve of our College administration, faculty and staff. This year, specifically, I have witnessed great efforts to transform long-practiced teaching methods and operational processes to better serve our students and personnel.
As we prepare for the holiday season, I find myself reflecting on a number of good things that came from a year that was filled not only with unprecedented challenges, but one that also generated extraordinary opportunities. Our College has received over $18 million in grant funding in the past year, which will continue to transform our career education offerings and positively impact the quality of place in both Okaloosa and Walton Counties. Most recently, U.S. News & World Report ranked Northwest Florida State College #1 among all southern region colleges for the least amount of student loan debt realized by our graduates, and ranked 4th nationally among all regional colleges. This is an honor and a testament to our affordable first-class education and the work of our team.
Northwest Florida State College is a member of the Southern Association of Colleges and Schools Commission on Colleges (SACSCOC) Reaffirmation of Accreditation Class of 2020. We successfully completed our decennial review in mid-October and submitted our five-year Quality Enhancement Plan (QEP): Engage NWFSC. The reaffirmation process was a college-wide effort that guarantees our accreditation for the next ten years and affirms our mission to improve lives by providing high-quality, globally competitive education. Through our QEP, we pledge to become a more present, visible and active partner in our students' path toward academic and career success.
It is my sincere wish that you experience a joyous holiday season with your loved ones. The year 2020 has stretched us, challenged us and forced us to adapt. Never lose sight of the goodness around you. Together we will Make a Difference and continue to advance as we have for 56 years. We are in the prime of life as an organization, and we will continue doing great things for Northwest Florida!
Warmest Regards,


The post NWFSC Enters into a Season of Gratitude appeared first on South Walton Life | 30A News, Events and Community Information.