At Kwiker Liquor, we know that the key to having a great selection of fine wines is knowing a great selection of Vintners and Winemakers. And we take pride in cultivating these relations to bring the very best to our customers in the Panhandle. This month we called on our friend Hunter Boon to share his story with us: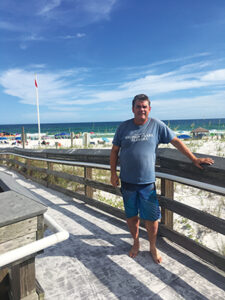 So, I am pretty sure I am the only 'winemaker' in Napa Valley with a 30A sticker on their car!!
I started going to 'the beach' with my grandparents when I was 4, way back in 1970, we had a front lot in Seagrove that now has a few really big houses on it.
30A is one of my favorite places on Earth. I am so happy to be able to sell my wines at Kwiker Liquor, not far from where I ran on the beach and caught blue crabs with my mom and little brother at sunset.
Well, I have lived in Napa Valley for the past 25 years and have been in the wine/restaurant business for four decades. I love the people, the creativity and the food and wine.
I have sold a lot of wine for other great producers, and a few years back I decided to make some of my own wine. We made 250 cases of a wine called Warrior Angel. It is an amazing wine made from grapes in Oakville, right in the middle of Napa Valley, near Robert Mondavi and Opus and Silver Oak. Warrior Angel is a blend while Cufflinks is 100% Cabernet.
We are a negociant, which means we buy barrels and blend and come up with our private blend. We have some amazing winemaker friends who have helped us get great wine to go to market at "better price." Since we don't have all the costs of a big winery, we are able to offer our wines at a 30% discount to what they might have cost. Our goal is to over deliver with all of our wines.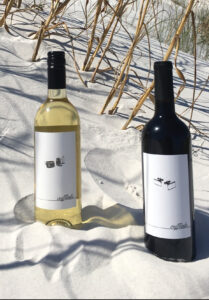 As mentioned, Cufflinks is 100% Cabernet and we are very excited about the 2016 vintage. We only made 9 barrels – 225 cases. One thing to note is that we only sell our wine in California, Missouri and Florida. I have a lot of chef friends in Missouri and went to high school there, and I really like to fish and visit Florida, so that's where we sell our wine. These grapes are grown near Opus and Silver Oak. It is a pretty good place to grow Cabernet.
We sent half of our Cufflinks production to Florida – 112 cases for the whole state. It is really not a lot of wine in relation to the big wineries who will make 100,000 cases or more in some cases. Our goal is to create amazing small wines and over deliver. We really hope you like this wine. Our goal is also to produce an outstanding wine under $50, which we have been able to do.
The fruit for the Cufflinks is 50% from Oakville and 50% from Atlas Peak, two great regions in the Napa Valley for Cabernet. Oakville is really one of the greatest places on the planet to grow Cabernet. It is a very small region and is truly heralded for making many of the best wines to ever come out of Napa. We blend the Oakville wine with wine from Atlas Peak, which adds some acidity and nuances from the mountain fruit and we like how the two wines come together.
So, we say thank you for supporting our little Napa wine company. We are so excited to be sold on 30A and 98 and at Kwiker Liquor. We will continue to make great small wines and send them your way and who knows you may see me signing bottles at Kwiker or on a fishing dock near you one day soon. Happy Holidays!
The post Time with Wine: Small Wines with Big Flavor appeared first on South Walton Life | 30A News, Events and Community Information.
South Walton Life | 30A News, Events and Community Information South Walton Life | 30A News, Events and Community Information READ MORE