By Susan Benton, 30aeats.com
Entering the Village of Baytowne Wharf, heading towards Marlin Grill, visitors are often greeted in the evening by mouth-watering scents and, during nice weather, the inviting sounds of a good time flowing freely from the open-air seating areas on the patio.
Inside the restaurant, ornate woodwork warms the main dining space, while a lively bar area with counter seating and tables is also available.  Above the restaurant and bar is a large room for catered events, corporate meetings, and wedding receptions which hold up to sixty guests.The Cove is a special space that allows intimate seating for up to eight, and is the perfect spot to savor a glass of wine from Marlin Grill's award winning wine list.
Arriving at Marlin Grill is always a pleasure; the staff were on hand to greet my husband and I at the door with a smile. Located on Sandestin Golf and Beach Resort, owner Tom Rice says, "Marlin Grill is known for their casual, yet upscale dining experience", and this is one reason why I love to come her.
Since I had been out on Crab Island boating with family for the day, I wanted to be casually dressed yet enjoy the high quality of cuisine that Marlin Grill is known for. My husband and I opted for inside seating, and we watched the sunset from our window table with a cocktail. I am a martini gal, so sipping on one of the best martini's in town with blue cheese stuffed olives was a pleasure.
Our bread server  stopped by our table with a selection of fresh artisanal breads and creamy butter to be savored until the next course arrived.
First up was Baked Baby Brie en croute. It had Caribbean influences, as does much of Marlin Grill's fare, and was surrounded by fresh coconut, pineapple, and berries.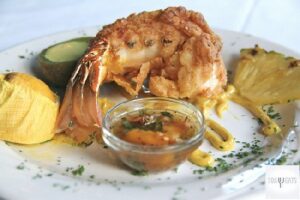 The next course was a perfectly prepared Fried Lobster Tail, with Kiwi Mustard and Jamaican Jerk Mango Chutney. Frying the lobster tail seals in its natural juices and flavors, and the lobster stays amazingly tender and juicy, so each bite will be gratifying.
Moving along, we shared a large Scottish Smoked Salmon Salad with chopped eggs, capers, rye toast, and horseradish cream. The salmon was fresh, not fishy, and the flavors married together beautifully making this dish a favorite of the night.
The next course, a Marlin Grill favorite among guests, was the lightly breaded and pan seared Red Snapper with Roasted Red Pepper Coulis. It was also topped with three jumbo Gulf shrimp. This mouthwatering dish was bold and flavorful.
Steak and Seafood play an important role at Marlin Grill and their menu reflects this with abundant choices available. The steaks are 28-day dry aged Certified Angus Beef, which are seared on Marlin's wood-burning grill. We dined on a 6 ounce petit cut Hickory Grilled Filet Mignon wrapped in Applewood bacon, which sat on a bed of red wine demi glace and was topped with shoestring onion rings.
Sides at Marlin Grill are a la carte such as the Oven Baked One Pound Potato, Tasso Ham Mac & Cheese, and Fried Green Tomatoes. We shared the Grilled Asparagus which complimented the steak nicely.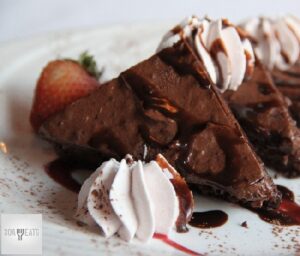 The finale of the meal was the delivery of Marlin Grills Chocolate Three-Layer Cake. It is brownie based with fudge mousse, served with fresh whipped creme and a raspberry sauce. The light and airy consistency of each decadent bite, was a wonderful ending to an impeccable  meal.
Marlin Grill is located at 9100 Baytowne Wharf Boulevard on Sandestin Golf and Beach Resort in Miramar Beach, Florida. Their hours of operation are 5 p.m. to 9 p.m. Monday through Sunday. You can reach the restaurant by phone at (850) 351-1990, or visit their website www.marlingrill.com.
The post 30A Eats Restaurant Review: Marlin Grill appeared first on South Walton Life | 30A News, Events and Community Information.
South Walton Life | 30A News, Events and Community Information South Walton Life | 30A News, Events and Community Information READ MORE