Community Garden plans Spring 2021 opening
Cultivate Community Gardens (CCG), the first community garden in South Walton, announced the organization is the recipient of a $10,000 grant from the J.W. Couch Foundation. The funds will be used towards the initial construction of a garden to be installed this spring at Padgett Park in Santa Rosa Beach, Fla. "We are thrilled to help construct the first community garden in South Walton and believe it will be an amazing source of nutrition, education and wellness for all," said Sean Couch, president of the J.W. Couch Foundation.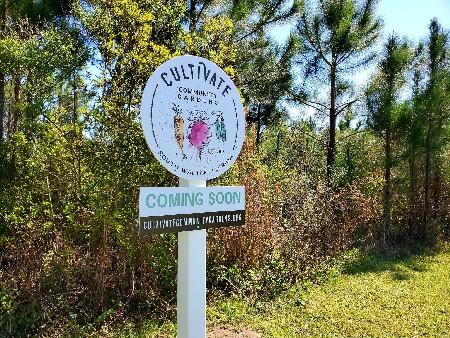 "We are so grateful for the support of the J. W. Couch Foundation and are excited this grant will allow us to open the garden this spring," said Angie Reilly, South Walton resident and president of Cultivate Community Gardens. "It is so inspiring to see our plans come to life and be able to offer the space to grow and create long-lasting, healthy relationships with our neighbors and natural environment."
The community garden will be located at Padgett Park on JD Miller Road in Santa Rosa Beach. Per their agreement with Walton County, CCG and its members will establish, manage and maintain a pesticide free, non-GMO community garden. Cultivate Community Gardens is currently looking for individual and corporate sponsors to support the completion of the garden. To see the plans and learn how to sponsor a garden plot, please visit the CCG website: www.cultivatecommunitygardens.org.
The garden will offer hands-on learning opportunities while providing community members the space, education and skills related to sustainable gardening practices and land stewardship. Initially the fenced-in garden will offer approximately 20 raised garden plots with soil and irrigation, allowing space for future expansion. Applications for plots will be available in the near future and will be approved on a first-come-first-served basis for a nominal annual fee. A set number of beds will be reserved for local schools and civic groups who wish to have a space to garden and learn the benefits of gardening and issues important to the environment.
About The J.W. Couch Foundation
Jesse W. Couch lived a life of zeal, honor, and dedication to the betterment of his community. The Couch family now humbly stewards the foundation he created to carry on his legacy of service for future generations. We believe that impact is best accomplished through partnerships with local organizations that know the people and communities they serve. We invest in and support efforts to protect the environment, further conservation and preservation initiatives and save historical architecture that preserve community heritages. We also support initiatives that promote wellness and mental health, and organizations seeking to provide and further education for all communities. For more information visit jwcouchfoundation.org.
About Cultivate Community Gardens 
Cultivate Community Gardens Inc. is a 501(c)(3) non-profit organization that will manage and oversee the construction of the first community garden at Padgett Park in Santa Rosa Beach, Fla. as well as maintain the overall operation of the garden. With a fast-growing, dynamic community like South Walton, Cultivate Community Gardens will offer a gathering space to connect people and help build community identity and spirit as well as create long-lasting, healthy relationships among neighbors and the natural environment. For more information, volunteer opportunities and plans for Cultivate Community Gardens, please visit their website at cultivatecommunitygardens.org or Facebook Page @cultivatecommunitygardens.
The post Cultivate Community Gardens Awarded Grant by the J.W. Couch Foundation appeared first on South Walton Life | 30A News, Events and Community Information.
South Walton Life | 30A News, Events and Community Information South Walton Life | 30A News, Events and Community Information READ MORE