By Lisa Cyr, 
During February, the stores stock up with Valentine's Day items such as balloons, cards, candy, cake, and flowers.  Love has been on people's hearts for a long time. In biblical times David wrote the Book of Psalms a collection of songs and poetry often speaking of love and devotion towards God. And then there is the Songs of Solomon focused on the adoration of one's true love. Throughout history, musicians have touched people's souls with their gift of music and poetry.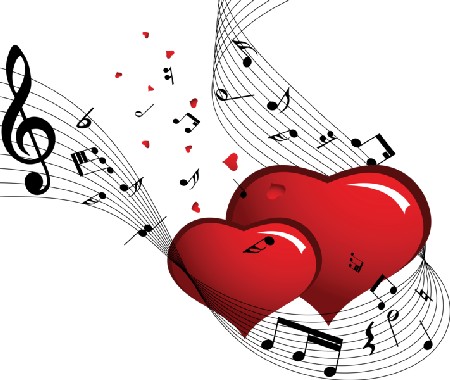 Today, there are many love songs you can easily listen to on the internet or a digital music service that will naturally raise your endorphins and bring a smile to your heart. There are thousands of songs to choose from. Here are a few that put a skip in my step:
"Still the One" by Orleans. My husband, Ray, and I have been married for 35 years and he is "still the one".  A fun and true song about long term relationships.
"My Funny Valentine" composed by Richard Rodgers and lyricist Lorenz Hart.  The smooth sultry jazzy melody and lyrics are mesmerizing.
"L-O-V-E" and "Unforgettable" by Nat King Cole. So much fun to sing to your significant other!  And of course, the one you love is always unforgettable.
"Loyal" by Lauren Daigle.  A song about God's loyal dedicated unfailing love through people for each other.
"At Last" by Etta James who rejoices deep in her heart about finding and embracing true love.
"Something" by the Beatles. George Harrison artfully describes, by melody and words, the qualities that magnetically infatuate persons to each other.  It reminds me of the "Love at First Sight" phenomena.  Like when Cupid shoots his arrow of love.
"Valentines Day" by Steve Earle.  This humorous song is about excuses of forgetfulness, IOU's, and at the same time one's loving heart. Steve sings it with such honesty and tenderness that one is compelled to forgive him.
"All of Me" by John Legend.  An enchanting song about his eternal devotion and unconditional love to his wife. He is a true romantic.
"Valentine" by Willie Nelson.  A cute folk song about simple child-like love including candy hearts and sweetness.
"Valentine" by Train. Sure to brighten your day and make you dance to a 1950's rhythm and blues doo wop beat.  Very fun!
"For Once in My Life" by Stevie Wonder. It only takes one person to positively change another person's life. Uplifting.
"I will Always Love You" was originally written and sung by Dolly Parton and covered in 1992 by Whitney Houston.  This song touches the inner soul.
"Lady" written by Lionel Richie / sung by Kenny Rogers. My knight in shining armor has gallantly arrived and will protect me forevermore! Yay!
"A Thousand Years" by Christina Perry.  A beautiful breath-taking song about a love worth waiting for.
"When a Man Loves a Woman" by Percy Sledge. He gives everything and will do anything he can for the one he loves.  Wow!
"Can't Help Falling in Love" by Elvis Presley.  263+ million views since the 2013 posting of this song on youtube says it all. This song is a beloved timeless classic.
Musicians often write from personal heartfelt experiences. I am thankful for all the endearing love songs which may have touched, healed, and lifted people's hearts. What would this world be like without them?  I can only imagine.
Since 2011, Studio 237 Music has been providing private lessons to people of all ages in Santa Rosa Beach and the surrounding communities.  For more info or to schedule a visit, call Ray or Lisa Cyr at 850.231.3199, email: studio237music@gmail.com and visit www.Studio237Music.com.  
The post Studio 237 Music Lessons: The Sound of Love appeared first on South Walton Life | 30A News, Events and Community Information.