By Jamie Zimchek, Editor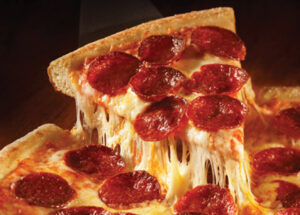 Some say the secret is "in the sauce." At Paparazzi Gourmet Deli in Panama City Beach, the secret is so, so much bigger: the secret is equal parts perfectly crisped crust with a delicate crunch; sauce balanced just so between tomato, herbs, and garlic, and a cheese that melts exactly as it should, stretchy and moist, with just the right assortment of toppings to finish things off. Full disclosure: I've had pizza in many, many places around the world, and this pizza, hands down, is in a class all its own – it's that good (move over Napoli).
Great pizza doesn't just manifest itself on Thomas Drive without some history and a little human involvement though. In this case, the expert pie-maker, and Paparazzi's owner, is John Trubia. Trubia hails originally from New York City where he was a First Responder during the 9/11 attacks. In 2006, he retired from the police force and moved south, bringing his family and his Italian family recipes with him.
As a gourmet deli, Paparazzi even pre-covid was nearly 70% take away, which has made things easier as eat-in numbers have dropped for most restaurants. There are, of course, a handful of indoor and outdoor tables as well as beer and wine available should you wish to eat in. The lunch crowd can build a super sub with Boars Head meats, or pick up pizza by the slice from 11-3pm Monday-Saturday. On Fridays, First Responders in uniform get two free pizza slices along with a soft drink (there's also a daily discount for military and First Responders). If, rather, you're headed home from the beach, or a day at the office, it's fast and easy to grab a baked ziti or fresh lasagna to heat quickly at home, or, better still, one of their aforementioned par-baked pizzas that needs only 6-8 minutes at 450 degrees in your oven.
But back to those pizzas: they're an unexpectedly detailed labor of love, from the dough to the imported Italian sausage. Trubia explains that in order to make dough, you have to consider things like the outside temperature, the water temperature, and the type of oven you're using. "Then you have your sauce," says Trubia. "pizza sauce you don't cook." They crush Italian tomatoes to make their sauce fresh, with a few other top-secret ingredients, before adding the cheese. Trubia explains that traditional Italian pizza historically didn't have cheese at all, but added it to cater to tourists (many of them American), and it caught on. The right high-quality mozzarella will be slightly dry so the pizza doesn't get soggy, but with enough natural oils to give it good stretch. Toppings are the icing on the pie at Paparazzi – always high quality and garden fresh, they're cut to a certain size that blends in well.
"If you have a great crust, a great sauce, and a great cheese, your pizza is going to be great," says Trubia. Put it this way: Paparazzi's pizza will upend everything you thought you knew about pizza, in a really great way (Mamma Mia!).
Paparazzi Gourmet Deli is located at 2810 Thomas Drive, PCB. They're currently open from 11 a.m.-7 p.m. Monday-Thursday, and 11 a.m.-8 p.m. Friday and Saturday. Find an online menu at paparazzideli.com or ring them at 850.588.8244.
The post A Slice of Heaven: Pizza on My Mind appeared first on South Walton Life | 30A News, Events and Community Information.