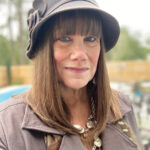 By CJ Lydon, Senior Living Community Advisor
This issue we will be making the distinction between WHAT a nursing home (Skilled Nursing Facility or SNF) is and that of an Assisted Living Community (ALF) and Independent Living/Senior Apartment Complexes (IL). The vast majority of adults think that Independent Living, Assisted Living Communities and Nursing Homes are the same thing or very similar. However, there are many differences between them.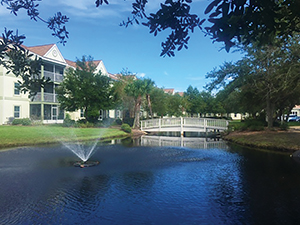 A Skilled Nursing Facility (nursing home or SNF) is usually a place of temporary residence for individuals who require extensive skilled nursing assistance with the activities of daily living (ADL's). Their patients are mainly elderly who have physical and mental limitations. The offer physical, speech and occupational therapy as rehabilitation services. These are usually focused on short-term recovery using the above listed therapy services.
Some patients may need to stay in the SNF for several weeks or more. They are discharged once the care team and family meet to discuss the progress and prognosis of the patient. This meeting can include the Director of Nurses, therapists, social worker and family. Many times it is determined that returning back to their personal home or previous living arrangement is not a safe or viable option. The social worker/case manager will then recommend a reputable Assisted Living Community that has been operating in the area for several years and one that has a tenured staff.
SNF charges are often covered by Medicare for 20 to 100 days for those who require their services after at least three consecutive days of hospitalization. They are also licensed by the state and are subject to the laws and regulations of that state. Not all SNF's offer the same services.
Some questions that you may want to ask in regards to selecting the appropriate Skilled Nursing Facility:
• Do they offer both short & long term stays?
• What types of insurance do they accept? Are they Private Pay?
• Do they offer services for those diagnosed with dementia or Alzheimer's and if so, are they house in a secure area?
• How many beds are in each area of care?
• What types of therapy/rehabilitation services do they offer?
• What is the average age of their patients?
• What is the ratio between staff and patients?
An Assisted Living Community (ALF) is currently considered the best option for seniors to "age in place." This type of community offers its residents a host of services to make use of as they age or their health and mobility decline over time. Residents have opportunities for planned social engagements, activities, transportation services for shopping, offsite entertainment and dining options, basic services such as all meals, laundry and linen service and housekeeping. They offer assistance when needed for activities of daily living, medication management and more. They usually have a physician on site, 24/7 medical staff and care givers as well as the coordination of services by outside health care providers (therapy, hospice, health aide).
Usually the family members are looking for a safe environment for their parent/loved one to move to where they won't have to move again (age in place). This is where an Assisted Living Community is often suggested because they have the medical staff and license to provide the necessary care while still promoting dignity and independence for as long as possible. When more care is needed, they are able to bring in the services needed as mentioned above.
Often seniors themselves will start their search for an Assisted Living Community when they are still independent and not in need of any care. However, they know at some time in the future they may or will need that additional medical care/assistance and don't want to be trying to navigate the search then when they are in immediate need of care. The sooner the plans are in place for their forever home, the better. Many residents will live in their apartment for well over a decade. The more the apartment feels like their previous home the better for most folks. There are only a couple Assisted Living Communities in the Panhandle that offer the full apartment experience with their own kitchen, spacious living rooms and bedrooms. There is even a community nearby that offers private screened in patios so the residents can enjoy the lovely weather we have here.
Another option that you will want to look for in a community is its ability to care for seniors with cognitive/memory issues or those diagnosed with Alzheimer's. Unfortunately, residents may develop memory issues and might no longer be safe in their own apartment in an ALF. When this situation arises, the Health and Wellness Director of that community will discuss with the family that the senior be moved to their "secure community" designed for those with memory issues. The best situation for this transfer is if the Assisted Living Community where they are currently at has an attached secured Memory Care Community to transfer them to. This would be in a separate building that has 24/7 security and monitoring, but yet still in the same complex. This way the resident and family members are simply just "moving down the hall" so to speak and the familiarity with the staff and processes remains intact.
Some questions that you might want to ask in regards to selecting the appropriate Assisted Living Community/Facility:
• How many apartments do you have at your community?
• How many different floorplans do you offer and what are their square footages?
• Do the apartments have full kitchens, private patios and or yards?
• Do you allow pets?
• What are the activities and programs for the residents and when can family join in?
• How long have you been open at this location and how many years has the staff been employed here?
• What is your Basic Service Rate and what does that include?
• Who is the owner of the Community and how long have they been in operation?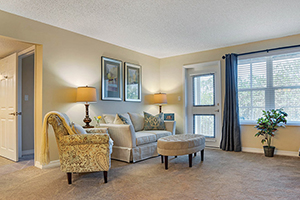 An Independent Living & Senior Apartments are complexes for residential units for seniors 55 and older. The important fact to know is they do not offer any medical services. So, if the resident needs any care they are on their own to secure the needed services (if they fall, cut themselves, need an ambulance, etc.). When they do need care on a regular basis, they will need to move to an Assisted Living Community or possibly a Skilled Nursing Facility.
Some questions that you might want to ask in regards to selecting the appropriate Independent Living complex:
• Do you have partnerships with outside health providers when I need them?
• What is your protocol if a resident is no longer safe to stay in your community?
• How often does your staff do a wellness check on the residents?
• What happens if a resident has memory impairment and they leave the community by themselves?
• How many apartments do you have and how often do residents need to move out?
• What types of activities or meal service is included in the monthly fees?
So, as you can see, each type of living arrangement is quite different. Contact me to ask any specific questions or get more information about the right Senior Living situation for you or your family.
The post Living Your Optimum Life! appeared first on South Walton Life | 30A News, Events and Community Information.