A Weekend of Tequilas and Tacos Comes to The Village of Baytowne Wharf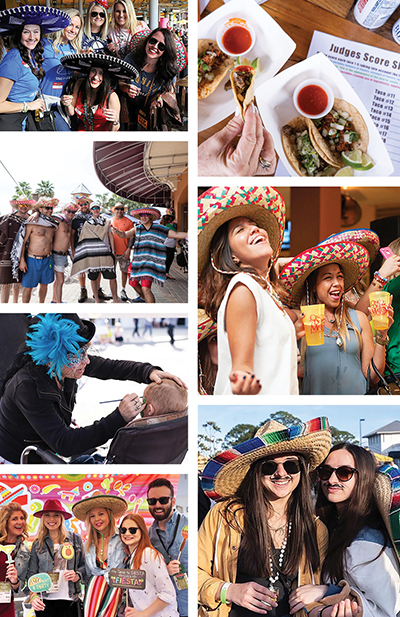 As the saying goes, "If you're having a Taco Emergency, call Nine Juan Juan!" Extreme Festivals & Events and The Village of Baytowne Wharf are hosting the 8th Annual Tequila & Taco Fest April 30 – May 2, the second longest running Tequila & Taco Fest in the U.S.A. The weekend is full of savory tacos, smooth Tequilas, live music and contests…and a whole lot of FUN!
The brainchild of this event is Chef/Restaurateur and founder of Carlito's Amazing Products, Carlos Shaffran. The event has grown significantly since being founded in 2014. "Locals and guests from all over the Southeast come to celebrate this unique event right here on our Emerald Coast," says Carlos. Initially planned to be a restaurant event at one of Carlos' Restaurants, Tequila & Taco Fest quickly grew to become the second largest festival event (formerly held on the Destin Harbor), aside from The Destin Seafood Festival. Because of its popularity, the event has moved to a larger venue in Miramar Beach, "The Village of Baytowne Wharf" located at the beautiful Sandestin Golf & Beach Resort. This great new location will allow more vendors and more Tequila booths.
During the event, you will be able to taste and sample an array of unlimited fresh tacos prepared with local ingredients and sip on the finest Tequilas available today! Participating food vendors will serve mouth-watering tacos with exotic twists on beef, pork, chicken, fish and shrimp. Vegan options and traditional Latin tacos will also be available. "It's really a great place to experience some off-the-wall tacos you may have never considered," says Carlos.
And with 30 or more different Tequilas throughout the festival, can you really go wrong? You will experience specialty Tequila Margaritas and Tequila shots. "The education process of learning about different types of Tequila is phenomenal," Carlos explains. "In a Tequila, we find primary Tequila aromas, which come from the raw material (raw or cooked agave), secondary Tequila aromas, mainly fruity, from fermentation and distillation and finally, tertiary Tequila aromas, usually sweet, spicy and woody, which come from resting Tequila in oak barrels. Higher-end Tequilas, including Azuñia which is a two-year-old Aged Black Private Reserve Añejo Tequila from 100% Agave, and Corralejo 1821 Extra Añejo Tequila, will be available in the VIP area just to name a couple of them," he says.
A weekend of festive fun begins on Friday evening, April 30th, with a "Bocadillo & Margarita" Kick-Off Party ($50) presented by Corralejo Tequila, featuring music from "DJ Vasco" hosted at "The Village Door" who has been voted best place to dance on the Emerald Coast. Enjoy an evening of delightful small plates, assorted Tequilas and signature Margaritas from 6 p.m. to 9 p.m., and then the dance party goes on until 2 a.m!
Tequila & Taco Fest gates open for the main event on Saturday, May 1st, at 1 p.m. where you will sip and savor until 5 p.m. during this flavorful afternoon at The Village of Baytowne Wharf, featuring a large selection of Tequilas including award winning Tequilas from Familia Camarena, 1800 Tequila, Dos Primos, Siete Leguas and Corralejo. Also, we will have some very tasty new Tequilas that have just been introduced to the market for a variety of Margaritas, Latin beers to sample and, of course, Tacos, Tacos and more Tacos! During the event, judges will vote for their favorite taco. Local vendors will compete for the top prize of $2,500 for the 'Best Taco on the Emerald Coast.' And this year a People's Choice and most Exotic Taco award has been added to the event. 'Live music and DJ's will play on three stages including "DJ Vasco," and Salsa Band "Merengue 4" from the Dominic Republic. Little Amigos will delight at face painting, and all will enjoy the "Aye Chihuahua" beauty contest! You can even show off your football arm by tossing the longest tortilla. And you do not want to miss the "Macho Nacho" eating contest!
Ticket pricing starts at $30 for tacos only, $50 for military and first responders, $60 for general admission and $125 for VIP. Kids 10 and under are free.
And if that is not a full day, end the day and catch one of the top Queen tribute bands in the country "Absolute Queen" will be performing at The Village Door. Tickets are $30; doors open at 6 p.m.
The weekend concludes on Sunday, May 2nd, from 11 a.m. to 2 p.m. with the Bye-Bye Brunch sponsored by 1800 Tequila at the award-winning "Slick Lips Seafood & Oyster Bar" ($25) which includes one entrée from a special brunch menu and one On the Rocks Margarita or a Zesty Pao Pao Bloody Mary from Carlito's Amazing Products.
Plan a Stay & Sip weekend Staycation at one of Sandestin Golf & Beach Resort properties. Sandestin is offering special rates for the event. Book and save up to 30% when you stay two or more nights and receive discounted tickets per adult to Saturday's Main Event.
If Tacos, Tequilas and Bands are not incentive enough, a portion of the proceeds from The 8th Annual Tequila & Taco Fest benefits the Fisher House Foundation, Sandestin Foundation for Kids and Boys & Girls Club.
Carlos concludes, "It really is a big party!" This is a rain or shine event. Purchase tickets for all Tequila & Taco Fest events or for information please visit www.efestevents.com.
The post The 8th Annual Tequila & Taco Fest April 30 – May 2! appeared first on South Walton Life | 30A News, Events and Community Information.
South Walton Life | 30A News, Events and Community Information South Walton Life | 30A News, Events and Community Information READ MORE