Arts & Culture Events Happening In May Throughout Walton County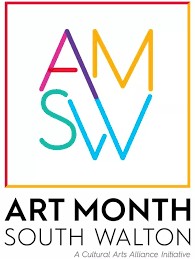 Art Month South Walton, an initiative led by the Cultural Arts Alliance of Walton County (CAA) and sponsored in part by Visit South Walton, is a month-long celebration of the Arts featuring events and programs presented in locations throughout Walton County. This year's planned activities include the inaugural South Walton Street Art Festival, Digital Graffiti Drive Thru at Alys Beach, Arts Night in DeFuniak Springs, a 5th Birthday Party for The Foster Gallery, Music on Main, a Sip & Stroll at J.Leon Gallery, an online Art & More Auction benefiting the CAA, theatre performances at ECTC, and more.
All events are part of the Art Month initiative to bring together Walton County's communities, organizations and businesses to present quality and diverse arts entertainment. For details on each event, visit CulturalArtsAlliance.com.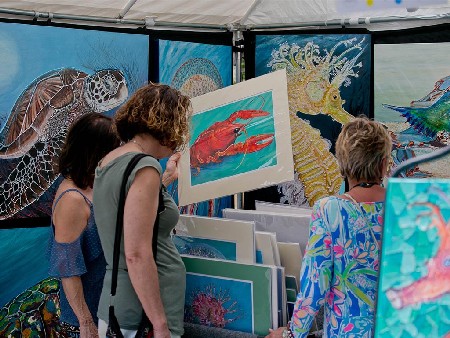 Main Street DeFuniak Springs, in partnership with Visit South Walton will continue its "Music on Main" concert series throughout Art Month. Taking place every Friday in May from 6:00 to 9:00 pm, guests are invited to enjoy a listening room experience at the historic Florida Chautauqua Theatre, located at 840 Baldwin Avenue, DeFuniak Springs, Florida, 32435. The concerts are a continuation of the non-profits inaugural series held this past February. Doors open at 6:00 pm for cocktail hour. Guests can grab a bite to eat before the concert at one of the downtown restaurants or from the food truck setup in front of the theatre. The lineup of musical acts includes regional artists and bands, including Anthony Peebles Trio (May 7), West Hine (May 14), Longleaf Drive (May 21), and The Wortheys (May 28). Tickets are $15 for adults and $5 for children and are available at fcweb.org/musiconmain. Ticket prices increase $5 on the day of the show.
The 8th Annual Longleaf Writers Conference will take place in Seaside May 10th through 17th, featuring award-winning, visiting authors and other special guests, including Elizabeth Stuckey-French (The Revenge of the Radioactive Lady, The First Paper Girl in Red Oak) and Snowden Wright (American Pop, Play Pretty Blues). Full conference registrations and a la carte in-person and remote seminars are available, along with options to participate in special events throughout the week, including personal consultations, and readings. Register and purchase tickets online at LongleafWritersConference.com.
Digital Graffiti is a one-of-a-kind projection art festival where artists use the latest digital technologies to project their original works onto the white walls of Alys Beach. This year's reimagined event will be an immersive drive-thru experience taking place Wednesday, May 12th through Saturday, May 15th. Each year, the festival attracts international digital artists, filmmakers, musicians, interactive designers, photographers, VJs, producers, celebrities, agency executives and fans of art, technology and architecture. Visit DigitalGraffiti.com for tickets and details.
On Saturday, May 15th from 1:00 – 3:00 pm, The Shard Shop in Grayton Beach will host a special Art Month event called "Western Lake Confetti Class." Guests will enjoy refreshments, an art raffle, live music, and an opportunity to create a stunning piece of art using repurposed glass!  Proceeds from the event will benefit the Cultural Arts Alliance. Visit shardshop.com/Grayton for details.

Friday, May 14th is the opening night of Emerald Coast Theatre Company's Theatre for Young Audiences production of Treasure Island.
The Foster Gallery, which is the CAA's professional artist collective showcasing over a dozen rotating regional artists, special exhibitions and featured guests, will celebrate five years in business with a birthday party on Wednesday, May 26th from 5:00 – 7:00 pm in the gallery located at 495 Grand Boulevard, Suite J104 (next to Chicos). Guests can meet the artists, purchase one-of-a-kind artwork, and enjoy live music, food, champagne, and birthday cake!
The Cultural Arts Alliance will host a celebration of its "Con-scious Expressions: An Insider's Perspective" exhibit at Perla Baking Company in DeFuniak Springs on Friday, May 28th from 4:00 – 7:00 pm. The exhibit features original artwork created by residents of three dorms in the Walton Correctional Institution. See this powerful and emotional work, hear live music, enjoy refreshments, and then stroll down the street for a Music on Main performance by The Wortheys.
For more information about Art Month and the Cultural Arts Alliance, please visit CulturalArtsAlliance.com/art-month.
The post May is Art Month in South Walton appeared first on South Walton Life | 30A News, Events and Community Information.
South Walton Life | 30A News, Events and Community Information South Walton Life | 30A News, Events and Community Information READ MORE