By Lisa Cyr,
This morning, I could hear the continuous sound of hammering. There is a house being built down the street. I somewhat liked the rhythmic sound of productivity and teamwork. Carpenters using their skills to create a home to bless others for many years to come. When the weather is good, I hear them begin to work faster. It seems to be the best season for building.
Like building a house, the foundation of musical learning is of primary importance. The foundation of your instrument is understanding how it produces sound. A drum uses sticks to make percussive sounds. A piano uses hammers hitting metal strings which vibrate sound, whereas a guitar has strings to strum or pluck. A clarinet uses vibration from your air flow over a reed to form notes. All these instruments are made of wood and constructed to uniquely resonate their own distinctive tone.
Framework: One's posture, arm and hand positions are "across the board" an important first technique to learn. There is a successful blueprint to follow which has been around for hundreds of years. Lead sheet music, chord / Tab charts, and books are essential items to have in your tool box. A skilled teacher will correctly show and guide your direction. Their years of "hard knock" learning will save you years of struggle to improve your level of playing. That reminds me of all the times I hit my finger with a hammer. Ouch!
A Roof provides covering. Music teachers have "got you covered" by developing your skills in an orderly fashion. Like nailing on shingles and carefully overlapping each layer, certain musical skills need to be developed before the next skill layer is applied. Otherwise, there will be leaks in your musical roof.  We all know how hard it is to find a leak unless you bring in an expert.
Infrastructure includes wiring, electrical, plumbing, etc. These are essentials for people to live inside the house such as: songs to play, more challenging music, scales and exercises. You may require a larger or better-quality instrument, or to improve your practice habits. I tell my students, "You are the electricity that powers the instrument". Music teachers focus on infrastructure. This helps students to "get it right the first time" which always saves time and money.
Finishing work: such as walls, textures, ceilings, cabinets, molding, colors, styles. Windows and doors are my favorite because they "seal the deal" and really make a house shine from the inside out. Polishing off your song, sealing up any leaks in your ability, and changing mindsets causes one to shine. A music teacher will point out those spots and help you choose the best way to improve, like an interior decorator.
The season for building new musical talents is arriving this June at Studio 237 Music Lessons. Every summer, in June, we offer daily weeklong private 45 minute lessons (5 consecutive days in a row) at a reduced rate of $150. You may choose from a variety of instruments including drums, piano, guitar, violin, ukulele, and song writing. This is your opportunity to "try out" an instrument before committing to August weekly learning or improve on your current ability. No instrument needed unless you already own yours. Just show up and learn. We have instruments you can use during the lesson.
Studio 237 Music Lessons has been providing music lessons for people ages 4 and up since 2011 in Santa Rosa Beach, FL.  To find out more information or visit the studio call 850.231.3199.  Email: Studio237Music@gmail.  Also, visit our website at www.Studio237Music.com.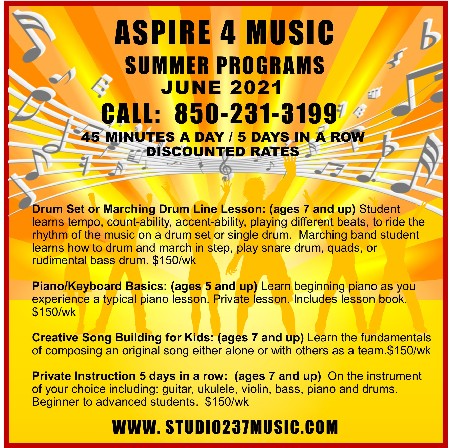 The post Studio 237 Music School Announces Aspire 4 Music Summer Programs appeared first on South Walton Life | 30A News, Events and Community Information.
South Walton Life | 30A News, Events and Community Information South Walton Life | 30A News, Events and Community Information READ MORE