By Zandra Wolfgram
They say music makes the world go 'round. If that is true, then Todd Wilkinson is surely the man giving the globe a big ol' spin.
Wilkinson, a realtor and environmental consultant, is entering his third year as chairman of the eight-member concert committee for the Mattie Kelly Arts Foundation. Long before he started his six-year stint on the committee, Wilkinson and his wife, Chris, were concert goers. They are 16-year veterans, in fact.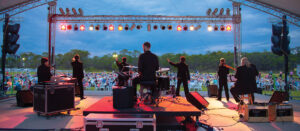 Clearly, a "music man," Wilkson was playing the saxophone at the tender age of 10. Through high school and college, he was part of progressive rock band (think Genesis). When he wasn't rocking out complicated beats and rhythms, he was one of voices heard over the crackly college air waves at Florida Institute of Technology. And while in grad school at Loyola University, he hosted a radio show on WWOZ, the public radio station in New Orleans.
"It was very late, I'm sure no one was listening," Wilkinson jokes, which he does often.
Each season the committee programs a series of summer and fall concerts called Concerts in the Village (CIV). They are held al fresco on the Village green on Thursday evenings. Cloth-covered VIP tables have priority seating just beyond the grassy "dance floor," otherwise bring a beach chair or blanket.
The gate opens at 6 p.m. and the concerts start at 7 p.m. You can bring along a picnic or enjoy dinner from a tasty food truck or local restaurant and bring some cash for the weekly raffle drawing. This year, the 10-concert line-up kicks off April 22 with The Music of Queen tribute band (accompanied by the Sinfonia Gulf Coast orchestra!) and continues weekly through June 24.
The magic behind the music is a lot of hard work. Careful planning begins about six months before the first show starts.
"We truly work as a team and are tasked with all things related to the concerts. We identify the bands, handle booking them, negotiating fees, arranging security and the food trucks. The only thing we don't handle is the raffle," he explains.
The MKAF CIV concerts date back to 1995, and stand as the first and longest running concert series in Destin, perhaps Northwest Florida. As with any longtime tradition, locals are bound to have opinions about it.
"We try to have something for everyone, we book all sorts of genres from rock and pop to funk and soul," Wilkinson explains. "We don't repeat too much, but we do bring back some bands simply because they are audience favorites."
What makes for a great music concert? Wilkinson says there is recipe for success:
"A combination of the right atmosphere, the right audience that creates a high level of energy. When enthusiasm is there between an audience and performer, they feed off each other and it inevitably turns into amazing event."
Wilkinson should know. The MKAF Dugas Pavilion isn't the only venue he books. This concert connoisseur often hosts "house party" concerts in his Niceville living room. Shannon Labrie, Kyshona Armstrong and Jay Clemons, who played sax in Bruce Springsteen's band, are just a few of the musicians who have performed for the Wilkinson's and their friends.
"We've met a lot of great artists and some of them have become friends and hang out with us when they pass through town," he says.
As the committee chair, Wilkinson recognizes pleasing everyone means programming a broad range of music, but he personally prefers to hear singer/songwriters, saying, "original music is art."
But no matter your taste in music, Wilkinson says there are plenty of reasons for everyone to come out to the MKAF Concerts in the Village.
"It's a great venue, a great space and a great audience, and always great music," he says. "It's a perfect way to spend an evening in Destin and it's just fun."
MKAF Concerts in the Village are free to MKAF members. For more information on the many MKAF Membership levels and all the concert details, visit MKAF.org.
The post Meet Todd Wilkinson, MKAF's Music Man appeared first on South Walton Life | 30A News, Events and Community Information.