Happening Now: Rock United Fundraiser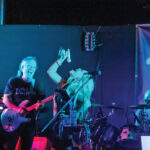 United Way Emerald Coast (UWEC) has kicked off Rock United – presented by Gulf Power Company, a virtual singing competition for local bands and musicians. Rock United celebrates and recognizes the great musical talent in Okaloosa and Walton counties while helping our community by supporting the efforts of United Way Emerald Coast.
Rock United is organized in a single-elimination bracket tournament. The winner of each match-up is based on the number of votes in the United Way Rock United fundraiser. Every $1 raised equals one vote. Money raised during tournament voting will benefit United Way Emerald Coast's fight for the health, education, and financial stability of every member of our community.
16 artists who live, work, or perform along the Emerald Coast are competing in Rock United this year including Autumn Poultry, Jason Balbuena, Bangarang Peter, Emily Bass, BoDean and the Poachers, Reese Branton, Jared Herzog, Jody Lucas, Chapman Martin, Donnie Morgan, Nick 2, SheAndTheIts, Skunk Lip, ThatGuySlimm, Phil Tittle, and Wild Charge.
The Grand Prize winner will be awarded $2,500, perform at the Sound Waves Music Series featuring Cole Swindell on November 6, 2021, at the Gulf on Okaloosa Island, and receive a robust media package including a photoshoot with Blacksuit FM Photography, a billboard feature from TierOne Media, a full-page article in VIP 30A Magazine, custom t-shirts from Fresh Prints of South Walton, and studio recording time with Immanuel Music Project.
View artist videos and vote for your favorite at united-way.org/rockunited. To stay updated with Rock United throughout the contest, follow the Rock United Facebook page @RockUnitedUWEC.
Patriot Boat Parade Sept. 5!
Load up your boats, make history and join Boaters for America 1st as it hosts a Patriot Boat Parade on Sunday, Sept. 5, 2021, in an attempt to break the world record for largest boat parade. Powered by Right Side Broadcasting Network (RSBN), staging will begin from 9:15-9:45 at the west side of Brooks Bridge in Fort Walton Beach and end at the Destin Bridge. An electronic counter will be positioned under Brooks Bridge to count each boat registered. The American Spirit and other boats will lead the way and thousands are expected to join.
"We're an independent event," says co-organizer of the event Anne Ziegenhorn, "and we've hired a professional audit team to verify and certify our parade."
Initiated by Chandra and David Rich (same as last year) and co-organized by Anne Ziegenhorn, an admin of 'I'm a Florida Trump Girl' and The American Spirit Party Boat, the Patriots United Trump Flotilla World Record attempt costs only $22 per vessel to register. Once registration, accountants and other incidentals are paid for, funds raised will benefit the TITS Committee 501c3: The Implant Truth Survivors non-profit charity.
Gas MONKEY Propane, Right Side Broadcasting and I'm a Florida Trump Girl are primary sponsors and hosts. Additional sponsors include the American Spirit Party Boat, About Face: A Therapeutic Skin Care Center, Dock & Deck Techs, James O'Donoghue of Nautilus Civil Technologies, Fubar, Chem-Dry by the Emerald Coast, Okaloosa County Republican Executive Committee, Waterside Landscape, Life Media and The Island Hotel by RL.
Registration is open until Sept. 4. 2021. Please visit the website at www.patriotsunitedtrumpflotilla.com for registration, all the details and last-minute changes. Additional updates and race information can be found at Patriots United Trump Flotilla FB Group www.facebook.com/groups/patriotsunitedtrumpflotilla.
Women in Science Conference Sept. 9th
The Emerald Coast Science Center's Fifth Annual Women in Science Conference is scheduled for Sept. 9, 2021 at Northwest Florida State College. At the Women in Science Conference, the goal is to inspire the next generation of female scientists, engineers, doctors, and more. Young women will have the opportunity to hear from women in professional STEM fields right here in Okaloosa County, as they enlighten our audience about their careers and deliver advice. Presented by Emerald Coast Science Center, Fort Walton Beach Medical Center, and Twin Cities Hospital, the Conference is a celebration of women in all STEM (Science, Technology, Engineering, Mathematics) professions. The evening will consist of inspirational presentations from professional women in STEM careers. All ages are welcome, especially middle school and high school students looking to discover careers in STEM. Guests will have a chance to mingle with the speakers and other guest professionals, and all speakers will be a part of an open panel Q&A session for audience members to ask questions. Light refreshments provided.
This year's speakers include Katrina Benzrihem, Chemist at Plasmine Technology, Caroline Stewart, Chief Nursing Officer at Fort Walton Beach Medical Center, Jerri Coomes, Service Advisor at Emerald Coast Harley Davidson, Jennifer Galloway, Director of Sensor and Electronic Solutions at BAE Systems, Camryn Kruger, Emergency Operations Center intern and student at the University of Vermont, and Samara Potter, Electrical Engineering student at UWF.
For tickets, visit www.bit.ly/womeninscience2021. Students are free, adults 10.00. The event takes place from 5:30 – 7:30 p.m. at Northwest Florida State College, Student Services Center, Bldg. 400, 100 E College Blvd., Niceville.
Dog-Harmony's Hops for Hounds Dog Walk Sept. 12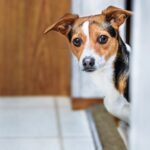 Thump! Thump! Thump! The sounds of wagging tails return to Destin Commons as local nonprofit Dog-Harmony prepares for the fourth annual Hops for Hounds dog walk. On September 12th from 11 a.m. to 1 p.m., paws will hit the pavement for this family-friendly walk and after party.
For $35 per person, the first 100 registered walkers will receive a swag bag sponsored by BOTE and have the opportunity to meander through Destin Commons with their furry family member while stopping at Hops Sponsor stations to try various local beer from favorites like Destin Brewery, Props Craft Brewing, 3rd Planet Brewing and Strange Colt Brewery.
Once walkers have stopped at each beer station, they can pad over to the afterparty at El Jalisco, which is donating 10 percent of the proceeds from the day to Dog-Harmony, to purchase food and drinks to finish off the day with their fur-ever friends. Sponsors, like Step One Automotive Group and BOTE, will be stationed at the afterparty to greet walkers and their four-legged companions, too.
Dog-Harmony is still accepting sponsors for this event, and all proceeds will benefit Dog-Harmony to fund its mission of helping dogs rescue people. Last year, Hops for Hounds raised more than $8,000 for Dog-Harmony through sponsorships, ticket and raffle sales as well as donations made at the event. And this year, Dog-Harmony's goal is $10,000.
For more information or to register as a walker and purchase your ticket, visit www.dog-harmony.org/events.
Shelter House's "Purses with a Purpose" Sept. 23-25
Purses with a Purpose, a signature Shelter House event, returns for the 10th anniversary event to be held at Destin Commons, September 23-25, 2021. Shoppers will have the opportunity to select from hundreds of new and gently used purses, wallets and accessories up for sale or auction. Handbags from designers including Tory Burch, Michael Kors, Kate Spade, Coach and more will be available for purchase.
Festivities kick off with a VIP event at 5:30 p.m. on Thursday, September 23, in the former Williams Sonoma storefront next to Steve Madden and Express. New to the event this year, shoppers that are unable to attend the event in person will have access to virtually bid on handbags in the silent auction.
Light bites will be served along with wine and specialty cocktails by Timber Creek Distillery. B-Boy Productions will provide entertainment for this high energy shopping event and fun memories of the evening will be captured by Southern Fried Photo Booth.
VIP tickets are $25 before September 23 and $30 purchased at the door. Purses with a Purpose reopens for bargain shopping on Friday, September 24 from 12–8 p.m. and Saturday, September 25 from 12–4 p.m. with deep discounts on remaining merchandise, plus muffins, mimosas and free admission. Both Friday and Saturday are free to attend and open to the public.
For more information, visit Shelter House's Facebook page or www.shelterhousenwfl.org and http://bidpal.net/purseswithapurpose. Shelter House, Inc., is the state certified domestic and sexual violence center serving Okaloosa and Walton counties and offering emergency confidential shelter, crisis counseling, a 24-hour hotline, children's programs, information and referrals, education, professional training, safety planning and prevention services to survivors of domestic violence and their children and sexual violence survivors. Help is available 24/7.
Baytowne Beer Fest! Oct. 8 – 9
Tickets on sale now! Time to roll out the barrel and discover unique suds and ales! The Village of Baytowne Wharf at Sandestin presents the 13th Annual Baytowne Wharf Beer Fest on October 8-9, 2021. American specialty beers from around the nation will be available for participants to sample and savor. Tickets: www.bigtickets.com/events/baytowne/beerfest21/.
Eggs On the Beach Oct. 16
Registration open for Cook Teams, Tasters and Sponsors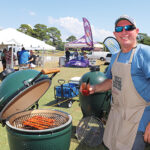 The Emerald Coast's official Big Green Egg EggFest cooking competition, Eggs on the Beach, is returning to Seascape Resort in Miramar Beach on Oct. 16, 2021. Presented by Bay Breeze Patio, the family-friendly event celebrates the delicious results of cooking on the Big Green Egg while benefitting two local charities—the Fisher House of the Emerald Coast and Food for Thought.
"We're excited to see this event evolve," said Bay Breeze Patio co-owner and event co-founder Wayne Paul. "Bigger is not always better. After canceling the 2020 event, we're redesigning the event in a new location at Seascape that will allow us to separate team tents and provide space to spread out. We're looking forward to welcoming first-time participants as well as welcoming back some of our veteran cook teams to the 2021 competition."
Registration is now open for cook teams of all types. Backyard grilling enthusiasts, non-profit organizations, restaurants and businesses are all invited to show off their skills at the grill for a chance to win prizes and be recognized as the best. With several ways to win, including People's Choice Awards, Judges Awards, Knob Creek Awards, and Best Booth Display Award, there are many opportunities to be rewarded. Cook teams of up to six are provided a large or extra-large Big Green Egg, lump charcoal, fire starter, plate setter, table, tent, paper plates, plastic utensils, napkins and toothpicks. Teams are responsible for bringing their favorite recipe, ingredients and booth décor.
Consider registering to be a taster. Tasters nibble on tasty bites ranging from meats and seafood to veggies and desserts that have been cooked on the Big Green Egg then vote on their favorites. The "People's Choice" votes will help one lucky team win bragging rights and a brand new large Big Green Egg.
This year's 2021 cooking competition has a new location behind the Seascape Towne Center overlooking the pond and fountain. The new location will allow each cook team to have their own 10×10 tent, allowing for more prep space and social distancing. In addition, the tiki bar, public restrooms and access to Seascape Towne Center businesses will provide added convenience and enjoyment for cook teams and tasters.
The best part is that Eggs on the Beach will once again support two incredible local non-profits that are serving needs in our community among students and active and retired military. For those who have thought of owning a Big Green Egg, Demo Eggs, which are used during the competition, are available for pre-sale at a discounted price.
Eggs on the Beach will take place from 10 a.m. – 1:30 p.m. To learn more, register a cook team or purchase taster tickets, visit www.EggsontheBeach.com.
The Market Shops Bloody Mary Festival Oct. 23
Proceeds to benefit Habitat for Humanity – Walton County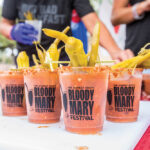 On Saturday, October 23, The Market Shops will host its Sixth Annual Bloody Mary Festival benefiting Habitat for Humanity – Walton County. The annual event, powered by Step One Automotive Group, will feature unlimited tastes of South Walton's most creative and innovative Bloody Mary's made with Distillery 98's Dune Laker Vodka and served by the finest restaurants and bars on the Emerald Coast.
For a $40 donation, guests are invited from 11 a.m. to 2 p.m. to enjoy up to 25 of South Walton's most coveted Bloody Mary's served in specialty cups provided by Compass Builders of Florida and Frillseekers Gifts. A panel of select food critics and local celebrities will judge each Bloody Mary to select the winners for the most delicious and most creative. There will also be a highly coveted first-, second-, and third-place People's Choice Award that is selected by each guest in attendance.
There will also be plenty of food from the various restaurants located directly in The Market Shops. Local craft brews will be served by Idyll Hounds Brewing Company along with champagne, provided by Hey Mama Wines, from the Bubbly Bar sponsored by Courtyard by Marriott Sandestin at Grand Boulevard, Residence Inn by Marriott Sandestin at Grand Boulevard, and the Hyatt Place by Marriott Sandestin at Grand Boulevard. Guests will be able to cool off with alcohol-infused popsicles provided by Swell Pops and a hydration station by Berkshire Hathaway HomeServices PenFed Realty. A lounge area with additional seating and cornhole games provided by Vacayzen will be set up on the main lawn, along with SEC football streaming on the big screen courtesy of Insurance Zone.
Guests can enjoy a commemorative photo booth courtesy of Legendary Marine, music by DJ Dad, a cigar bar by Shore Thing Cigars, and exclusive shopping opportunities from The Market Shops merchants. Headlining the event will be a live performance from Dread Clampitt on the main stage brought to you by Carter & Company CPA, LLC.
Tickets are currently on sale through 850Tix for the pre-sale price of $40 or can be purchased the day of the event at the door for $60. Visit www.themarketshops.com.
Fore Her Ninth Annual Golf Outing Fundraiser Oct. 29
Fore Her, a 501(c)3 organization that financially supports patients battling breast cancer and their families, will host its Ninth Annual Golf Outing on Fri., Oct. 29 at Sandestin Golf and Beach Resort. Registration is now open and the cost to play is $175 per golfer or $650 for a team of four, which covers 18 holes of golf in Sandestin's Baytowne Club, plus all green and cart fees. Golfers will enjoy breakfast and a Bloody Mary bar before tee-off, followed by various food and beverage items provided at each hole. Mulligans are available to purchase for $10 for 2 or $40 for 8. There are eight mulligan limits per team. Tee off is at 10 a.m. Fore Her is a 501(c)3 organization that was started in memory of Founder Amy Walsh's mother and aunt, who both lost their battles with breast cancer. Over the past eight years, Fore Her has raised over $130,000 through their annual Golf Outing. The money raised from the annual event will directly benefit local individuals currently battling breast cancer who need financial assistance. Those in need or to nominate someone in need of financial assistance from Fore Her, please visit https://www.foreher.org/get-help to submit a request.
The outing will end with a 19th Hole Celebration party where golfers and their loved ones will gather for heavy hors d'oeuvres, drinks, live music, and a silent auction. Awards will also be given for first place, best dressed, and last place. The celebration will take place on the course near the Baytowne Golf Pro-Shop beginning at 3 p.m.
Fore Her will also host a Putt Fore Jewelry event for those who are waiting for their golfers to complete their round. The cost is $50 to participate and includes hors d'oeuvres, cocktails, and access to the extensive silent auction. Participants will try their luck at putting their ball into various holes on the putting green for the chance to win a $500 gift card to McCaskill and Company.
Various levels of sponsorship are available for local businesses to purchase, including Hole Sponsorships, 19th Hole Sponsor, Drink Cart Sponsor, Practice Driving Range Sponsor, Practice Putting Green Sponsor, and the Presenting Sponsor.
To register to play, visit https://www.foreher.org/golfouting. For questions regarding volunteering, sponsorship or registration, email amy@foreher.org.
The post Upcoming Events Roundup appeared first on South Walton Life | 30A News, Events and Community Information.