By Lisa Cyr,
September is here and people are saying goodbye to their summer vacation and returning to a daily schedule. It is the month that we receive a larger number of calls from people seeking music lessons. They are in a discovery mode and are exploring for information to help them create a positive musical learning experience.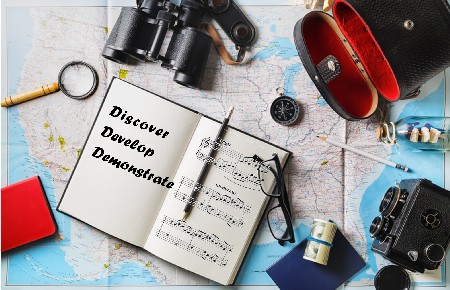 Discovering music might be: listening to pre-recorded music, attending live performances, taking a music appreciation class, or private lessons. This is the time you discover the instrument you want to play or the voice to develop. Maybe, the first instrument you try doesn't work out. Then, you might try a different one. Discovery takes time, so plan for at least 3 months of lessons. Students learn a lot about themselves when presented with the task of finding time to practice. Best times could be in the early morning, after school/work, or later at night.  Self-talk is revealing such as, "I always forget to play this note correctly."  Instead say, "I will remember to play this note." or "I've got this."
Next is the development mode. This is a time when you receive constructive feedback and suggestions for better technique. New skills are acquired as you begin to play faster and accurately. Fingers that were once awkward and weak begin to glide over the instrument. Mind to hand coordination quickens. Focus increases. Developing accurate counting skills is a key to becoming an above average player. Some students find this process boring and painfully uncomfortable when asked to "count out loud". Ugh. It's like I am a dentist about to pull a tooth as I say, "Ok, let's count the beats as we play this song." Ha! I am often met with a begrudging look that tells me, "No way".  I take that as a sign of a long lesson road ahead. I know that successful students have excellent counting skills.
Last is the demonstration mode. The final stage of a semester is performance. It is the culmination of all one's efforts expressed to others. This is not a test. This is a venue to share your personal expression and goal achievement. A time of reflection as you look back to where you started and compare it to your present ability. Positive reflection fuels and inspires future progress. Most student's get a big smile on their face as they reminisce and realize their ability has grown up a level. Replaying songs from your past is motivating and reveals progress. Also, memorization of music is an important skill to develop early in study. It creates confident focus and boosts creativity for an amazing performance. A great teacher once said to me, "Now that you have completely memorized this song, make it yours."
Music lessons are an individual effort and helps develop character and responsibility for one's total performance. From beginning to end, it's all yours. Your success is not because of a team. Your God given talent is what you make of it. Mentors come and go but ultimately you remain. What you do with your ability is up to you and everyone has great ability and potential. Teaching is a special honor to help an individual enjoy and own their progress.
Studio 237 Music Lessons is located in Santa Rosa Beach, Florida.  Our staff of teachers are ready to help you discover, develop, and demonstrate music. Call Ray or Lisa Cyr at 850.231.3199 and visit our website at www.Studio237Music.com.  
The post Studio 237 Music Lessons; Modes of Music Lessons appeared first on South Walton Life | 30A News, Events and Community Information.