Confirmed for the 13th Annual 2022 30A Songwriters Festival Jan. 14-17 include iconic artists Brothers of A Feather Feat. Chris & Rich Robinson of The Black Crowes, Dawes, Mavis Staples, Jenny Lewis, Emmylou Harris and Rickie Lee Jones.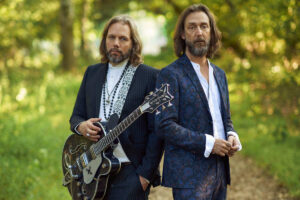 Dueling rock-star brothers Chris and Rich Robinson formed The Black Crowes in 1984, penning several hit songs and becoming renowned on the live music circuit before age 23. But after eight studio albums, four live albums, and over 35 million records sold, the brothers continuously butted heads, calling it quits forever in 2013; each brother vowed to never play or speak again. This January, Chris and Rich will reunite on the mainstage at Grand Boulevard as Brothers of a Feather, an acoustic duo.
Mavis Staples is both a Blues and a Rock and Roll Hall of Famer; a civil rights icon; a Grammy Award winner; a chart-topping soul/gospel/R&B pioneer; a National Arts Awards Lifetime Achievement recipient; and a Kennedy Center honoree. She's collaborated with everyone from Prince to Bob Dylan.
Dawes will showcase songs from their latest critically acclaimed album Good Luck With Whatever (recorded at the historic RCA studios in Nashville with six time Grammy award winning producer Dave Cobb). Based in LA, studio collaborators include Jackson Browne and Benmont Tench (Tom Petty & the Heartbreakers).
Jenny Lewis established herself as indie rock royalty as the frontwoman of Rilo Kiley, but as a solo artist she's blossomed into a singular, contemporary singer-songwriter. Her latest record On the Line features performances from Ringo Starr, Beck, and Don Was (The Rolling Stones).
Emmylou Harris returns with her eloquent, straightforward songs that first shook up country radio in the 1970s and cemented her as the premiere songwriter of a generation selling more than 15 million records and garnering 14 Grammy Awards, three CMA Awards, and four Americana Awards in the process.
Rickie Lee Jones will make her 30A debut fresh off the release of her memoir Last Chance Texaco, released in the spring of 2021. The two-time Grammy winner, known for her haunting voice that ranges from deep yearning to late-night sultry, first appeared on the Los Angeles scene in the mid-1970s penning instant classics like "Chuck E.'s In Love," "Danny's All-Star Joint," and the pivotal breakup album Pirates.
Returning to perform two shows each throughout the weekend are songwriting legends Amy Grant, Rodney Crowell, Patty Griffin, Steve Earle, John Paul White (The Civil Wars), and Shawn Mullins!
More than 150 newly confirmed artists will round out the 2022 lineup. This year's theme is "A New Morning for Everyone." Songwriter's Fest is forming an all-star band of musicians to perform Bob Dylan's classic New Morning album with guest artists performing on each of the songs in sequence. You can search on Spotify for the 2022 30A Songwriters Festival playlist and listen!
Premier VIP tickets are sold out and only a few Regular weekend passes remain. A Weekend Pass allows access to all venues throughout the four-day weekend on a first come, first served basis. Purchase tickets at https://www.freshtix.com/events/2022-30asongwritersfestival.
The post A "New Morning" For Everyone! 2022 30A Songwriters Fest Headliners appeared first on South Walton Life | 30A News, Events and Community Information.