Choosing which place to stay on your Destin Florida Vacation can be daunting — We get it! That's why we wanted to give you a peek inside one of our favorite *new* hotels in the area, Hotel Effie. We spent some time on property and want to share all the important pieces with you!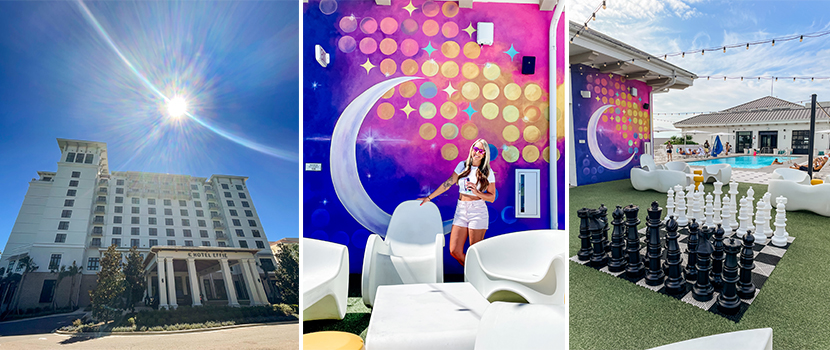 First, Location: Hotel Effie is inside the gates of Sandestin Golf & Beach Resort, a property that spans across Hwy 98 from the Gulf of Mexico to the Choctawhatchee Bay. Inside Sandestin, there are a variety of things to do, including the Village of Baytowne Wharf with shopping, restaurants and attractions, outdoor recreation like the Baytowne Marina, tennis courts, golf courses and so much more.
Hotel Effie stands right next to the Village of Baytowne Wharf, which means there is plenty to do within walking distance. As for the beach, its a quick shuttle ride away. Grab your beach essentials and hop on the tram that will drop you off and pick you up so you can enjoy the white sand beaches of the Emerald Coast without leaving Sandestin property.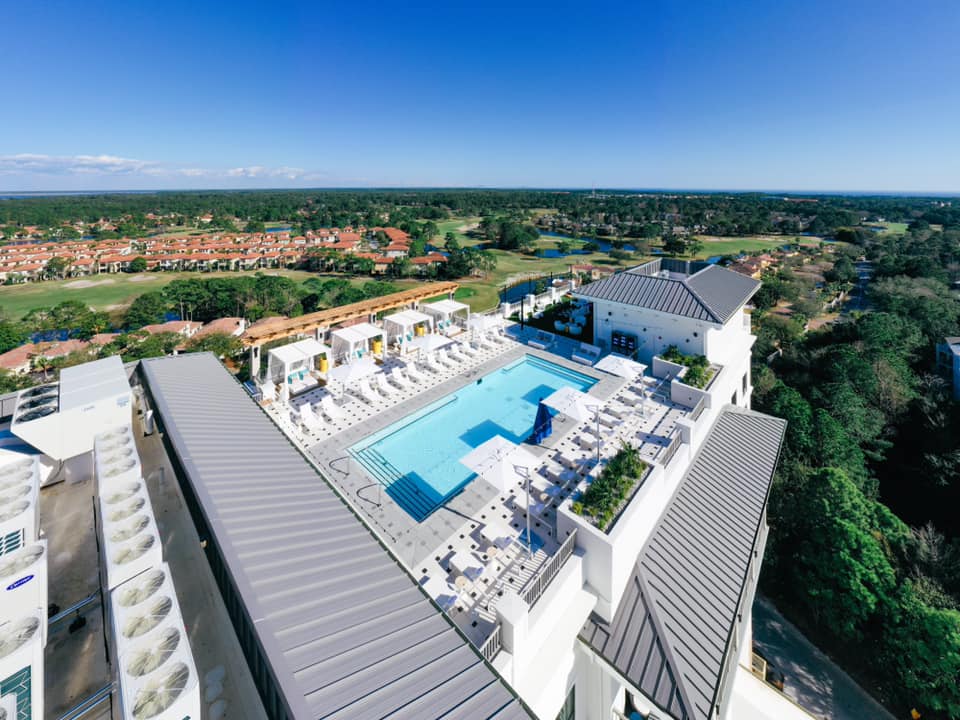 Rooms: Our room was a mini suite and would be a great choice for anyone on vacation! It had a king bed (that passed the comfort test!), with a TV in the center of the room on a swivel, so it can turn 180* to the living room / couch area behind it. The bathroom was spacious with a rainfall shower, large vanity with full lighting, and storage space. Add in a sink and mini fridge, complete with an amazing view of the Sandestin property, and there was nothing the room lacked.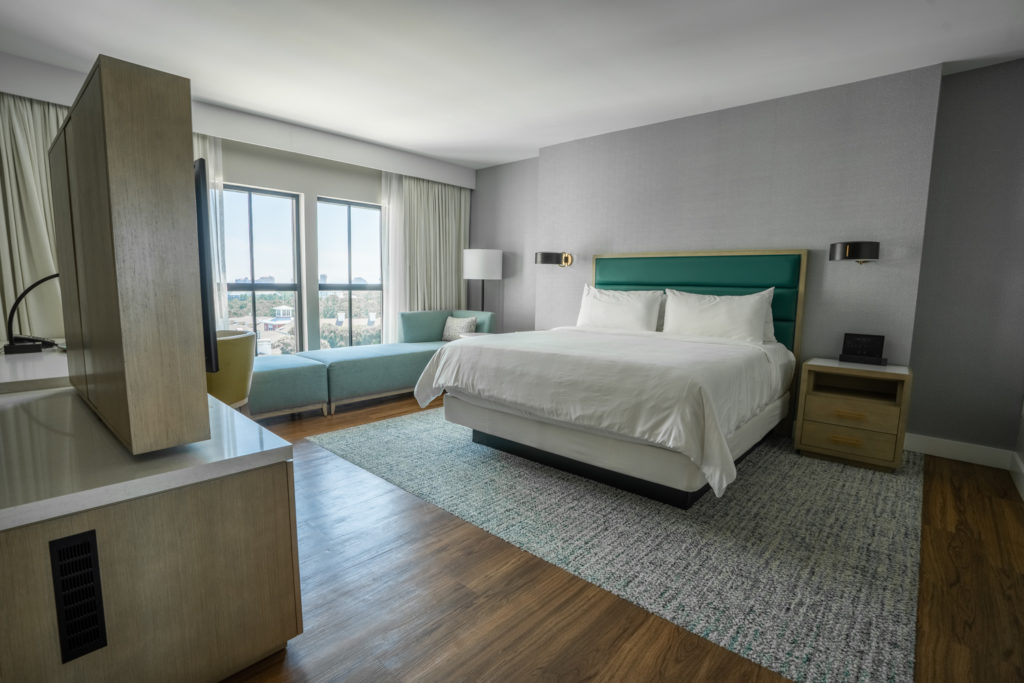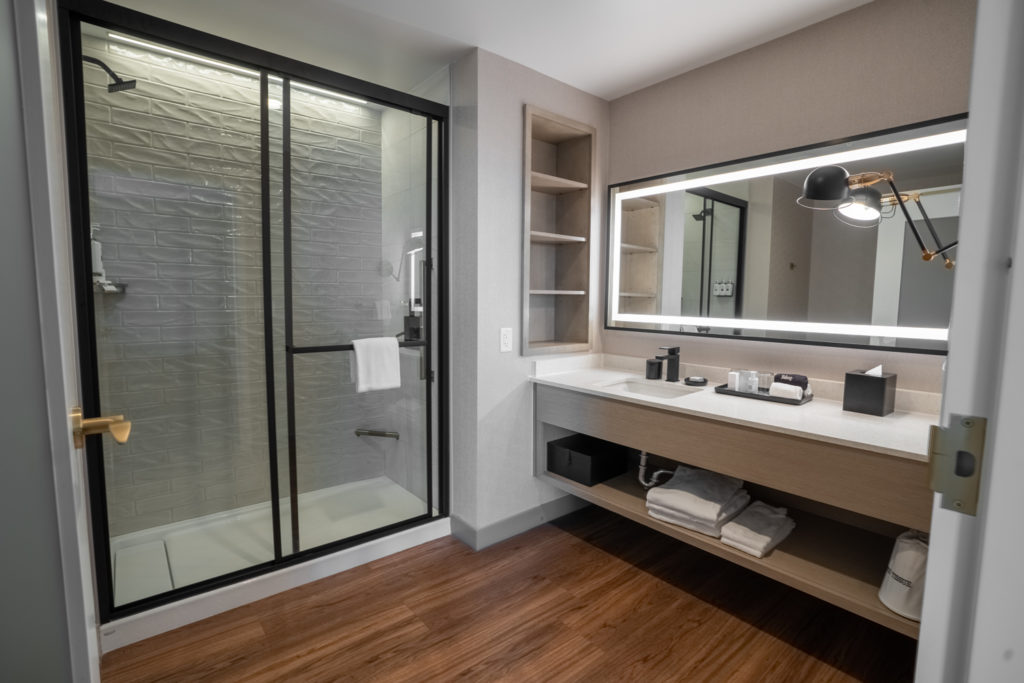 Pool: Possibly the most well known amenity (and our favorite spot!) is Hotel Effie's rooftop pool. Lined with chairs and cabanas, there is plenty of room to hang out. The rooftop has panoramic views with a rooftop bar on the North end. Order up your favorite beer, wine or cocktail while you lounge by the pool. On the opposite end sits a life sized game of Chess, extra large Jenga, chairs, and a brightly painted mural. It truly is a gorgeous space, with a vibe and a view that can't be beat. Ara's rooftop bar is open to the public, but the pool area is for guests only.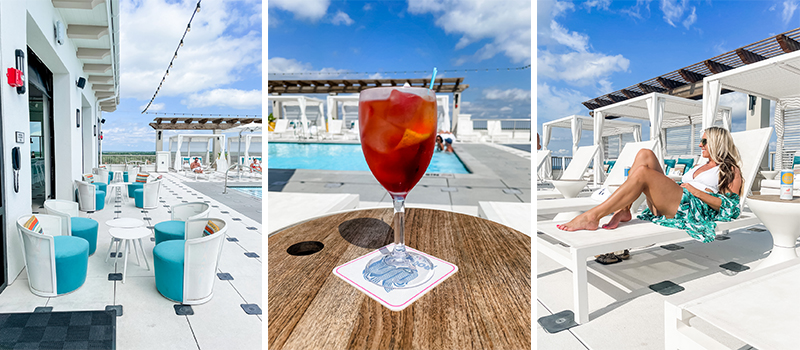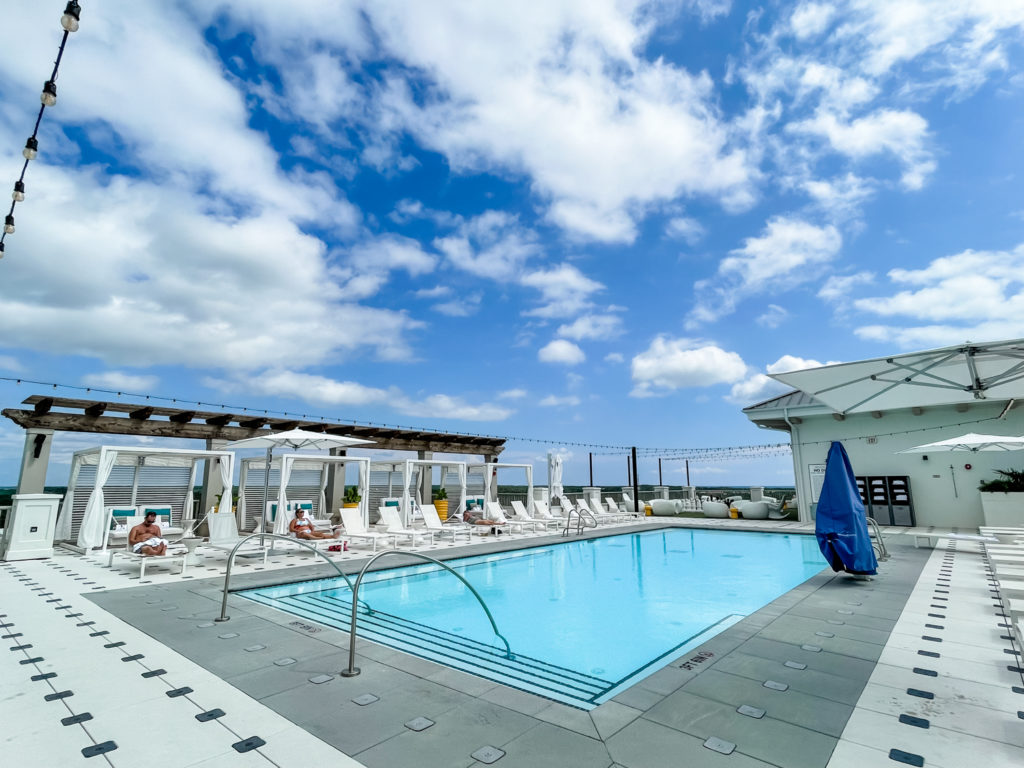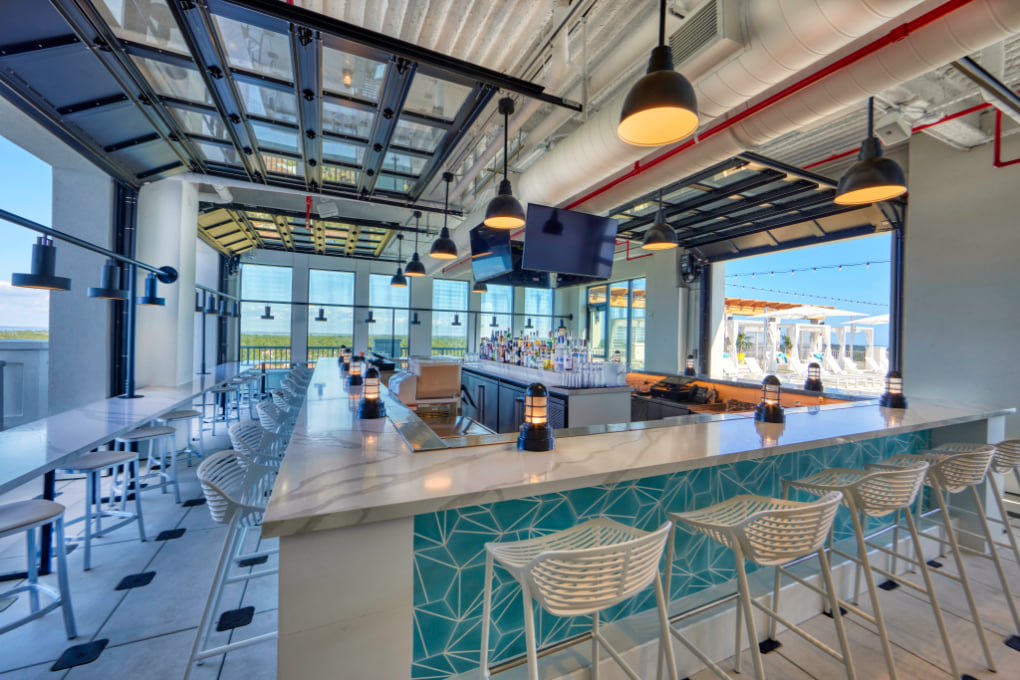 Restaurant: Inside Hotel Effie is their resident restaurant called Ovide. This upscale vibe is paired with unique cocktails and a 5 star food menu that leaves nothing to be desired. We ordered the Beef Tartare, Filet Mignon & the Halibut and were very impressed with the food quality and taste. Definitely worth dining in during your stay, or if you're local, make a reservation for a date night. Ovide is open daily for breakfast 7am-11a, lunch 11am-2pm, and reopens for dinner beginning at 5pm. *NEW* to the menu, they've added a Jazz Brunch on Saturdays and Sundays from 10am-2pm! On Saturdays, listen to the jazz sounds of Jones & Company, and on Sundays they have the J-Rog Trio playing. Mark down Ovide as a can't miss brunch spot!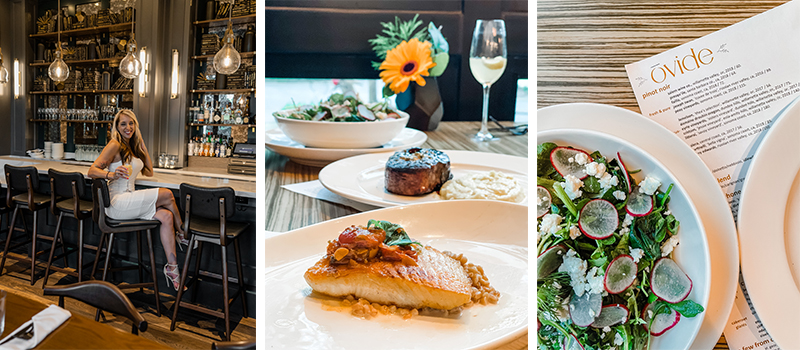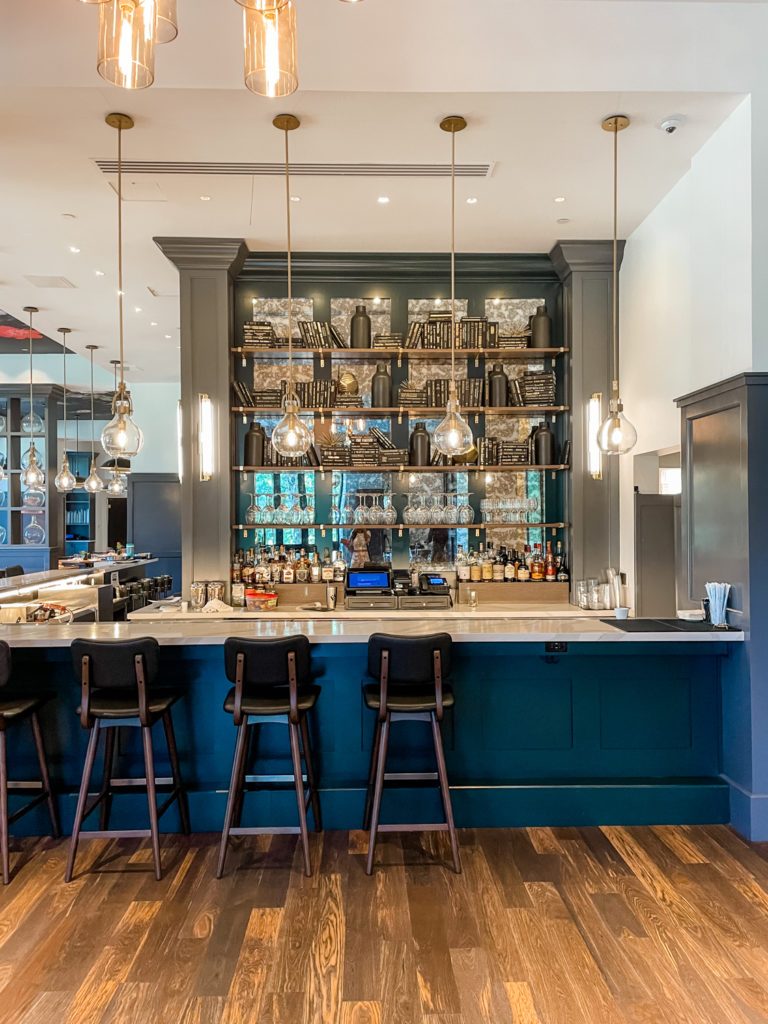 Spa: we also took some time to check out the Spa and it definitely did NOT disappoint. Spa Lilliana was relaxing, quiet, and just what you'd expect on a vacation. We were greeted warmly, walked towards the women's room to change, and then into the relaxation room to prepare for the massage. The spa has a wide range of services including massages, facials, nails, hair, makeup, waxing and more. The spa is open to the public so feel free to make a reservation and spoil yourself – You deserve it!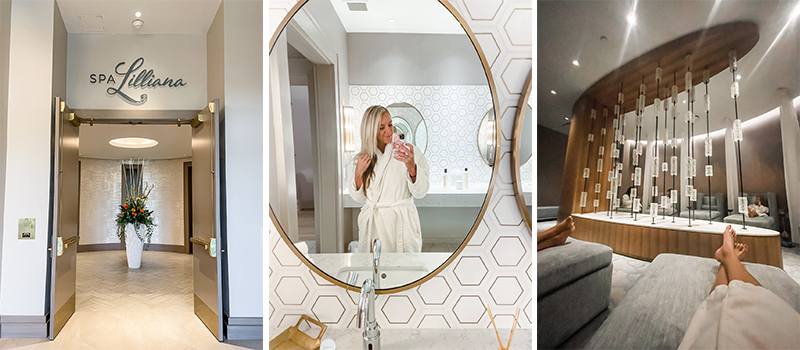 Now that you've seen the highlights of our stay, we encourage you to consider Hotel Effie for your next Destin Florida vacation! Sandestin has everything you'd need on property, and the Hotel Effie amenities, food, spa, and rooftop area are an experience to be shared. You can find out more about Hotel Effie and how to book on their website!
The post Hotel Effie Sandestin | Where To Stay in Destin Florida appeared first on Find Things To Do in Destin Florida – To Do in Destin.