Santa will come early this year for a lucky paddleboarder at the 2nd annual Pups, Paddles and Pints from 11 a.m. to 2 p.m. Dec. 4 at BOTE Grayton Beach, 32 E. County Hwy. 30A.
The event, benefiting local nonprofit Dog-Harmony, features cold BOTE beer from Destin Brewery, mouthwatering food from AJ's Grayton Beach and a chance drawing for a $649 BOTE Breeze Aero Native Eclipse paddleboard.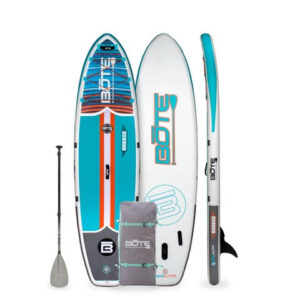 Paddleboard tickets are $10 each, or 3 for $20, and can be purchased online Nov. 20 through midnight Dec. 3 at dog-harmony.org; or with cash only at BOTE Grayton Beach. Tickets also will be available at the event, where the drawing will occur at 2 p.m. Need not be present to win.
Event admission and the first beer are free. Additional beers are $2 each. Food is $5.
Dogs are more than welcome – the more the merrier!
TICKETS CAN BE PURCHASED DIRECTLY AT THIS LINK BEGINNING NOV. 20
https://dog-harmony.org/product/chance-drawing-entry-ticket/
ABOUT THE PADDLEBOARD
The BOTE Breeze Aero 10′8″ Native Eclipse is fun to paddle and super stable. It's the do-it-all, everyday grab-and-go SUP.
Made for the first-timer, part-timer, or weekend warrior, the Breeze will make sure your next paddle is a great one.
Retail value: $649
Includes: Board, Paddle, Fin, Pump and Back Pack Bag.
ABOUT DOG-HARMONY
Dog-Harmony is a nonprofit 501(c)(3) dedicated to reducing the shelter dog population through humane education. Founded by Nancy Bown, a Certified Professional Dog Trainer – Knowledge Assessed (CPDT-KA), it works to build positive relationships between canines and humans, preventing dogs from becoming homeless in the first place. Programs include fun classes for children to learn responsible pet care, compassion and bite prevention; low-cost dog training; and educational symposiums with dog behavior experts. Programs are made possible through grants and donations.
The post Pups, Paddles and Pints Dec. 4 appeared first on South Walton Life | 30A News, Events and Community Information.