As one year closes, another year is before us… and what a great year 2022 should be!
Winter fishing continues with many of the private charter boats and the Treasure Island head-boats on Grand Lagoon. Be sure to check them out for some great winter fishing.
Capt. Anderson Marina's season opens with Valentine's Day as sweethearts board the Capt. Anderson III for a cruise on St. Andrews Bay looking for dolphins and other local wildlife, not to mention that fresh salt air! Those cruises will be from 12-1:30 p.m. and from 4:30-6 p.m. and are available to book online as well as by phone or in person.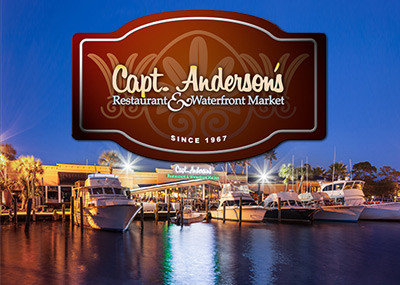 New this year will be our Valentine's Dance scheduled at the all-new Capt. Anderson's Event Center from 2 p.m. until 4 p.m. Come enjoy your favorite tunes of days gone by, sip a little refreshment, snack on some delicious treats. Reservations can be made online for this event also.
Full time fishing and sightseeing cruises begin March 1 with the opening of Triggerfish season. Other species available are Red Grouper, and Vermilion Snapper (Beeliners) and many other species. Charter Boats will be watching for Cobia, Spanish Mackerel, and King Mackerel to make their way up and across the coast as the Gulf waters warm up. In June, the Red Snapper and Gag Grouper seasons open. Of course, everyone loves their Snapper! Throughout the year Grand Lagoon offers many special events-be sure you mark your calendar. Almost all benefit local non-profits, keeping your 'fun' dollars in the community to promote local businesses as well as benefiting those less fortunate. With May, we can harvest Greater Amberjack. And boy, are they fun to catch!Be on the lookout for Tacos & Tequila Fest May 7, 2022, held annually at Hammerhead Fred's. Come taste and vote on the
Freedom Rocks on July 3 is Grand Lagoon's salute to liberty with a beautiful fireworks display that can be seen from all the businesses and homes around the Lagoon, as well as from the many boats that want to get more up-close and personal. Rain or shine, this celebration is awesome!
As the summer fun wanes, the fishing does not! The Second Annual PCB Fishing Rodeo will be hosted again at Capt. Anderson's Marina in September and October. (Stay tuned for all the fun to come!) Find out more details at www.pcbeachfishingrodeo.com . For a Pirate-y Finish to the PCB Fishing Rodeo, the final day of Pirates of the High Seas and the Rodeo ends with a grand celebration on October 9 at Capt. Anderson's Marina. What could be more fun than fishing and a pirate boat chase!
Grand Lagoon's Bloody Mary Fest is always a hit with locals and visitors alike. It is hosted annually by the Sheraton PCB Golf & Spa Resort. Local restaurant chefs and baristas come out again to the annual challenge to compete for "Best Bloody Mary in the Grand Lagoon."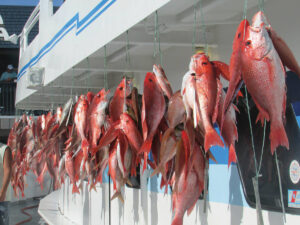 Find out more about Grand Lagoon events at www.grandlagoon.com.
We will be presenting the 10th Annual Bethlehem Christmas Village, reason for the season, December 7 through the 10, 2022. Watch for Bay Community Events coming soon to offer special speakers from all over the U.S., who will be hosted at Capt. Anderson's Event Center. Captain Andrson's wishes to extend a Happy New Year wishes to all! And remember…. When planning your fishing trip, Capt. Anderson's Marina is home to 3 large head-boats, 35 private charter boats, and 4 dive boats… and Shell Island/Dolphin Cruises. Capt. Anderson's Marina…Where the fish are always biting and the kids are always smiling. www.captainandersonmarina.com.
The post Capt. Anderson's is Looking Ahead to 2022… Fishing, Cruising and Fun! appeared first on South Walton Life | 30A News, Events and Community Information.