By Beth Clavier
What's in a name?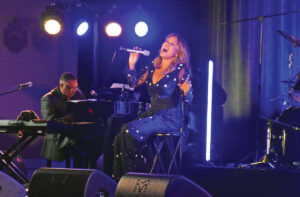 Well, in Latin, "Sinfonia" means a group of musicians, which local founder, Artistic and Music Director Demetrius Fuller says is how Sinfonia Gulf Coast got its clever moniker. "I wanted Sinfonia to represent any group of musicians, not just a full orchestra, so we can remain versatile in what we present."
Our locals love a local story.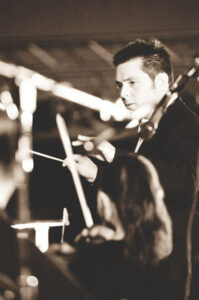 Demetrius grew up in the area and attended Fort Walton Beach High School, where the strong history of music programs and his very supportive parents inspired him at a young age to make music his career. He went on to study at the University of Cincinnati's prestigious College Conservatory of Music, where he received his Bachelor and Master of Music degrees and then went on to post graduate work in Geneva, Switzerland with additional training in Italy, France and Estonia. From 2005-2007, he was visiting professor and guest conductor at the Festival of Music in Poços de Caldas, Brazil, and was selected to conduct the Unity Academy Orchestra in Erbil, Northern Iraq.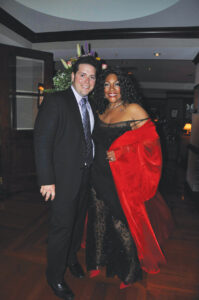 He could've settled anywhere with this extensive background. But Demetrius had a passion to bring the musical arts back to his hometown and our local region and knew he could do it in a way that nobody else had done before. "I wanted to create Sinfonia so that our community would have its own professional, stand-alone organization dedicated to all genres of music and could provide access to music education for the region's school districts," said Demetrius.
From Sinfonia Gulf Coast's inception in 2005, the organization has provided countless unforgettable concerts that Northwest Floridians may have otherwise never had the opportunity to attend. Among several industry A-listers that have performed with Sinfonia, some very recognizable names include Vanessa Williams, Kristin Chenoweth, Matthew Morrison, Patti LuPone, Roberta Flack, Mary Wilson and Jane Lynch. With Demetrius' go-big or go-home mentality, it's no surprise that he chose to bring the talented Bernadette Peters into town for Sinfonia's first major event back in 2006. That was the hook; that's what turned heads and accelerated Sinfonia's reputation as a fully professional orchestra and entertainment organization in our area.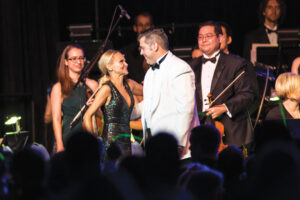 Making a mark has never been an issue for Demetrius as he lives and breathes his craft. His drive to foster a love of music in the next generation is why Sinfonia took over the management of the region's only youth orchestra in 2013, when then director Liz Aylor determined it needed a larger support base. Since then, the youth orchestra program, along with its many branches, has grown exponentially. Now under the direction of Conductor Aaron King Vaughn, the Sinfonia Youth Orchestra is thriving with opportunities to perform alongside professional musicians regularly. Just this year, a first of its kind after-school violin program was born by Aaron at Destin Elementary school. It has been a success, which has fueled his goal to expand into more schools across the districts. "The excitement and pride I see in my student's faces is priceless to me, because in many cases, this will be the only time they will ever be exposed to music in this way and it will forever leave a lasting impression whether they choose to continue their music education or not", said Aaron.
This year is Sinfonia Gulf Coast's 16th season, and with the limitless opportunity to reach new students and patrons alike, it's fair to say that Sinfonia is still in the prelude of the organization's history. If there is one thing Northwest Floridians are adept at, it's embodying the local vibe and fervently supporting local businesses. Music is a universal language, so come and immerse yourself in one of Sinfonia Gulf Coast's offerings this season. Your support is instrumental to its success!
Beth Clavier is the director of events and patron services for Sinfonia Gulf Coast. To find out more or to get involved, visit www.SinfoniaGulfCoast.org, email info@sinfoniagulfcoast.org or call 850.460.8800.
The post Sixteen Musical Candles, And Sinfonia Gulf Coast is Just Getting Started appeared first on South Walton Life | 30A News, Events and Community Information.