If you've spent any time at all down here on the coast, you're well aware that the locals LOVE to Brunch. Saturdays and Sundays are spent relaxing, making plans over mimosas and omelettes so it's no surprise that Destin has developed quite a breakfast/brunch scene. Here we detail out Destin Florida's best breakfast spots to spend your mornings before your day starts!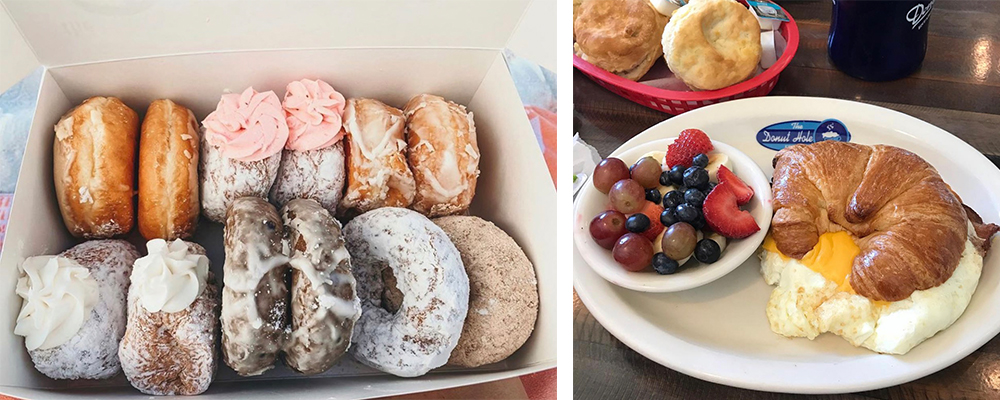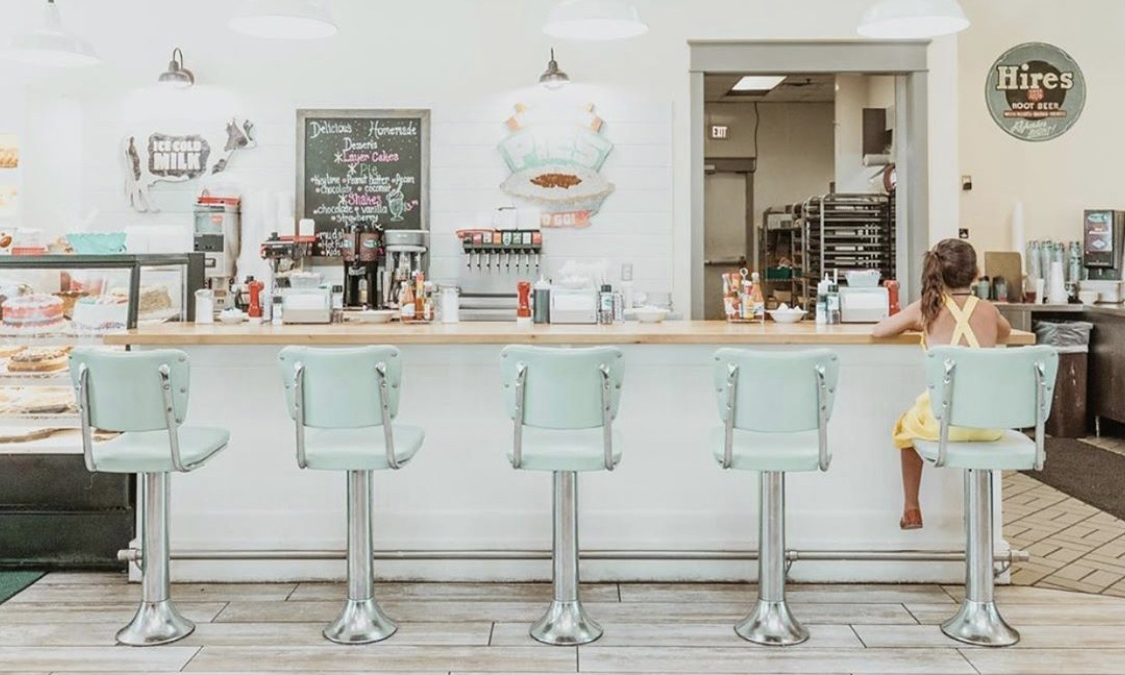 This is quite possibly one of our most famous options. With multiple locations in our area, it is a staple for many repeat families on vacation. Not only does it boast a full menu of breakfast, lunch, and dinner options, but upon entering you'll be greeted by a display case of donuts and pastries. You also never know who'll see – Celebrities like Luke Bryan have been spotted inside brunching with his family. If you're coming on a weekend, plan ahead and expect to wait in line. Dine in, or grab donuts to go on your way to beach – either way, it's a must hit spot in Destin!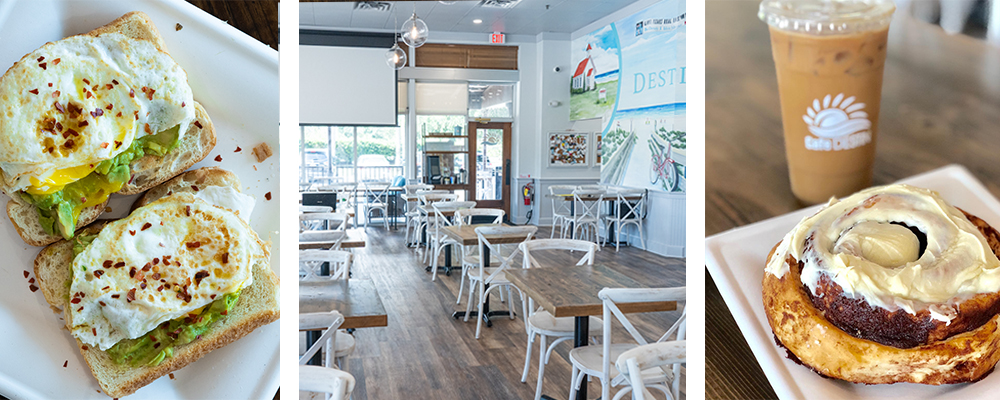 Cafe Destin is a local favorite! From fancy toast to omelettes, to Benedict's, omelettes and more, this is one stop you'll want to make time for. Open daily from 7am-2pm, they also serve beer and wine meaning you can have a Mimosa (or a white claw) with your breakfast. They have a lunch menu as well, served all day so even if you're not feeling brunch food, there is still something for everyone. Indoor and outdoor seating available, located in the heart of Destin.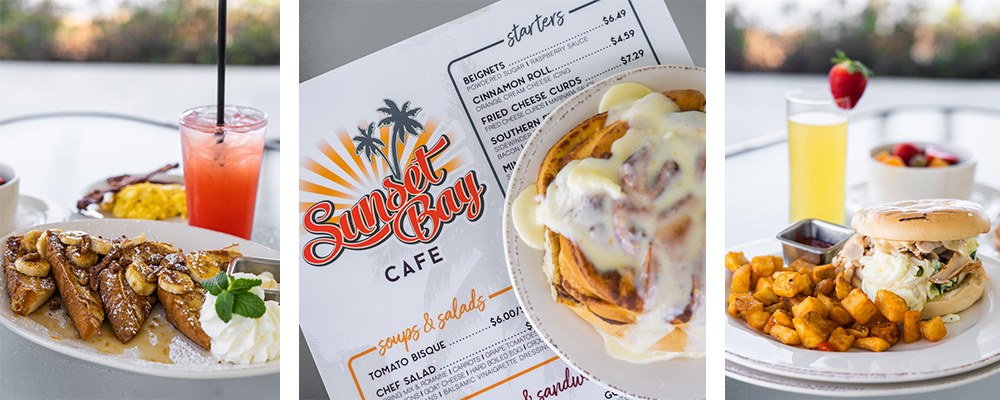 Sunset Bay Cafe is hidden back in the winding roads of Sandestin's bay side property, near the Links Golf Course. Dine inside their dining room, at the bar, or outside at tables lining the pool area with a view of the Bay. Their menu features a variety of breakfast and lunch items, plus signature brunch drinks like Bottomless Mimosas and Bloody Marys in a large beer mug. Check the menu out here to see all they have to offer!
Looking for something light and fresh? East Pass Coffee Co is your stop! From sandwiches to Acai bowls, to fresh coffee and more, we love their small but delicious menu. This cute coffee shop has a modern vibe, is locally owned and offers both indoor and outdoor seating. Highly recommend checking them out, and trying the iced Vietnamese Cold Brew!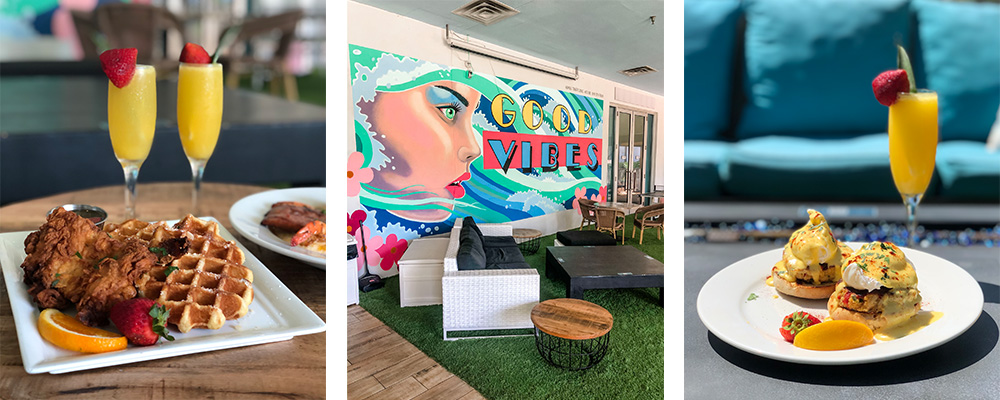 Destin's newest Brunch spot, The Good Vibes Bar is located inside the Palms Resort & Conference Center in Destin. It is open to the public and has on site parking first thing when you enter the Palms Resort. They have Sunday Brunch from 11am-2pm, and will offer Saturday brunch as well beginning October 2020. Bottomless mimosas are $10, with brunch entrees starting at only $8. Our picks: the breakfast pizza or the chicken and waffles. The indoor seating feels a bit more upscale, while the outdoor seating has a colorful, tropical vibe. The bar is covered and overlooks the pool area, or you can sit outside with the cute tiki umbrellas and couches. That outdoor area can also be rented for private events, such as Bachelorette Parties, Bridal Showers, Birthdays and more. Highly recommend!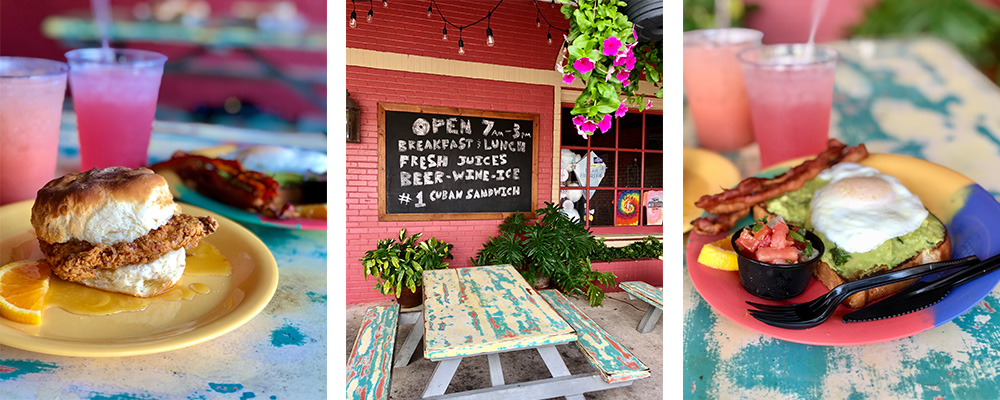 Easily a locals favorite, the Local Market is our pick when you want something quick and tasty before the beach. They have breakfast daily from 7am-2pm, with options like avocado toast, honey butter chicken biscuit, breakfast tacos and more, this is a delicious first stop on your vacation. Local Market offers both indoor and outdoor seating, and offers fresh coffee, juice, and even booze to go so you can grab and go to the beach. They also have a lunch menu with freshly cut meats and the best Cuban sandwich in town (only $5 on Fridays!). Check them out the next time you're in town!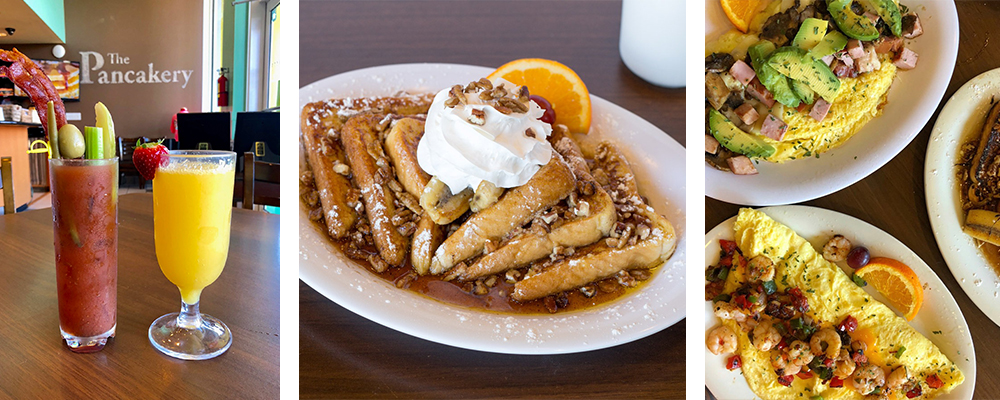 With so many more food options outside of just pancakes, The Pancakery is one of Destin's most well known restaurants to visit for breakfast. Their comprehensive menu boasts the widest array of pancakes in town, including The Bacon Lover and the Red White and Blue. Dine inside or out and bring the family to see for yourself why it's one of Destin Florida's best breakfast spots.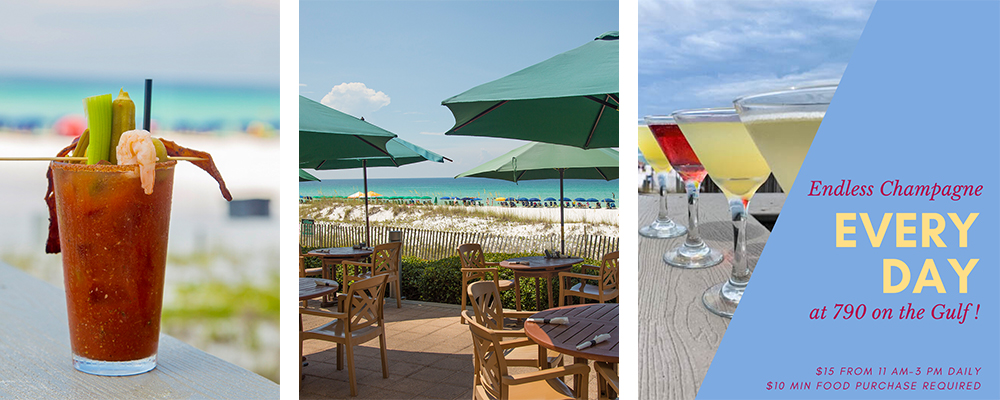 A more upscale vibe, 790ontheGulf is a gorgeous place to enjoy brunch on Sundays. Dine outside on their patio overlooking the Gulf of Mexico or indoors along the water. For those who love bottomless mimosas, 790otheGulf is the only one who offers bottomless champagne (mimosas, bellinis, or plain champs!) until 3pm every day. That's right – DAILY! We love their vibe and their food, but plan to arrive early as this place packs out.
Harry T's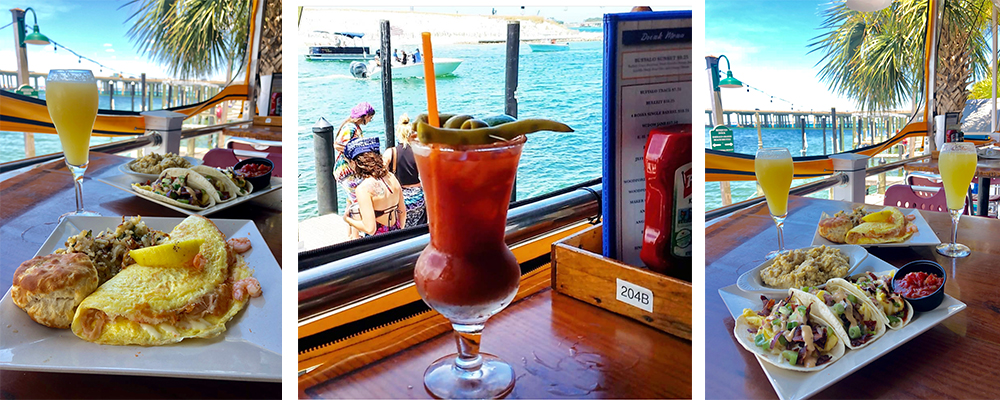 A long time favorite, Harry T's is the lighthouse building inside Harborwalk Village. With seating right on the Harbor, the view is second to none. Not only do they have a killer brunch menu (brunch tacos, hello!) but every brunch order comes with muffins and cinnamon rolls. On the weekends, they also offer bottomless mimosas with pineapple, orange or cranberry juice, and the glass never gets empty. The energy and vibe on the water makes this a great place to hang out and start your Sunday Funday.
Bonus: If you want to skip the lines and hit the beach early, we love swinging by Modica Market in Seaside and picking up a giant mimosa. Made fresh to order, grab some snacks and carry it out with you while you dip your toes in the water. A real local's trick during our busy season!

So there you have it – With so many great options, your toughest choice will be how far you want to drive for a delicious meal. Be sure to hop online, check out menus, see more photos, and leave us a comment below to share with us your experience visiting Destin Florida's best breakfast spots!
All photos courtesy of www.facebook.com and the business pages mentioned in this post.
The post Brunch at the Beach | Destin Florida's Best Breakfast Spots appeared first on Find Things To Do in Destin Florida – To Do in Destin.