By Kenneth Books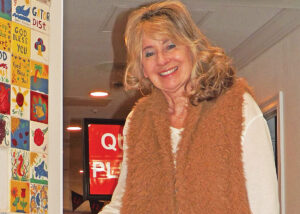 Julie Porterfield loves children. Because of that, when she was offered the chance to be Chief Executive Officer of the planned Children's Advocacy Center 23 years ago, she jumped at the opportunity.
"I worked at the state attorney's office," she said. "I started as a receptionist and went to night school to get my bachelor's and master's degrees," studying legal administration and public administration.
It was there that she got the chance to build the CAC.
"It came out of the state attorney's office," she said. The impetus was a severe child abuse case.
The goal was to put all services helping abused children under one roof.
"I started researching grants and organizing," Julie said. "After a year, I was asked to be executive director. It seemed like a good fit. I absolutely love kids."
The CAC officially opened in October 2000 with Julie at the helm. "We started with three employees," she said. "Now we have 23." In addition, the center has a regular roster of volunteers. But the children it serves could use more. "The center is always in need of volunteers," Julie said. "There are lots of opportunities."
A second facility, called the Pierce Family Children's Advocacy Center, opened in DeFuniak Springs in spring 2017.
The CAC has a budget of about $2 million, Julie said, up from its original budget of about $180,000. The money comes from grants, state funding and 60 percent from the community. "We live in a very kind, generous community," she said.
The need is great. Each year, the CAC helps between 700 and 800 children. But, Julie said, that's probably just the tip of the iceberg.
"We only see reported cases of abuse," she said. "I think there's about two thirds more out there."
In 2017, Julie said, the CAC added prevention efforts to its repertoire. A program called Child Safety Matters was begun in local schools, educating about 10,000 youngsters in 2021 from kindergarten through 12th grade. This has led to more disclosures from children about their circumstances. "They didn't know who to tell," Julie said.
"We focus on the more egregious cases," Julie said, such as sexual abuse and physical abuse. "There are a lot of online predators," she said. "With social media, it's just rampant." And the incidence of crimes against children rose during the pandemic, as schools were no longer open.
Some cases stand out due to their gruesome nature.
"Probably the worst was a girl with 90 percent of her body battered, burned and abused," Julie said. "There was a lot of evil in that case. There was no rational reason." The perpetrators, two women who were not the girl's caretakers, received 20 and 15 years in prison, respectively, sentences Julie believes were too lenient. But the good news is, the girl was adopted and is a successful adult today.
"For me, I'm doing God's work," Julie said. "What has kept me here is you see a lot of good. If something bad is going to happen to kids, we're here."
But, she adds, "It would be great to hang a 'Closed for Business' sign. Our mission is to end child abuse."
To learn more about the Children's Advocacy Center, including its ongoing need for volunteers, check the website at ECCAC.org.
The post Meet Our Hometown Hero: Julie Porterfield Wants To End Child Abuse appeared first on South Walton Life | 30A News, Events and Community Information.