Dress for Success Worldwide prepares women to meet the public with greater self-confidence and high self-esteem while instilling a need to thrive in the workplace. And now, the new affiliate, Dress for Success Emerald Coast (DFSEC), is here, primarily serving Okaloosa and Walton Counties.
In general, the Emerald Coast of Florida, and Okaloosa County in particular, has a strong military presence and attracts tourists, snowbirds, retirees and young professionals.  Professional and non-professional jobs are available and necessary to run the area's hospitality industry, retail and many other area businesses. How can DFSEC serve the community? By meeting unmet needs of diverse women with proper grooming and skill-sets to demonstrate their fit for the next job.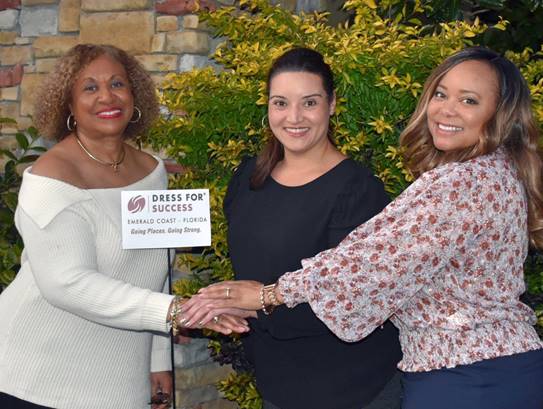 With a successful corporate and higher education career behind her, DFSEC was founded by Dr. Gail Shorter-Judson, D.B.A., M.B.A.  She will be serving as DFSEC President and Board Chair. Their Executive Director is Erica Cortes, M.B.A. and Cornell University graduate, who has an extensive background in IT in the health industry.
Dr. Shorter-Judson commented, "I feel my earlier 14-year career in corporate America, my role as a paid Loan Executive, and university adjunct faculty, coupled with volunteer posts in community service prepared me to lead this DFSEC effort and pass on necessary skills to women who need them most. Erica and I are looking forward to working with women."
Focusing on unemployed and underemployed women, Dr. Shorter-Judson's team will be reaching out to partner with various organizations. Some of which include the Okaloosa School District's Homeless Children's Program to work with the mothers; the Youth Division of Children in Crisis to work with youth who age out of foster care; and women referred by other non-profits with relevant outreach services for women such as Path of Grace, churches, public service organizations, shelters for victims of domestic violence, welfare recipients; and law firms handling divorce cases. These organizations can refer women who may need DFSEC's services.
In alignment with Worldwide Dress for Success, Emerald Coast's mission is to empower women to achieve economic independence and career success by providing a network of support, professional attire and the development tools to help women thrive in work and in life.
To get involved, email emeraldcoast@dressforsuccess.org, or for more information visit www.emeraldcoast.dressforsuccess.org, The local affiliate is in need of personal shoppers, board members and workshop facilitators. If interested, please contact us at the email above or call 850-586-0667.

The post Dress for Success starts new affiliate along Emerald Coast appeared first on South Walton Life | 30A News, Events and Community Information.