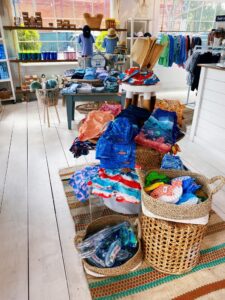 A longtime anchor of WaterColor's vibrant shopping scene, the WaterColor℠ Store has moved this Spring into a larger space and transitioned its previous storefront into a new specialty children's clothing outfitter named WaterColor℠ Kids. A grand opening and ribbon cutting is being held to celebrate the occasion on May 18th, from 1 – 4 PM, with the ribbon cutting for WaterColor Kids taking place at 2 PM in front of the store, at 6 WaterColor Blvd.
Attendees will be treated to champagne and gift baskets (while supplies last) and can take part in a raffle and enjoy live music being played outside the WaterColor Kids store. Special vendors will be hosting pop up tables, including Carrie Rhea Designs in front of WaterColor Kids Store, and Shore The Label in front of the WaterColor Store.
About WaterColor Store and WaterColor Kids: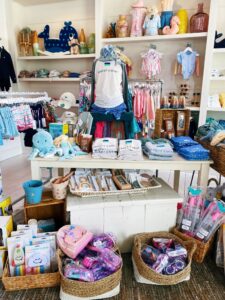 For more than 20 years, The WaterColor Store has welcomed visitors to Northwest Florida's beautiful Gulf Coast, and showcased the fresh, comfortable and modern fashions unique to the beach communities of 30A. As demand has increased over the years, WaterColor Store has expanded its retail offerings to provide guests with more coastal-inspired fashions and keepsakes that will remind them of memories made at the beach even after their vacation is over. Now, the WaterColor Store has moved the short distance from 6 WaterColor Blvd. to 20 Goldenrod Circle and increased the store's footprint from 1,100 square feet to over 3,000 square feet. This move not only allows for a wider selection of inventory, but also opens up space to feature larger home-pieces to help clients add touches of chic modern style to their beach homes, or bring a taste of the coastal lifestyle to their homes away from the beach.
WaterColor Store is home to an exclusive collection of WaterColor apparel and accessories, as well as thoughtfully curated lifestyle products and clothing by brands such as Peter Millar, Lululemon, Johnnie-O, and Travis Matthew.
WaterColor Kids
Moms and dads, grandparents, and anyone shopping for stylish and colorful clothing for a special child will find that perfect something in the new WaterColor Kids store at 6 WaterColor Blvd. Children's clothing from brands such as Peter Millar, Johnnie-O, Travis Mathew, Turtle & Tee's, and Bald Head Blues will be featured alongside Carrie Rhea jewelry made specially for kids. Fashion backpacks and goggles, as well as new toys like bubble machines, bicycle bells and more will be available along with a wide selection of baby accessories. Unique WaterColor-branded apparel, accessories, beach essentials and toys are specially selected to appeal to children's style and needs.
Stop by WaterColor Store in its new location, or visit WaterColor Kids! The curated selection and our staff's Southern hospitality will make your visit with us a highlight to remember. Follow us on Instagram @ShopWaterColor and Facebook at https://www.facebook.com/WaterColorStore for inspirational style, specials and the latest news from WaterColor Store and WaterColor Kids.
WaterColor Store
20 Goldenrod Circle (New location, opened in Spring 2022)
WaterColor, FL 32459
Phone: (850) 534-5004
https://shopwatercolor.com
WaterColor Kids (Opened in Spring 2022)
6 WaterColor Blvd S. #102
WaterColor, FL 32459
https://shopwatercolor.com
The post WaterColor Kids Grand Opening Celebration May 18 appeared first on South Walton Life | 30A News, Events and Community Information.