By Will Estell
If you're a fan of great country music and America's best beaches, you've probably already heard a thing or two about Gulf Coast Jam. What started as a decent size outdoor music festival 10 years ago has now grown into one of the top-ten largest, and most popular, country music festivals in the nation.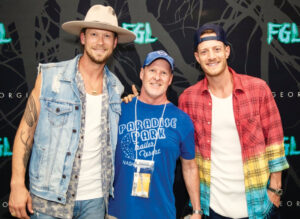 Having covered the festival editorially for four years, I can assure you it does not, and will not, disappoint. I've seen everyone from Tim McGraw, Brad Paisley, Luke Bryan and Florida Georgia Line to Riley Green, Big & Rich, Lynyrd Skynyrd, Brothers Osborne and Kid Rock play to Gulf Coast Jam's growing crowds of music lovers. Every single year the shows get better while the crowds get bigger. With attendance topping the 30,000 mark for the headlining shows in 2021, this year's festival is proving to be even more popular, with some ticket packages already sold out months in advance.
Taking place June 2-5 at Panama City Beach's Frank Brown Park, this world-class music festival is just right down the road if you reside anywhere in the vicinity of Destin, Niceville, Fort Walton Beach, South Walton and the surrounding areas.
Spring 2022 Gulf Coast Jam's headliners encompass some of country's biggest duos, including long-time hitmakers Brooks & Dunn headlining June 5th while the festival will be one of the last venues that local favorites Florida Georgia Line will perform at (having recently announced they are taking a break) on June 4th. Additionally, the newly minted ACM Group of the Year, Old Dominion, will headline on June 3rd.
When asked about some of the highlights of the upcoming 10TH Anniversary festival, Gulf Coast Jam's executive producer, Rendy Lovelady, said, "Florida Georgia Line is not only one of the most-requested acts we've ever had at Pepsi Gulf Coast Jam, but both Brian and Tyler are fixtures on the Florida Panhandle. We can pretty much guarantee a party when they play Panama City Beach!"
As if the top-notch array of festival headliners isn't enough bang for your buck, the 10th Anniversary Jam features a smorgasbord of entertainment that includes some of the biggest names in music— every single night. For the first time in the festival's history, this includes a bonus kickoff show featuring Brett Young on Thursday June 2nd, included for all of those who purchased a weekend pass.
Thursday night's lineup also includes Jameson Rodgers, Niko Moon and Casi Joy, while Friday night brings to the big stage: Tyler Rich, Jordan Davis, Gary Allan, Randy Rogers Band, Presley & Taylor, Ryan Griffin and Tigerlily. Saturday features well-knowns Chris Janson, Maddie & Tae, Darryl Worley, Frankie Ballard, Steve Moakler, Nate Barnes, and Chandler Flint. Finally the culmination of the entire festival weekend will start Sunday, and includes one of my personal favorites, Georgia's own, Corey Smith, along with Scotty McCreery, Tracy Lawrence, Confederate Railroad, Mitchell Tenpenny and Elvie Shane.
Having attended and written about concerts by a wide array of artists, the one thing I am always in awe of is that even with today's ever-increasing ticket pricing for single concerts, somehow the producers of Gulf Coast Jam still find a way to offer a remarkable package that allows a concert goer to see in excess of 20 well-known artists, over four days, on a single stage, and make it affordable. I mean where else can you experience all of this music, first-hand, on a $159 general admission weekend pass? People pay that to see one or two groups at most large venues around the nation.
Festival COO, and Panama City Beach Mayor, Mark Sheldon, agrees that the price has a lot to do with how popular Gulf Coast Jam continues to be, stating, "Four days of fun, sun and great music – you just can't beat that!"
My friend, Craig Campbell, of Campbell Entertainment Group in Nashville, has played an instrumental role in orchestrating various behind the scenes aspects of Gulf Coast Jam since its first year, and he's told me, firsthand, that the talent alone runs well into the multi-millions each year.
Campbell went on to explain, "it's actually because of our great sponsorship by Pepsi, as well as the generous support of Panama City Beach, Jim Beam, Bud Light, and our many other valued sponsors and festival partners that the promoters are able to continually make this one of the most affordable music festivals in the country, year-after-year. That's one of the aspects that Rendy and Mark are most proud of. Bringing great music to Panama City Beach and making it attainable to most everyone."
In addition to weekend passes, Thursday-only tickets are available starting at just $29 for general admission. This is the first time the festival has offered a one-day pass, though, as I mentioned above, everyone who purchases a three-day ticket will automatically get the fourth night free as a bonus.
Four-day Pepsi Gulf Coast Jam passes were still available at the time of this article. General Admission passes are currently $159.00 for the full four-day weekend, with special college student passes only $139.00, and Military, First Responder/Medical Personnel passes just $129.00.
There's also VIP Pit and Super VIP passes at $459.00 and $659.00, respectively. And, trust me they are worth every penny for that location and stage view. There are also very limited numbers of Side Stage passes available for $1,150.00. All passes are available at www.GulfCoastJam.com, while they last.
For additional information you can follow Pepsi Gulf Coast Jam on Facebook and Instagram. However, the best way to get in on all the action is simply to grab your tickets and music-loving friends and get to Panama City Beach to experience it all yourself.
The post Gulf Coast Jam Brings Country to the Coast appeared first on South Walton Life | 30A News, Events and Community Information.