By Lori Leath Smith
It was a recent Thursday in Destin. We walked through the doors of The Melting Pot and were escorted to our table—a quaint booth with rose petals and candles on the table. It was our "Thursdate" and a memory for the books!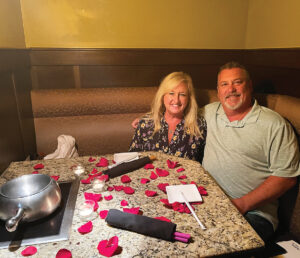 Our special Thursdate four-course menu began with our choice of cheese fondue, followed by a salad of our choice and an entrée that included tender filet mignon, Atlantic salmon, savory teriyaki sirloin, chicken, shrimp and lobster tail! To top it all off, as if that wasn't enough, we chose a most decadent dessert, Flaming Turtle which has milk chocolate, caramel and candied pecans. Part of our experience was our server, Melody, who worked at our pace. And, believe me, it was a lot of fun and the food is out-of-this-world! We were never rushed; it was very relaxing. And turns out The Melting Pot is the premier "Fondue" restaurant on the Emerald Coast. If you are looking for a unique and interactive dining experience, this is the place.
Mark and Becky Chapman, two Florida snowbirds, recently took ownership. Both having grown up in Florida, Mark in Pensacola, they left the state when their jobs took them to Birmingham and then Oklahoma for the past 21 years. Seventeen years ago, they decided to purchase their first Melting Pot franchise in Tulsa. "We were drawn to Melting Pot's efficient business model and fan-favorite Fondue which won over our hearts and many Americans who want to enjoy a special experience," said Becky.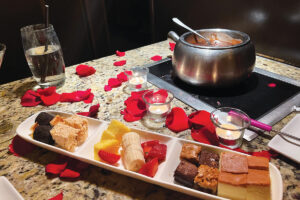 With two very successful locations, the other in Oklahoma City (a Top 10 in the nation) and with their children grown, Becky and Mark found their way back to their Florida roots. When the Destin location came up for sale, in less than three months, they were here.
"We have some big plans for this location," said Becky. "New décor, upholstery and remodeling of the bar and patio are among them. We also plan to add a retail program where you'll be able to order a dozen roses or seasonal flowers for any day of the week and cookbooks, champagne flutes, old-fashioned recipes and teddy bears—fun things to enhance your celebrations," she said.
Since The Melting Pot caters to locals as well as visitors, it stays busy all year and is very much involved in the community. General manager Erin Harris is always hiring servers. "It's a perfect job for someone in college or trying to supplement their income with a second job," said Becky, "since it is open for dinner only. And we want to find ways to give back to our community."
The Chapmans have three grown children (and two grandchildren), and "our whole family has always been part of the business: our daughter is marketing director; one of our sons helped manage and one helps with maintenance."
The Melting Pot is one place where diners are encouraged to slow down and talk while they 'play' with their food. A four-course evening begins with your choice of six classic cheese dish appetizers, unmelted in a hot, 6-inch melting pot. Next is your choice of salads. Your main entrée comes to your table unprepared. Yes, each diner cooks their own serving. For dessert, your server will bring you a warm Fondue bowl of fresh melted chocolate of your choice. Throughout the process, you find yourself engrossed in the experience.
There are "fast Fondues" for those in a hurry or you can simply stop in after work, sit at the bar and order just one course: Cheese, Salad, Entrée or Chocolate. Eventually, Becky said they plan to add some hot foods which will complement the Fondue.
Specials each week include: Wednesdays BFF: Best Fondue Friends for ever – special price with drink specials; Thursdate – $49 per person for a four-course meal including candles and rose petals on your table. Happy Hour is Monday-Friday, 4-6 p.m. – 1/2 price cheese and chocolate Fondue.
And so, no matter the occasion or how many courses you choose, The Melting Pot provides an unforgettable, interactive dining experience that turns moments into memories. From the time the first piece of bread is dipped to when the last nibble of dessert is savored, you'll have the time to discover new things about people you thought you knew, and those you're getting to know.
The Melting Pot is located at 11394 US-Hwy. 98 in Miramar Beach. Call 850-269-2227 or visit www.meltingpot.com/destin-fl to view the complete menu or, as we would recommend, make a reservation.
The post The Melting Pot Destin: Melting Moments into Memories appeared first on South Walton Life | 30A News, Events and Community Information.