"We live in a world where we are told to follow our dreams, but we weren't told how hard it would be to achieve our dreams. For a female in today's society, there are a lot of things that hold us back from reaching our full potential," said Marlee Tucker, Director of Development, United Way Emerald Coast at the recent launch of United Way Emerald Coast's (UWEC) new Women United chapter.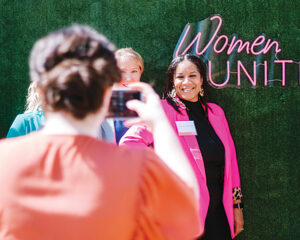 118 women from throughout Okaloosa and Walton counties gathered at WaterVue at Brooks Street in Fort Walton Beach to celebrate and provide input for the causes they are passionate about. "As we come together this morning, we celebrate and honor the accomplishments of the women that came before us, those who paved the way for us to be where we are today. We also recognize that there is much more work to be done, to be where we want to be both as women and as a society," Marlee said. "But, most importantly, this morning we decide how WE will be the ones to do something about it, how we will step up and improve the quality of life for the women and girls in our area."
The attendees also voted on the first focus of Women United. "We considered some of the most important issues in our local area as they relate to women and girls, and two issues kept being repeated in our discussions: mental health and education," said President & CEO, Kelly Jasen. With a 65% vote, the group selected the mental health of women and girls as its focus.
"Women and girls need to know that it is OK to talk about mental health," said Kelly, "to realize no matter your circumstances or your struggles, you are NOT alone."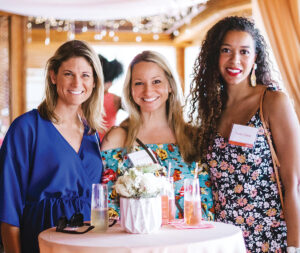 In Okaloosa and Walton counties, there are currently no existing support groups for women dealing with postpartum depression. Through this initiative, Women United hopes to help young girls learn their worth, build their self-esteem and practice developing healthy coping skills so they all feel loved and supported; help provide resources and treatments they need to overcome their mental illness; and provide at least one supportive relationship that a little girl or a young single mother needs in order to change their life. "With the right tools and support, there's no limit to what women can do and as part of United Way, we have unparalleled resources to make lasting changes for local women and girls," said Kelly.
Women United is a network made up of female leaders who wish to affect change in their community through philanthropy and service. By investing their time, talents, and treasures these passionate ladies come together and address some of our area's most pressing issues as they relate to women and girls. "I am so excited to have launched Women United right here in Okaloosa and Walton counties," said Carol Rogers, United Way Emerald Coast (UWEC) Board Member and Women United Chair. "I was previously a member of the Women United chapter in Volusia and Flagler counties where I experienced first-hand the difference a passionate group of women can make. The Emerald Coast is home to some of the most caring and generous ladies in the world and I look forward to uniting with them to build a stronger community where women and girls can thrive."
The event featured several local female-led businesses as vendors and sponsors, including Corcoran Reverie, Lumi Pod Photo Booth Rentals, Emerald Epicurean, Forget Me Knot Florals, Happy Helium Destin, Emerald Coast Vibe, Tap The Coast, WaterVue at Brooks Street, Emily Bass Music and Mrs. Jones Cold Brew Coffee.
United Way Emerald Coast has had a presence in this community for the last 65 years, fighting for the health, education and financial stability of every person in our two-county area of Okaloosa and Walton counties. We strive to bridge the gap for children and families who are struggling – to let people know that they are more than their circumstances, that their community is on their side, that we want to see them succeed.
Are you interested in becoming a member of Women United? Women United is open to women that donate a combined household gift of $500+ a year (unrestricted funding) to UWEC.
Visit www.united-way.org/womenunited or contact womenunited@united-way.org to learn more.
The post Women Unite to Improve Mental Health appeared first on South Walton Life | 30A News, Events and Community Information.