Have you ever wondered what the local Chamber of Commerce does and what the benefits would be for a small business considering joining? On Wednesday, May 25th, Jennifer Cooper, Membership Director of the Walton Area Chamber of Commerce will give a talk and answer your questions about the value of joining the local Chamber. Jennifer will be speaking to the Small Business Connect group that meets each Wednesday at Noon at the Destiny Worship Center, 122 Poinciana Blvd. in Miramar Beach. Jennifer will be speaking on how the Chamber can help a small business:
Make business contacts.
Receive chamber newsletters.
Acquire customer referrals.
Bring credibility to your business.
Increase your visibility in the community.
Networking opportunities.
Gain a voice in government.
The meeting will run from noon till 1:15 p.m. Small Business Connect is a free business networking group meeting each Wednesday at Destiny Worship Center in Miramar Beach. The group has been meeting for the past 6 years, sharing referrals and offering small business support. The group meets at noon-time for lunch, which can be purchased at the DWC café for only $7 (includes salads, delicious sandwiches, a side and a drink). You do not have to be a member of the church to attend.
Small Business Connect has no fees or extensive requirements and is a non exclusive type group. If you are interested in attending please contact Dave White, Dave@Southwalton.life or or call Minh Nguyen, 850-376-3412 for more information.
Register online at https://destinywc.infellowship.com/GroupSearch/ShowGroup/2281633destinyworshipcenter.com/smallgroups.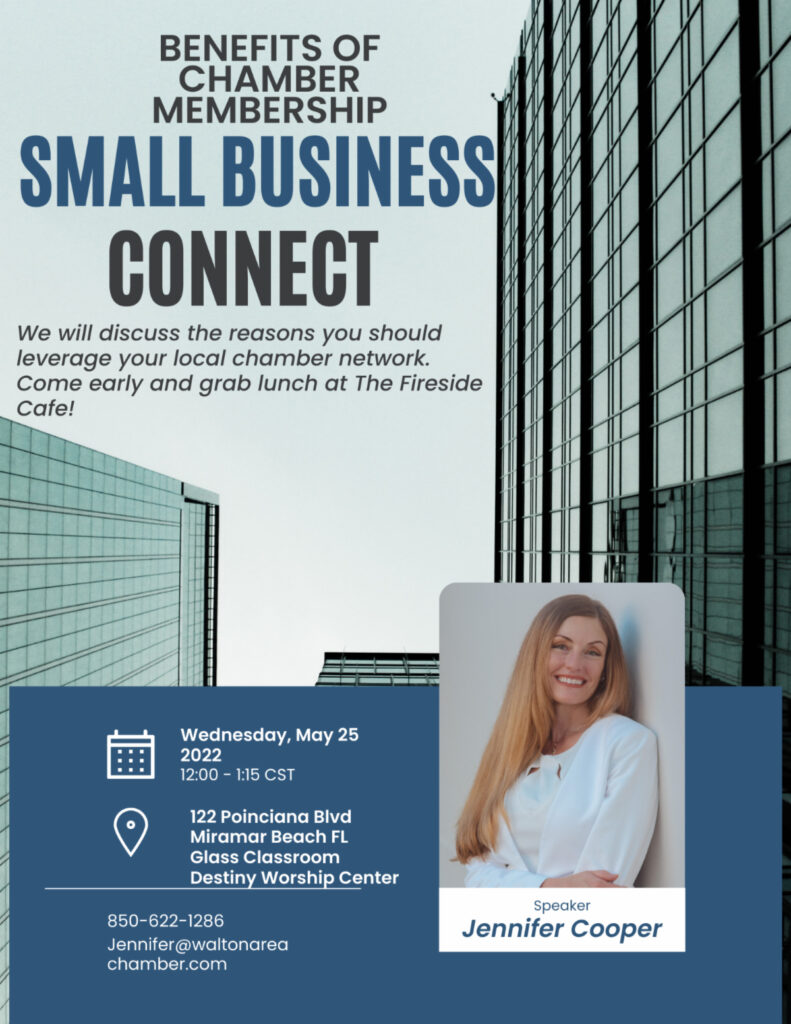 The post Small Business Connect Hosts Chamber Membership Director Jennifer Cooper May 25th appeared first on South Walton Life | 30A News, Events and Community Information.