By David White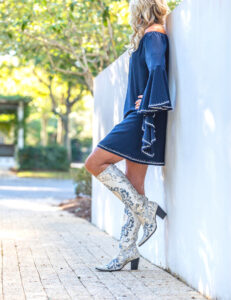 For over a decade now, Sandestin-based Rockwell Tharp has enjoyed serving and designing for Ladies across North America. While their home flagship store is based in Sandestin Golf and Beach resort inside The Village of Baytowne Wharf, they design for many stores across the United States and Canada. However, the boutique in Sandestin is the only location in the country where a Lady can see the entire Rockwell Tharp collection under one roof! "We are so honored and privileged to call Sandestin our home – for both our company and primary residence. In our humble opinion, there is no place in the world like the Emerald Coast," exclaimed Cameron Tharp, Co-owner and Founder of Rockwell Tharp. They love the safety and feeling of a smaller town with the amenities of a big city. They also grew up vacationing here as young kids.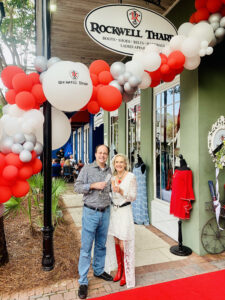 While Rockwell Tharp has been going strong for 11 years, the flagship boutique is going on its 6th year in Sandestin. The owners have pushed through many changes, ups, downs and a couple years of challenging Covid obstacles, but extra hard work, determination, and their strong faith in God have helped them persevere. Cameron stated, "It is our faith in Jesus Christ that has held us together all these years! It's who we are and what we believe."
Kristi Rockwell-Tharp and Cameron Tharp are very hands-on owners. Guests and shoppers of the home store can often find one or both of them there at any given time. It is apparent they love what they do and many of their customers have become dear friends over the years. Kristi and Cameron especially love helping style Ladies from head to toe, seeing their confidence grow and eyes light up when they put on RT styles. Most of the items designed by Kristi and Cameron are handcrafted.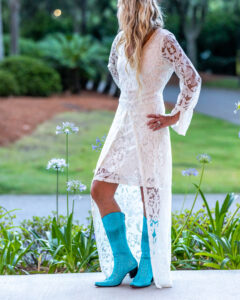 Their goal is to provide the Ladies here on the Emerald Coast exclusive designs that are both fun and classy, and if you happen to visiting Sandestin, it's nice to discover styles that you wouldn't find in your hometown. "Our passion is driven by the desire to create very special items for Ladies that they will not find everywhere else. We love uniqueness and are inspired by our travels from around the world," excitedly explained Kristi Rockwell Tharp, Co-owner and Founder of Rockwell Tharp. If you are a Lady that loves to have something outstanding, special, and authentic that has been designed by locals, then Rockwell Tharp is a great fit for you.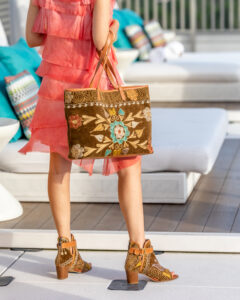 Rockwell Tharp has been on an amazing path for the last decade with many adventures. From being featured on The NBC Today Show, to designing for many fun celebrities, to being selected as one of the two delegates flown in to represent the United States at Milan Fashion Week, there is never a dull moment with this creative duo! The last 11 years have been quite a journey. "We are so grateful and thankful to all of you. We strive to treat our Ladies like gold. We are in business because of you and we know it," said Kristi.
Rockwell Tharp invites you to come shop with them, celebrate their 11th Business Anniversary this summer and enjoy a one-of-a-kind experience!!
The post Sandestin-Based Rockwell Tharp Celebrates 11 Years Serving Ladies with Fashion appeared first on South Walton Life | 30A News, Events and Community Information.