You can't go to Disney and not experiment with the food! Let's break down some of the top places to get a bite to eat, and what food & drink you should be looking for on the menu during your next Florida Vacation and Disney trip.
Disney Springs
The place where food and drink is plentiful. First and foremost, if you've never had cookies at Gideon's, get ready to have your life changed. The cookies & cream are my favorite. Here's a tip for you, though: Order ahead. Not just a few hours in ahead, at least 24 hours in advance.
If you know anything about my last name, you know it's Irish. If you're like me and love Irish pubs, Irish food, and history then checkout Ragland Road. Get a beer flight, sip slow on a glass of whiskey, or grab a Kopparberg Strawberry & Lime cider from Sweden. For an appetizer, get the Whiskey BBQ Lollipop Chicken. It's covered with roasted corn and bacon crumble. Plates of fish & chips whirred past my table, and boy did they look good. But the hottest menu around our dinner table was the Worth the Wait Beef Sandwich. The beef had been braised for 12 hours and was served with sautéed mushrooms, crispy onions, garlic aioli and smoked cheddar on ciabatta. I ate the Serious Steak, but I can't recommend that to anyone. The sirloin was average, the mashed potatoes tasted like instant potatoes, and my wife took one bite of the battered onion rings and said "Don't try this." She's a huge onion fan, I'm not.
Cap off the night at the Coca-Cola bar. Take the elevator all the way to the top or walk up the ramp to get you warmed up for your days of walkin' at Disney World. My wife drank the Cherry Coke Float and loved it. You can mix and match and do some "Around the World Trays." I drank the special of the night. It was a blue drink with a rock candy stick inside of the cup. Took me back to my childhood days.
A few years back, I tried Chicken Guy! A fun place for the family to check out and we enjoyed the chicken and fries. Plenty of options for sauces too!
Magic Kingdom
The Disney Park that really showcases why Disney is the most magical place in the world. But does the food add up? My opinion, yes!
We entered the park early and went right for the rides. After we rode two, we decided we needed a bite to eat. With crowds left and right, we weren't really sure what was offering food. We found The Friar's Nook and had tots covered in sausage gravy in minutes. Not like it was spectacular, but when people are getting hangry and you need a quick fix, you've got options. 
We also decided we needed to try the Cheshire Cat Tail, but the Cheshire Cafe was closed. After asking a cast member, we found out Cosmic Ray's Starlight Cafe was serving them. It's a pastry filled with semi-melted chocolate chips and covered with purple and pink icing. It was definitely a nice treat, but it looks better than it tastes. We all agreed if it was heated up, it would've been much better. The Starlight Cafe is also a good place to get chicken tenders, burgers, fries, etc. 
Ordering Online
Be prepared to order through the Disney app wherever you go. It's more confusing to figure out which places offer both walk-up and online, or just the online option. You can easily connect your credit card or Disney gift cards to the app which allows you to pay as you go. You can also schedule your meal to be ready at a certain time. This allows you to ride that ride you're waiting on and go grab your meal right after. 
For dinner, we headed outside of the park. If there's one food option I can confidently recommend to you, it's this next one.
After taking the ferry from Magic Kingdom to the Polynesian, we headed to the second floor and had dinner at Ohana. It's an American family-style restaurant with a "Polynesian flair." Get ready for a mixed greens salad and signature 'Ohana bread with honey butter to start out. Next, your server will bring out Honey-Coriander chicken wings on delicious noodles and pork dumplings tossed in garlic-chili sauce. Did I mention this is all you can eat? When our server asked us if we would like more noodles, the only answer was yes. Then for the final round, feast your eyes upon wood-fire grilled teriyaki beef, spicy peel-n-eat shrimp, grilled chicken with Polynesian-inspired chimichurri sauce, and roasted broccolini. While normally the final round is people's favorites, the show-stealer is the Honey-Coriander chicken wings. To top off the meal, get ready for the 'Ohana Bread Pudding. It's topped with vanilla ice-cream and served with a cup of caramel sauce. This was the best meal I have had in a very long time, and will be a go-to in my future Disney trips. Similar to how I advised you to order in advance for Gideon's, you will need to reserve your spot early at Ohana. 60 days early. Good luck to you!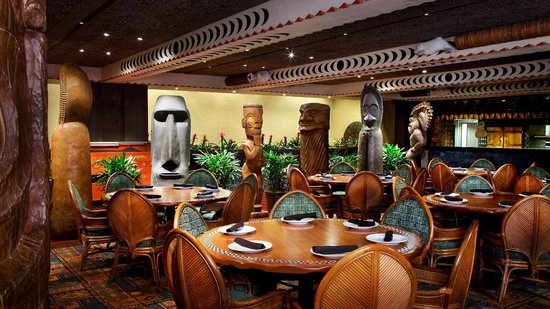 Hollywood Studios
Probably my favorite park of them all, Hollywood Studios draws me in more for the drinks than the food. I had a Ronto Wrap at Ronto Roasters. It's pita bread filled with roasted pork, grilled pork sausage, peppercorn sauce, and tangy slaw. I wish I would have asked for no slaw, but here we are. At the end of the day, it did the trick. We needed something to hold us over before we rode Rise of the Resistance and Smuggler's Run. The ABC Commissary is an easy place to get a "cheaper" meal on-the-go. Once again, ordering through the app will be your friend at this park.
Oga's Cantina
"This is where the fun begins" – Anakin Skywalker | Revenge of the Sith. Oga's is the Star Wars bar I had been waiting years to go to. After making reservations in advance, we only had 45 minutes to eat and drink. While the food is very limited, there's a drink there for everyone. I got the Fuzzy Tauntaun. It's a mix of ciroc peach vodka, bols peach schnapps, simply orange with tangerine, pure cane sugar, and "Buzz Button Tingling" foam. Let's talk about the foam for a bit. While this might be strange to some, I loved it. It gave a tart taste while drinking a very sweet drink. And yes, it does make your lips and mouth tingle. The drink was delicious as well. If you're a bloody Mary fan, get the Bloody Rancor. My brother drank the Dagobah Slug Slinger and loved it. It's filled with Herradura Reposado Tequila, Bols Blue Curacao, citrus juices, herbs, and bitters. Not in the mood for a drink? Then get something on the "Provision with (or without) Alcohol" menus. Get ready to have your mind blown. The second item I ordered was the Rodian Ration. It's served in a small bowl and is basically a Jell-O shot with boba balls and a sour powder coating. It's also made up of Tito's Handmade Vodka, Dekuyper Pucker Sour Apple, green apple, and sprite. The non-alcoholic Jell-O shot on steroids is even tastier. The Oga's Obsession is made up of Minute Maid Premium Lemonade, cotton candy flavor, blueberry popping pearls, and a bursting dried fruit mixture. 
Disney's Wilderness Resort Campgrounds Food Trucks
After Hollywood Studios, we decided to head back to the cabin to get ready for dinner. My family stayed at Disney's Wilderness Resorts Campgrounds (different from the Lodge). We saw a sign saying that on Tuesdays and Wednesdays there would be food trucks available from 5:30-9:30 p.m. My wife loves food trucks, so Tuesday night we decided to do that for our meal. I ate something spectacular. I didn't even know this existed. The food truck was called Pizza A Cone. Your pizza is shaped like an ice-cream cone. The crust is shaped like a cone and it's all filled with cheese, sauce, pepperoni, and sausage. For only $7, this was one of my favorite meals the entire trip. When I saw they had an Oreo frappuccino, of course I had to get that for my drink. My wife got a philly cheese steak from another truck and really enjoyed it. They had plenty of dinner food and dessert options. The Campgrounds have their own restaurants, too.
P&J's Southern Takeout
My dad and I split a family-style fried chicken and BBQ ribs platter. It came with mashed potatoes and gravy and mac n cheese. The ribs were great, as were the sides. I really enjoyed the chicken leg, but I wouldn't say the fried chicken would be my go-to if I ever go back. You can eat inside the restaurant or take it outside to eat at tables. We all had dinner outside by the water where the ferry takes you from the Campsites to Magic Kingdom. They also offer pizza, pulled pork, chicken nuggets and more.
Animal Kingdom
One of my favorite places to eat here happens to be right next door to one of Disney's greatest rides, Flight of Passage. The restaurant, Satu'li Canteen, continues the Avatar style. I've gotten the same thing both times I've been, the Combination Bowl: Grilled beef and chicken. It's filled with slow-roasted sliced grilled beef (which tastes like steak), marinated in a blend of garlic, herbs, red pepper spice and red wine vinegar. It's paired with wood-grilled chicken thighs marinated in garlic and olive oil, topped with crunchy vegetable slaw (I asked for this to be removed), and boba balls. You can mix and match your bases and sauces. I always choose the noodles. It's a filling meal that's under $20 and I love the atmosphere of the Canteen and the Avatar area. 
I didn't eat here, but my in-laws recommended Flame Tree Barbecue. This is located near Asia and Dinoland. Speaking of Dinoland, my wife got some bomb buffalo chicken chips at Dino Bite Snacks. It's right outside of Dinoland and you'll have your food in less than 5 minutes.
Epcot
On my trip earlier this month, Epcot was the one park I did not make it to. But I will recommend going during the Food & Wine Festival. I love seeing a bit of all these different cultures from around the world. On the other hand, my family enjoyed dinner at Space 220. These meals will be pricier, similar to Ohana. But you'll be on the receiving end of a 3-course meal at dinner and an "out-of-this-world" experience. That's the thing with Disney's dining. Even if you're not in love with what you eat, the magical atmosphere makes up for it. Eat tuna, salmon, steak, burgers, chicken and more while sipping on space-inspired drinks. 
Dole Whip
Part of the Disney eating experience is both the sit-down, full-meal spots. But you've also got plenty of options to get stuff on the go. One thing I would recommend getting at least once is the Dole Whip. Especially on a hot day, this is a nice treat that will help you cool off and can be somewhat filling. Mix n match with different flavors, and enjoy!
All in all, I haven't gotten around to trying every single place at Disney. There are places I'd still love to try, and there are places I probably won't go back to. And that's okay! You're bound to find something you like at every single park.
#30atv #30a