FREEPORT MAN ARRESTED AFTER INTENTIONALLY SETTING HOME ON FIRE; KILLING DOG
Posted on August 25, 2022
August 25, 2022
WALTON COUNTY, Fla— A freeport man has been charged with arson and animal cruelty after intentionally setting his home on fire and killing one of the family dogs.
Walton County Sheriff's Office and Walton County Fire Rescue initially responded to the home on Madiera Drive in Freeport just after 9 pm Wednesday night. Deputies evacuated numerous homes while firefighters fought the blaze.
When first responders arrived, the home was fully engulfed, and the owner, Kevin Powell, 46, was behaving very erratically. At one point, Powell retrieved a tool from one of WCFR's fire engines and was using it to damage his vehicle.
He was detained for his own safety and later admitted to setting his house on fire, spreading ammunition around the inside of the home, locking his two dogs in a closet, and lighting the floor outside of it on fire. Only one of the dogs escaped the home. While in custody, Powell was verbally abusive and continually made attempts to get out of his handcuffs.
Powell was charged with second-degree arson and animal cruelty and was transported to the Walton County Jail.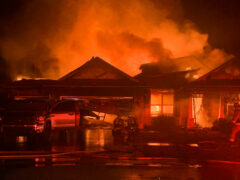 https://waltonso.org/news/feed/