Date/Time
Date(s) – 10/14/2022
3:00 pm – 6:30 pm
Location
Watersound
Categories
Discover "An Offer of Flight & Flower" with Artist Gretchen Weller Howard
When:
Friday, October 14
3:00 pm – 6:30 pm
Where:
Adaro Art Gallery
21 Hub Lane
Watersound, FL 32461
Adaro Art is pleased to welcome the public to "An Offer of Flight & Flower" with Artist Gretchen Weller Howard on Friday, October 14th, from 3:00pm to 6:30pm and Saturday, October 15th, from 10am to 1pm at the art gallery located at 21 Hub Lane in the Shops at the Hub. Each exclusive event will offer the chance to meet the New Orleans-based artist, preview new works, sip on champagne or mimosas, and make new connections.
"Gretchen Howard and her pieces have a magical force that immediately draws each person not just to them but into them. The colors she uses, the whimsical,
weightless style of the pieces, and the stories and symbols become a conversation between Gretchen and the viewer," says Brooke Gontarek, gallery co-owner and wife of artist Francisco Adaro. "When anyone sees her work, the first reaction is an audible gasp—then they go run and get their friends or partner to look at its beauty. The second reaction usually points out their favorite gorgeously feathered bird or tasseled vessel."
A self-described "symbolic colorist," Howard employs multiple mediums of acrylic, plaster, remnants of paintings lost during Hurricane Katrina, pencil, and crayon to
convey secret narratives in her vibrant, multi-dimensional works. Each piece tells a story through symbols such as vessels, birds, pearls, and ladders. Howard's work has been displayed at Adaro Art since 2021 and can also be viewed at Gallery Orange in New Orleans' Historic French Quarter.
Howard had been a frequent visitor to the 30A beaches before joining the roster at Adaro Art. "I don't think there's a more colorful, intimate gallery setting than Adaro Art," adds Howard, a profiled artist in the upcoming October Art & Style issue of VIE Magazine. "I look forward to meeting more locals and homeowners and sharing my stories. People often ask me if revealing the secrets behind my works removes the mystery, but I think it only adds to it when people see themselves in the story and connect to it on a deeper level."
The Friday edition of "An Offer of Flight & Flower" will feature champagne, and mimosas will be offered at the Saturday event. Both gatherings are complimentary and open to the public. Adaro Art is located at 21 Hub Lane, Watersound, FL. For more information, please visit www.adaroart.com or follow on Facebook at www.facebook.com/adaroartgallery or Instagram @adaroart.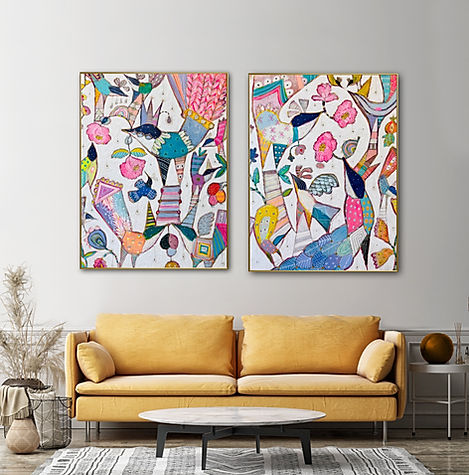 https://30a-tv.com/events/discover-an-offer-of-flight-flower-with-artist-gretchen-weller-howard/ #30atv #30a @30atv