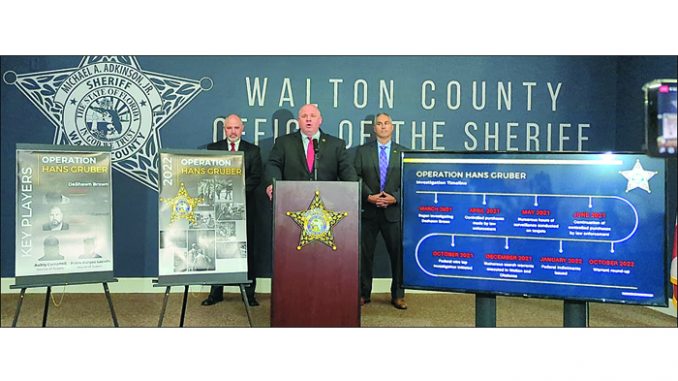 From RUBY KEARCE
Assistant Special Agent for the Drug Enforcement Agency Mike Dubet and United States Attorney Jason Coody joined Walton County's Sheriff, Michael Adkinson, at a press conference Thursday evening, Oct 27, regarding Operation Hans Gruber. This operation represents a year-long investigation that had come to a head that morning.
Members from Walton county Sheriff's Office (WCSO) joined forces with the Department of HomeLand Security to make 25 arrests for Conspiracy to Traffic Cocaine in Walton County and surrounding counties, with four suspects still at large and more warrants expected. Four of the arrested suspects have already been federally indicted, have pleaded guilty, and are awaiting sentencing. The remaining individuals have been charged by the state and are awaiting arraignment.
Over the course of the WCSO investigation, they have successfully taken into custody upwards of 3,000 grams of cocaine, 2,500 grams of cannabis, multiple firearms, and 50 grams of crack. Regarding the length of the investigation, Sheriff Adkinson said "Making an arrest is half the battle; the other half is that it must lead to a successful prosecution, and I think that is where the time and effort has led."
U.S. Attorney Coody said, "These investigations take time and the citizens should know that it is not a matter of how quickly or expeditiously an arrest is made, but that the prosecutions are built in such a way that the community is safer as a result of the monumental effort that has been taken."
When asked about what started the investigation Adkinson answered, "good solid police work has developed intelligence that has been built layer upon layer on top of it." Atkinson went on to specify this was one of the largest investigations regarding the conspiracy to traffic cocaine when asked if this was the largest operation WCSO has dealt with.
Asked if all the suspects knew each other, Adkinson explained that this was a sizable operation regarding multiple counties and that many of the suspects did not know each other. Adkinson was also asked where the cocaine could be coming from, and Adkinson carefully answered that he can say Texas and Puerto Rico are two certain entry points.
"It is very grinding work, and it has to be done correctly so that it survives challenge at trial. That's not a very easy thing to do," said Adkinson, "With government today specifically, you worry about if you are getting your money's worth, are you getting progress, and I think this is exactly what people want out of their government… The number one priority of the government is public safety."
Adkinson went on to express the importance of being able to work hand in hand with other agencies, instead of working against each other.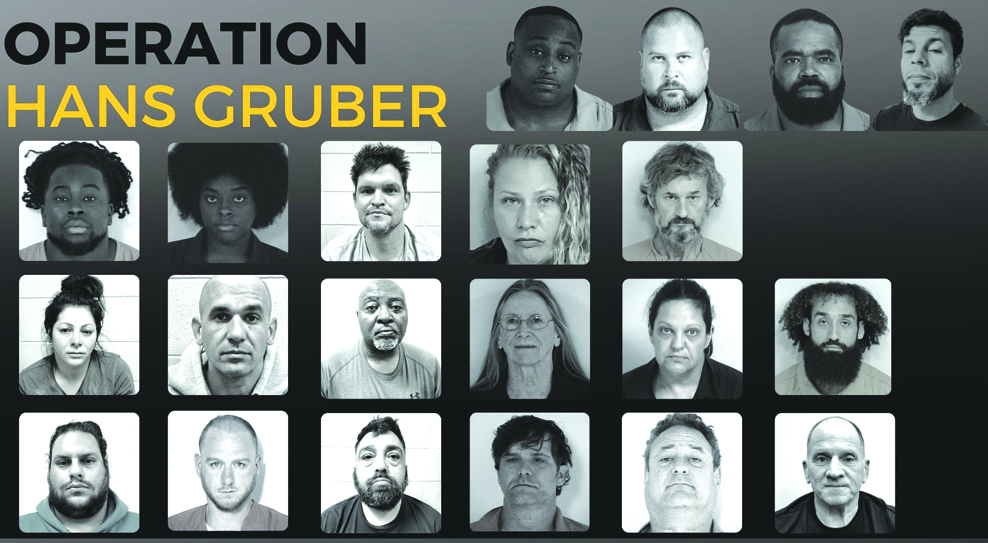 Hans Gruber suspects arrested
Federal Indictments:
Deshawn Brown, 51, of Santa Rosa Beach, Conspiracy to Distribute and Possess with Intent to Distribute 500 grams or more of Cocaine; Possession with Intent to Distribute Cocaine
Pablo Burgos-Lozada, 44, of Fort Walton Beach, Conspiracy to Distribute and Possess with Intent to Distribute 500 grams or more of Cocaine; Possession with Intent to Distribute Cocaine
Aubry Campbell, 37, of DeFuniak Springs, Possession with Intent to Distribute a Controlled Substance, Possession of a Firearm by a Convicted Felon
Jeffrey Williamson, 38, of Niceville, Florida, Distribution of Cocaine
State Charges:
Walton County
Ernest Dan Jean Jr., 58, Two Counts Conspiracy to Purchase Cocaine, Use of Two-Way Communication Device to Facilitate a Felon
Curtis Hadinger, 53, Five Counts of Conspiracy to Purchase Cocaine, Use of Two-Way Communication Device to Facilitate a Felon
Ryan Jones, 46, Five Counts of Conspiracy to Purchase Cocaine, Use of Two-Way Communication Device to Facilitate a Felony
Edward Karsauskas, 59, Two counts of Conspiracy to Purchase Cocaine, Use of Two-Way Communication Device to Facilitate a Felony
Alan Moore, 35, Conspiracy to Purchase Cocaine, Use of Two-Way Communication Device to Facilitate a Felony
Anthony Turchia, 31, Four Counts of Conspiracy to Purchase Cocaine, Use of Two-Way Communication Device to Facilitate a Felony
Domonique Weeks, 38, Two counts of Conspiracy to Purchase Cocaine, Trafficking in Cocaine, Use of a Two-Way Communication Device to Facilitate a Felon
Maxwell Wester, 36, Conspiracy to Purchase Cocaine, Conspiracy to Distribute Cocaine, Use of Two-Way Communication Device to Facilitate a Felon
Robert Garcia, 51, Three Counts of Conspiracy to Purchase Cocaine, Use of Two-Way Communication Device to Facilitate a Felony (Walton & Okaloosa)
Geoffrey Brower, 46, Three Counts of Conspiracy to Purchase Cocaine, Two Counts of Use of a Two-Way Communication Device to Facilitate a Felony (Walton & Okaloosa Charges)
Heather Newsome, 45, Three Counts of Conspiracy to Purchase Cocaine, Use of Two-Way Communication Device to Facilitate a Felony
Karen Crabb, 72, Three Counts of Conspiracy to Purchase Cocaine, Use of Two-Way Communication Device to Facilitate a Felony Joshua McNeil, 27, Possession of Methamphetamine, Possession of Heroin, Possession of Cocaine
Suake'via Gilmore, 24, Possession of Methamphetamine
Okaloosa County
Irina Pasare, 37, Four Counts of Conspiracy to Purchase Cocaine, Use of Two-Way Communication Device to Facilitate a Felony
Francisco Garcia Jr., 36, Conspiracy to Purchase Cocaine
Bobby Baldon, 61, Conspiracy to Manufacture a Controlled Substance (Crack Cocaine), Conspiracy to Purchase Cocaine, Use of Two-Way Communication Device to Facilitate a Felony