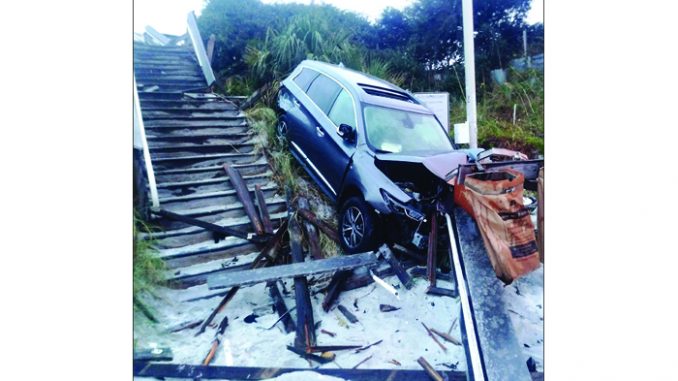 By DOTTY NIST
Blue Mountain Beach Regional Beach Access has been closed until further notice in the wake of a SUV having hit part of the beach access structure and run down the slope to the beach.
According to a Florida Highway Patrol (FHP) report, the SUV, driven by a 34-year-old man from Aurora, Ill., had been traveling down CR-83 toward Blue Mountain Road at a high rate of speed at approximately 5:10 a.m. on Oct. 30 during inclement (damp) weather, when the vehicle collided with the beach access walkway and then proceeded down the slope, coming to rest at the bottom of the dune walkover, facing south.
The driver of the SUV stated that he had fallen asleep at the wheel, according to the report.
He was not injured and the report does not indicate that there were any passengers in the SUV. The name of the driver has not been released.
According to a report by NewsChannel 7, FHP indicated that field sobriety exercises had been conducted on the driver, he was not determined to be under the influence of alcohol or drugs, and he was issued a citation for careless driving. The Herald/Breeze was not able to confirm these details independently with FHP.
Contacted by the Herald/Breeze on Oct. 31, Walton County Beach Operations Director Brian Kellenberger commented, "The accident and subsequent retrieval of the vehicle back over the dune caused extensive damage to the boardwalk/dune walkover. The entire boardwalk and portions of the sidewalk and curb will need to be replaced. I am working with our Legal and Purchasing departments to determine the quickest way to get started and complete the design/permitting/contracting processes to get the facility rebuilt. I am not sure on the schedule at this time, but for the immediate future the public beach access will be closed. I anticipate that even with an expedited design/permitting/construction process it will take between three to six months to re-open."
In response to a question, Kellenberger said a tow truck was used to remove the SUV from the beach by pulling it back up the slope and over the dune and boardwalk.
Plans are for Beach Operations to provide updates on progress with repairs to the beach access.