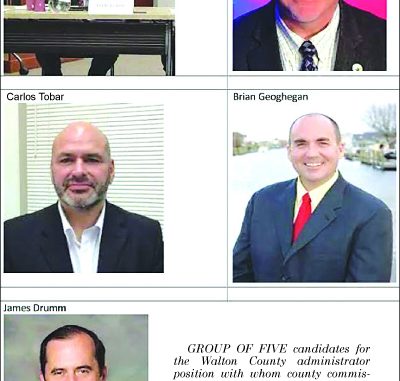 By DOTTY NIST
After operating for over seven months with an interim county administrator, the Walton County Board of County Commissioners (BCC) has taken action aimed at filling the vacant county administrator position.
The officials took up the matter at their Nov. 10 regular meeting at the Walton County Courthouse, prompted by Walton County Human Resources Director Nathan Kervin, who asked for direction on the search for a county administrator.
In September, the BCC had voted to schedule interviews with six candidates whose resumes were among a total of 40 obtained in connection with the vacancy, the resumes having been furnished by GovHR USA, the search firm enlisted by the commissioners.
The six candidates approved for interviewing had included Alan S. Braithwaite of Oldmar, Fla., Dale T. "Doc" Dougherty of Garden City, Mich., James D. Drumm of Lancaster, Pa., Brian Geoghegan of Howell, N.J., Rick Rudometkin of Huntsville. Texas, and Carlos Tobar of Milledgeville, Ga.
The commissioners met individually with the five of the six candidates (Dougherty, Drumm, Geoghegan, Rudometkin, and Tobar) on Oct. 12 for interviews, according to information provided at the BCC meeting. (Braithwaite is no longer under consideration since he withdrew his application, according to Walton County Public Information Officer Rachel Jenkins.)
At the Nov. 10 BCC meeting, District 4 Commissioner Trey Nick kicked off discussion on the matter with a suggestion that staff seek a contract with Interim County Administrator Tony Cornman and give him the first option to become the new county administrator. Nick moved to proceed in that manner.
Since April 2022 Cornman has done double duty as Walton County County Code Compliance director and interim county administrator.
Nick's motion died for lack of a second, with District 5 Commissioner Tony Anderson, District 2 Commissioner Danny Glidewell, and District 1 Commissioner Boots McCormick all indicating that they had spoke with Cornman—and that he had stated that he was not interested in the job other than on a temporary basis, although he was certainly willing to continue to assist until the position was filled.
Plans have been for Cornman to return full time as code compliance director once a new county administrator is hired. Cornman was not present at the Nov. 10 BCC meeting.
Glidewell said that he would readily have seconded Nick's motion to extend the offer to Cornman, had he not gotten "a very stringent no," from Cornman when the interim administrator was asked about his interest in the county administrator position.
Glidewell moved to enter negotiations with candidate Carlos Tobar, but later withdrew his motion when Anderson asked that the commissioners instead rank the candidates before voting to direct negotiations. The officials then opted to proceed with the rankings.
After individual scoring by each of the commissioners and averaging of those scores, Tobar emerged as the top candidate. followed by Dougherty in second place and then Rudometkin, Geoghegan and Drumm, in that order.
The commissioners approved a motion to have staff negotiate to hire Tobar and then proceed with Dougherty if unsuccessful with Tobar. The vote to do so was 3-2, with BCC Chairman Barker and McCormick voting no.
Tobar is county manager for Baldwin County, Ga., and Dougherty is city manager for Garden City, Mich., according to their resumes.
Any contract negotiated in response to the BCC direction is to come back before the commissioners for final consideration.