By Tad Hunter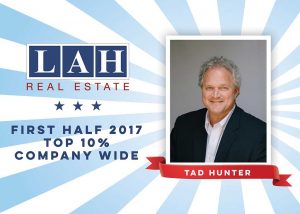 I began my draft for this month's Real Estate update reflecting upon how fortunate we had been avoiding any serious damage from Hurricane Irma. We can now add Hurricane Nate to that list as well. It has been a decade since the Emerald Coast has seen any significant hurricane impact. We are all blessed each and every day in more ways than we can imagine. Sometimes it takes the passing of a storm to remind us of our favor.
RealJoy Vacations took several actions during Hurricane Irma to assist evacuees. First, because our in-house software adjusts rates based upon demand, our rates would normally increase automatically because of the sudden influx in travelers. We anticipated the rate hike and froze prices at lower levels so that we wouldn't unduly "profit" from our Florida neighbors' disaster. Secondly, RealJoy's marketing team quickly got the word out to evacuees through social media that we had homes for rent. Occupancy within the 6-day window popped to a high of 94 %. Overall, we provided 589 guest bookings, collected rent for our owners in a normally slow period, and donated $7,500 to the Red Cross.
An interesting result of Hurricane Hermine from October 2016 occurred this summer. While we all know and love Destin and 30A, it was for many evacuees, their first visit to the area. Recall that last year Hermine was headed towards us but then moved eastward in the days before landfall. RealJoy saw many of last year's evacuees return to vacation here this year. October in Destin is always beautiful. The secret gets out more and more each year and the number of visitors to our area is always increasing. I suspect that next summer many people who thought that all of Florida's beaches looked like the Atlantic and southwestern coast will return to vacation. Strange how a storm can help to market your favorite beach.
An update for vacation property owners:
The popular website Vacation Rental By Owner or "VRBO" has made many changes since it was purchased by the Expedia group. It has transformed itself from a listing platform serving individual property owners into a "transaction" oriented site serving large property managers. Expedia realized that it is more profitable serving 1 management company with 300 properties than serving 300 individuals with 1 property each. The company implemented a transaction fee per reservation upsetting many long time users of the service. Expect the fee to increase this year. It has also been announced that the phone number of the property owner will no longer appear in the ad homepage. The removal of the contact information will eliminate the ability of owners to bypass the fee system in an effective way. A positive for owners with updated properties and for consumers is that better properties will appear higher in the search function. The transaction nature of VRBO will reward properties that book frequently with higher search results. Expect numerous changes between now and next Spring as the rules of vacation marketing are changing rapidly. It is becoming more difficult for small companies, individuals, and on site managers to dedicate the resources needed to stay up to date with these requirements. Pay attention or your property may disappear into a search "blackhole".
Ask your manager how your home or condo is being marketed properly to take advantage of these changes.
Tad Hunter is a Realtor serving families in the Miramar Beach and South Walton area. He is a partner in the RealJoy Vacation company which provides property and vacation management services in the area for 8 years. Tad and his family are residents of Sandestin. Tad can be reached at 318-308-7270
Other Articles by Tad Hunter
Demand is High, it's a great time to buy