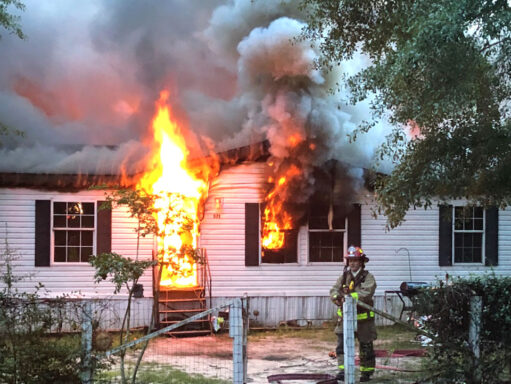 June 13, 2018
Freeport, Fla- Walton County Fire Rescue Firefighters extinguish the second residential fire of the day.
Just before 7:30 PM on Tuesday, June 12, 2018 Walton County Fire Rescue responded to a 911 call in reference to a structure fire at a mobile home on Black Creek Boulevard in Freeport. Firefighters and Paramedics arrived on scene to find heavy smoke and flames coming from inside the home.
The residents of the home and the family's dog were standing outside of the burning home unharmed. They informed Walton County Fire Rescue crews that their family dog had nine puppies that were still inside the smoke-filled home. Unfortunately, firefighters were unable to save the litter puppies.
The fire is believed to be caused by electrical issues. The American Red Cross was contacted to assist the residents of the severely damaged home.