By Mary Chris Murry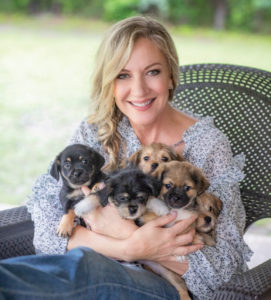 Local Laurie Hood, founder of Alaqua Animal Refuge, is the epitome of an extraordinary animal advocate and an exceptional leader in the animal welfare community. She is a visionary and change maker who has brought more awareness to the plight of abused, neglected and homeless animals in Northwest Florida than any other individual or organization.
A passionate animal lover since she was a child, Laurie founded Alaqua in 2007 upon discovering that countless animals were being euthanized in five nearby counties, including her own, due to the lack of a no-kill shelter or adoption organization in the area. Laurie never intended to start an animal rescue. However, this situation was not acceptable for any animal. It certainly wasn't acceptable for Laurie, and Alaqua Animal Refuge was established practically overnight.
Initially providing shelter to 38 animals, Alaqua has helped find homes and provided sanctuary for tens of thousands of animals, and has grown to become the Southeast's premier no-kill 501(c)3 refuge and sanctuary, as well as a recognized leader in animal welfare and cruelty prevention in our region, the state and around the U.S. The shelter has expanded into a refuge that provides respite for over 350 animals at any given time. Since its founding year, Alaqua staff and volunteers have helped find homes for more than 15,000 animals, with up to 100 adoptions completed each month.
With Laurie at the helm, Alaqua is currently undertaking a bold endeavor to build a one-of-kind facility and sanctuary on 100 acres of donated land in Walton County. The new Alaqua home will be the first of its kind in the U.S., will be a model for animal sanctuaries around the world and a destination for animal welfare advocates as a place that will inspire, educate and empower others to make change.
Alaqua's new location will increase their sheer land space tenfold where they will have the ability to serve more animals, conduct safe educational tours, host larger community educational programs, and provide an educational and training center where people from all over the country, and world, can come to visit and learn.
During the practice of healing thousands of abandoned and abused animals, Laurie realized that people could also be helped through the powerful effects that interactions with animals have on the human spirit and body. The new sanctuary will allow Alaqua to continue the important work that is done now, expand their scope of animal welfare services and programs, and be an inspiration for creating a kinder, more empathetic, and healthier society by healing animals and people. Keeping in alignment with its overall vision, Alaqua will continue its commitment to these focus areas: Rescue, Rehabilitation, Adoption, Education and Training.
Driven by faith and perseverance, Laurie sees a living soul in every animal and feels compelled to be its voice. Her boundless enthusiasm, loving heart, and extraordinary courage keep Alaqua's staff, volunteers, and board of directors moving forward in support of Alaqua's mission—ensuring that every abused, neglected and homeless animal deserves a second chance—at life, hope, happiness, and most of all, love.
"Laurie makes extraordinary things happen for animals," said Wayne Pacelle, former CEO of the Humane Society of the United States and New York Times Best Selling Author. "She's a turnaround artist, taking animals from the darkest of places to the promise of peacefulness."
The work of Alaqua couldn't be done without Laurie leading the way. From rescue to intake to rehabilitation, and everything in between, she is there for it all. She is truly the heart and soul of the organization and it has become her life's work.
Alaqua is located in Walton County, but serves surrounding counties including Okaloosa, Bay, Holmes, Washington, Franklin and Santa Rosa. Also serving the greater Southeastern U.S. when there's a need, Alaqua has rescued animals from Florida, Georgia, Louisiana, Mississippi, Alabama, and across the country. Alaqua the leader in our area in the coordination of animal relief efforts in the Panhandle, and works with national organizations to help provide assistance when necessary. For more information about Alaqua's relocation, campaign, volunteer opportunities, adopting or fostering a pet, or purchasing tickets to the upcoming Animoré event, an inaugural benefit for the love of animals to be held on the grounds of Alaqua Animal Refuge's future home in Freeport, visit www.Alaqua.org.
The post Meet Laurie Hood: A Visionary Extraordinaire and Hometown Hero appeared first on South Walton Life | 30A News, Events and Community Information.
South Walton Life | 30A News, Events and Community Information South Walton Life | 30A News, Events and Community Information READ MORE