Just in time for Memorial Day, vacation rentals in the Florida panhandle are allowed to book guests again. As of May 19th, officials have approved the Walton County plan to reopen short-term rentals effective immediately. View the Walton County Short Term-Rental Plan here.
Walton, Bay, Okaloosa, Gulf, Franklin, Escambia, and Santa Rosa Counties are all now allowed short-term rentals after Governor Ron DeSantis approved each county's rental safety plans submitted last week.
Vacation rental reservations, from areas identified by Governor DeSantis as high risk, through Executive Orders EO 20-86, Louisiana and EO 20-82, New York, New Jersey and Connecticut, must be for periods longer than the quarantine period established in that Order. All persons entering Florida from areas with substantial community spread must self-isolate/quarantine for 14 days or the duration of the person's presence in Florida, whichever is shorter. For the safety of all residents and visitors, we will encourage our tourism partners not to rent to guests from high-risk areas.
Other recent reopening measures:
THE BEACHES ARE OPEN with social distancing and event restrictions.
As of May 18, restaurants were allowed to open at 50% capacity indoors and outdoor seating is encouraged. Retail, museums and libraries were also allowed to open at 50% capacity indoors.
Gyms and fitness centers reopened as well with social distancing and sanitizing of equipment after each use. "If you're inside, make sure you're doing the social distance and then sanitize machines and surfaces after use," he said. "I mean, that should be happening anyway."
Barber shops, hair salons and nail salons re-opened May 11 while adhering to safety protocols.
Professional sports teams can also train and teams are welcome in Florida.
Theaters and bars remain closed for now.
Theme parks will be able to reopen as they submit a plan that is approved.
State Parks began re-opening May 4. During the early phase of re-opening, visitors should expect limited hours, capacity and amenities.
For more information:
See Gov. DeSantis Plan for Florida Recovery
Visit South Walton Coronavirus Travel Updates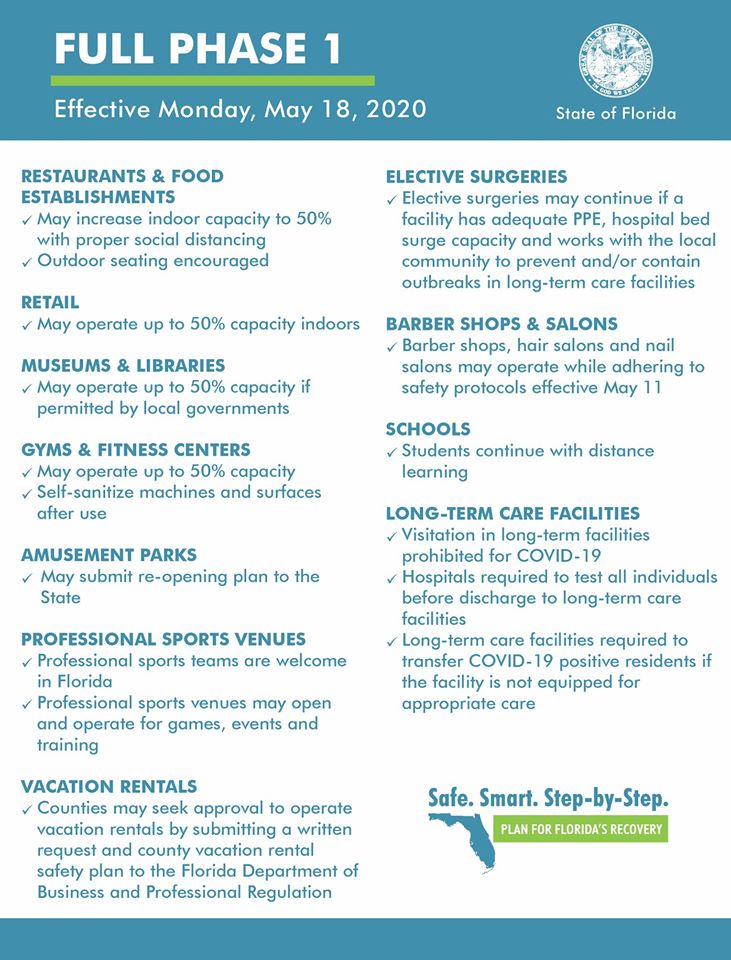 The post Florida Reopening Update: Walton County Opens Short-Term Rentals appeared first on South Walton Life | 30A News, Events and Community Information.
South Walton Life | 30A News, Events and Community Information South Walton Life | 30A News, Events and Community Information READ MORE