By David White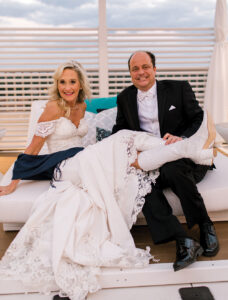 The creative genius that is the combination of Kristi Rockwell and Cameron Tharp have come a long way from the Hawaiian Island of Maui, where they met by chance more than a dozen years ago. Cameron, a rather unassuming man, was working as an international business consultant, and Kristi was working as an intensive care trauma nurse. Both were born and raised in Alabama—Kristi in Birmingham and Cameron in Mobile. As fate, or perhaps faith, would have it, both were compelled to return home to care for their ailing parents. The experience would create a bond destined to transition their lives in a whole new direction.
Cameron says the idea of designing custom boot wear came from a desire to combine their natural creativity with their love of travel. On a trip overseas, they designed prototypes for friends and family members. "The original boots we produced were a beautifully embroidered, knee high design," says Kristi. Cameron remembers the first time Kristi wore them. "We couldn't get through the airport without ladies stopping us and asking where they could buy a pair. That's when we realized we were on to something."
The couple began selling a collection of 10 designs to boutiques throughout the U.S. and Canada. The business grew, and over the years, Rockwell Tharp has had the privilege of designing boots and handbags for hundreds of stores. The duo has been commissioned to design many boots for celebrities around the world, such as the bands Heart, Survivor and Quiet Riot – and their wives! Rockwell Tharp has been featured on The Today Show with Kathi Lee Gifford and Hoda, CBS News, The History Channel and American Idol.
In 2016, the couple decided to settle down and make Sandestin home and in 2017 opened the Rockwell Tharp Ladies Boutique, choosing the Village of Baytowne Wharf for its permanent location. This is the only store in the U.S., where you can see the entire collection of boots and handbags in one location, including limited editions.
"People flock here, because, from a fashion perspective, boots are so on trend; they make a beautiful statement. We enjoy helping ladies express their unique style, and by having exclusive designs that everyone else doesn't have, that's our niche!"
In July, Rockwell Tharp celebrated 10 years in business! In February, Rockwell and Tharp solidified their union with their wedding at the Chapel in Seaside followed by their reception at the fabulous rooftop of the new Hotel Effie at Sandestin Golf and Beach Resort. "It was an absolutely glorious day and God's hand was on so many of the details. We were honored for friends and family to come for their first time to experience the beauty of Sandestin and Seaside Chapel. From the ceremony to the reception, it was all so breathtaking. My heart was filled with such joy and happiness, I could barely believe it was our wedding," exclaimed Kristi!


The Rockwell Tharp reception was the first such event ever at Hotel Effie, which opened in 2021. The festivities took place on the Hotel's Ara Rooftop pool deck, which features a bar, cabanas and a breath-taking view of the Gulf of Mexico, the Bay and the Village of Baytowne Wharf.
It was truly a magical event, capping an even more magical 12-year journey. "There's no place in the world like the Emerald Coast," says Tharp. "The water is warmer, the beaches are better, the people are so nice here. You just can't beat the southern hospitality! This area offers everything. It affords all the luxuries of a big city – restaurants, shopping, amenities and events all year long without having to live in the city. There's really something for everyone here!"
Many days, you can find Kristi and Cameron tending to their local Boutique at 141 Fisherman's Cove in the Village of Baytowne Wharf, located in the heart of Sandestin. For more information, call 850-837-1242 or visit www.rockwelltharp.com.
The post Rockwell and Tharp Have Come a Long Way! appeared first on South Walton Life | 30A News, Events and Community Information.