By Brittany Kirke
Even though it may be a few hundred feet away from the sand, this beachy bar will have you feeling fresh off the boat. Tim Jacobi and Don "DJ" Janovyak have been pelagic fishermen for over 40 years and grew up on big boats fishing recreationally, a popular activity in this area. With their new restaurant, they wanted to honor that and celebrate the fish caught on big rigs off Pensacola and Gulf Shores. They opened in late 2018, intent on emulating the vibe of paradise and putting it all into one building on the beach.
Curious about how they got their unusual name? Tim explains that pelagic fish "dart at bait and jump […] they move so fast that it looks like they're angry." The nature of the fish has become a sort of groundwork for the names of the food and drinks they serve.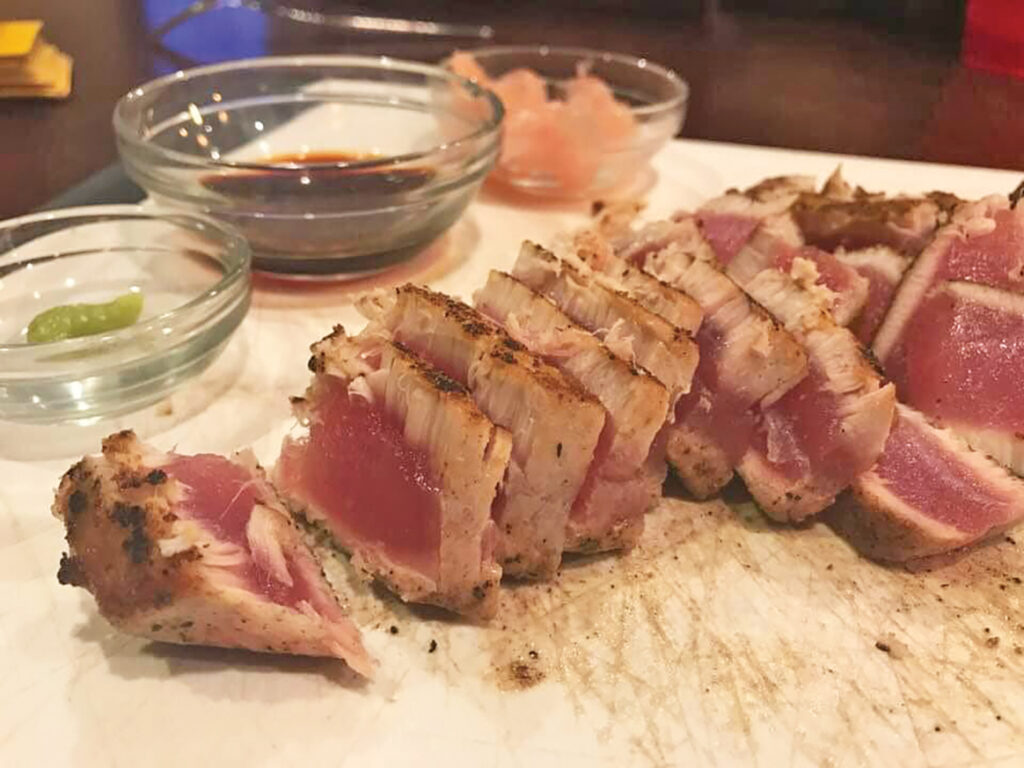 Menu Spotlights
Angry Ahi Tuna Oysters – Inspired and created by Tim's wife, Mary Beth. She was eating a seared tuna appetizer and then had a dozen oysters brought out to their table. When she got down to the last bit of her dishes, she combined them and fell in love with it. They are proud to offer the largest oyster bar on the beach at 26.5 ft long with three shucking areas and a pellet grill that gives the oysters a wonderful and smokey mesquite flavor if you like them cooked.
Cat 5 Hurricane – A drink big enough for two, this knock-out cocktail has five different kinds of rum AND a floater. If you can finish the drink, you get a t-shirt! It was inspired by Hurricane Michael which devastated the Florida Panhandle. The Angry Tuna was open for only nine days before the hurricane hit. Instead of letting that get them down, they took all the food they had and were able to feed the community. They cooked for all the emergency workers and were one of the few places that had electricity when it happened.
Angry Punch – The Tom Cruise cocktail, this is the drink you sip on when you're out on the boat watching dolphins swim by. Super fruity and light, when you think about a vacation, this is your drink.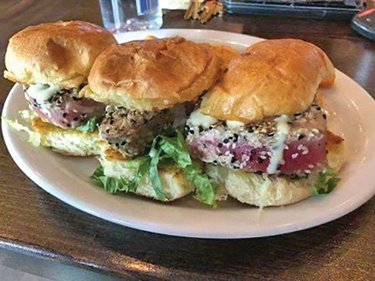 Seared Tuna Sliders – A house favorite, this dish comes with fries and showcases two seared Ahi Tuna sliders served on top of lettuce and ginger topped with wasabi cucumber sauce.
Weihenstephaner – A beer made by the monks, known as the oldest beer in Germany.
Hook and Cook – Bring in your fresh catch right off the boat and they'll cook it for you in house, served with two sides.
If you're looking for a lively spot to enjoy the view and ocean air, the atmosphere inside the Angry Tuna will feel like home to you. They have live music on the weekends, and you'll be amazed when you walk around the restaurant. Guests are welcome to bring in their own pictures to put alongside the memories that the walls hold.
There will be an oyster shucking contest at the end of the season on September 11, 2021. To stay updated, check out their Facebook page at www.facebook.com/angrytunaseafood.
The post Fresh Catch at the Angry Tuna appeared first on South Walton Life | 30A News, Events and Community Information.