By Mike Mahon
In the spring of 2012 Maury Hanks, founder and president of Global Sports, received a phone call from Steve Forbes, the highly successful men's basketball coach at Northwest Florida State College. Forbes had known about Hanks' reputation for hosting college basketball tournaments and thought Northwest Florida State would be a great site for a potential future tournament.
"Steve (Forbes) and I have been friends for more than 25 years," said Hanks. "Steve raved about The Arena and what a great facility it would be for both participating teams and fans."
From that telephone conversation until today the Emerald Coast Classic has developed into what national publication Bleacher Report calls the third strongest preseason college basketball tournament in the nation this season.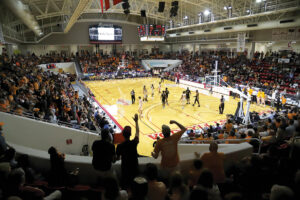 Through the combined efforts of Hanks and Global Sports and administrators from Northwest Florida State College, this annual event held every Thanksgiving weekend has turned into one of the premier sporting events in the area, attracting top college basketball teams from the best conferences in the nation: The Atlantic Coast Conference, Big East, Big Ten, Big 12 as well as the Southeastern Conference and the Pac-12 Conference.
A quick look back into history only serves as further testimony with past champs including Virginia which had several starters from its 2016 champion team lead the Cavaliers to the 2019 Final Four title; as well as Florida State (2019), Cincinnati (2018), TCU (2017), Iowa State (2015) and Ole Miss (2014). The annual economic impact to the community is estimated at $1.7 million.
The tournament will come full circle this Thanksgiving weekend Nov. 26-27 with Forbes returning as the second-year head coach at Wake Forest. "Northwest Florida State is a very special place to me and my family. I can't think of a better place to spend Thanksgiving with our team and our fans than Niceville and Destin while playing in such a prestigious event."
The semifinal round games on Nov. 26 will feature LSU playing Penn State at 6 p.m. Central Time, followed by Oregon State facing Wake Forest at 8:30 p.m. Central Time.
The championship game on Nov. 27 will tip off at 6 p.m. at The Arena at Northwest Florida State College with the third-place game set for 3 p.m.
The 2019 Emerald Coast Classic sold out within 48 hours after tickets went on sale as local fan favorite Florida State appeared along with Purdue, Tennessee and VCU. All four teams competed in the 2019 NCAA Tournament with Tennessee and Florida State advancing to the Sweet 16 while Purdue advanced to the Elite Eight.
"This is a first-class national level event unparalleled in quality as far as the teams it brings in and the competition level," said Dan Shugart, longtime sports director at WEAR TV. "I think it's obviously the premier collegiate sporting event around."
The eight-team tournament has gained a reputation as one of the best in the NCAA showcasing top talent that annually attracts several NBA scouts. The tournament also draws national media exposure to the Emerald Coast with CBS Sports Network televising both the semifinal and championship rounds. "The showing by these teams (LSU, Oregon State, Wake Forest, Penn State) last year has generated a lot of enthusiasm for our tournament from local area fans," said Hanks.
For further information including ticket information, visit www.emeraldcoastclassic.com.
Emerald Coast Classic History
2019 — Florida State, champion; Purdue, runner-up
2018 — Cincinnati, champion; Mississippi, runner-up
2017 — TCU, champion; St. Bonaventure, runner-up
2016 — Virginia, champion; Providence, runner-up
2015 — Iowa State, champion; Illinois, runner-up
2014 — Mississippi, champion; Cincinnati, runner-up
The post Emerald Coast Classic Has Evolved Into Premier Event appeared first on South Walton Life | 30A News, Events and Community Information.