By Deborah Carlson
"Music provides a very natural and universal means of building bridges between people" mused Alon Goldstein, an Israeli born classical pianist who performs all over the world. Alon's passion to "bring Carnegie Hall free of charge" to those who may not have access to such inspired him to form Emerald Coast Music Alliance, a not-for-profit organization that hosts week-long music festivals each January, bringing in world renowned musicians from all over the country to perform in Northwest Florida schools, senior centers, organizations for the developmentally or intellectually disabled, churches and more.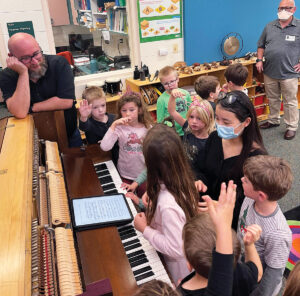 Emerald Coast Music Alliance (ECMA) held its sixth Music Festival recently, scheduling 50 live performances on January 6-14, with a total of six musicians and two dancers. Joining Alon were pianists: Regina Tanujaya, Crystal Jiang, Valerie Wellington and Junyi Nie. Boyan Bonev on cello returned for his second appearance as a guest musician, and the ECMA welcomed Jonathan Holden on clarinet. New to this year is the element of dance, featuring dancers Taylor Harrison and Kaitlyn Christiansen Sacco, who performed with the musicians.
A FREE concert open to the general public is held each year. This year, the concert was live on January 15 at Tyler Recital Hall, Northwest Florida State College, featuring the dancers and all musicians.
Alon calls these festivals a "win on all levels," because of the incredible impact it makes on both the audience and the performers. Guest musicians sense a "greater purpose as a musician" as they witness the power of music in how children, seniors and persons with disabilities respond to the beauty of classical music. Some of the unforgettable moments are moving and inspirational:
A woman in a senior center who had not spoken for six months began to speak to her husband after hearing a live piano performance. Another woman declared aloud that "she felt alive again."
Apprehensive residents of a developmentally disabled facility began to slowly filter into the room where a trio of cellists played – from a beginning audience of 5 to 120 residents who had been hiding, but listening – within 15 minutes. The director of the facility said that never before had this many residents sat in one room together.
Children in a Santa Rosa Elementary school got up and spontaneously began to sway their arms and interpret the music in movement.
High school students began opening up after a performance, asking questions to the musicians specifically about their instruments and how they developed their career in music.
Crystal Jiang, in her second year as one of our guest pianists, began to sing a Chinese folk song in her native language during her performance that enraptured her young audience. She asked them to visualize as she played; think of a story the music is telling, to dance or to sing. Crystal says she learns, too, from their comments and the description of emotions they feel as she plays. She invited them to sit on her lap to touch the piano keys, the personal contact that she says gives them a sense of collaboration; of performing with her. One child who was unruly became quiet and one of the most quizzically interactive after listening to a 300-year-old Bach piece. Crystal seeks to learn from her audience's responses which help her to discern if their reactions and emotions are those she is trying to convey through her music. One child told her she would be famous and asked for her autograph on his shoe in Chinese. Soon, all the children wanted her autograph!
Alon has a vision for the future of Emerald Coast Music Alliance; to expand its current role to include teaching seminars that connect young musicians in our schools with our gifted guest musicians and inspire them to pursue music.
The ECMA operates in cooperation with the Northwest Florida Symphony Orchestra and relies solely on donations to fund its festival expenses. Tax deductible donations are welcome. To learn more, visit us online at http://emeraldcoastmusic.org.
The post Gifted Musicians Greatly Impact Our Community's Children, Seniors and Disabled appeared first on South Walton Life | 30A News, Events and Community Information.