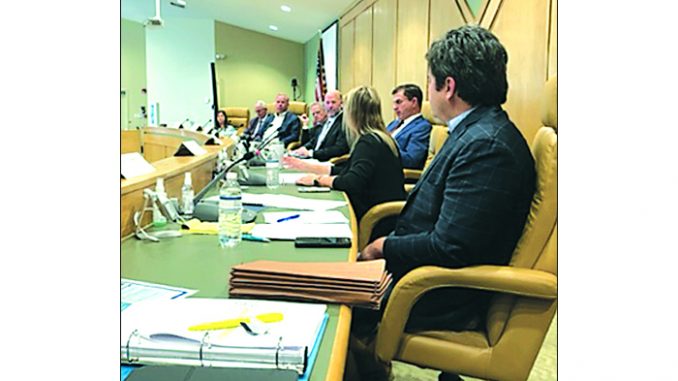 By RUBY KEARCE
The Triumph Gulf Coast Board met for a workshop in the Walton County Commission Chambers in Freeport on Wednesday, Nov 2.
Pamella Dana, Ph. D, one of the original Triumph Gulf Coast Board members who served from 2013 to 2021, served as Vice Chair in 2020, and was a crucial part of laying the groundwork for the Triumph Gulf Coast Board, was asked to relay a brief history of the Triumph Gulf Coast Board.
She reported that The BP Oil spill occurred in 2010, tainting gulf waters and staining beaches, leading to a decline in tourism, restaurant patronage and hotel stays, as well as being harmful to marine life. Both actual and perceived damage was detrimental to the entire state. So in 2011 the legislature began to address the negative economic and environmental impact of the spill, exposing the extreme vulnerability of Northwest Florida's economy, which instigated action to create a meaningful program to address the issue. In 2013 the Florida Legislature created the Gulf Coast Economic Corridor Act, intended to help diversify the economy in the way of funding, while also creating the Triumph Gulf Coast Board to guide grant funding.
Legislation requires Triumph Gulf Coast make awards to projects that meet the priorities for economic recovery, diversification, and enhancement of the region. Keeping in mind that economic strategy and goals can look different from county to county, between 2013 and 2017 the board held a number of workshops, public forums and listening sessions to discuss what they should prioritize in the grant processes and what they should invest in, while understanding each county's current goals and strategies.
The goal of Triumph Gulf Coast is to create an environment that will withstand future economic hardships. All parties agree that investments should be purposeful and meaningful. BP settled with the state of Florida to pay a total of $2 billion, with $1.5 billion to be overseen and dispersed by Triumph Gulf Coast over the course of 18 years, from 2018 through 2033. Seven years after the spill, in 2017, Triumph Gulf Coast was ready to start taking applications.
Benjamin Lee, a previous board member, was also in attendance to discuss the various types of proposals and projects that the Triumph Gulf Coast Board has funded, which include 32 projects revolving around workforce and education totaling around $115 million; 16 projects focused on infrastructure, two projects related to disaster relief during hurricane Michael, and one marketing project.
Scott Remington, Legal Counsel and Senior Partner at the Clark, Partington Law firm, approached the board, and discussed the disbursement of funds, explaining that a larger population does not mean a larger portion of the fund. For example, Santa Rosa County has a larger population than Walton County, but Walton County has a larger budget because each county has different needs and circumstances.
According to Florida Statute 288.8017, one of the priorities or goals of Triumph Gulf Coast is "to generate maximum estimated economic benefits based on tools and models not generally employed by economic input/output analysis including cross benefit, return on investment, or dynamic scoring techniques to determine how the long term economic growth potential of the disproportionately affected counties may be enhanced by the investment," Remington explained.
The list of discretionary priorities and goals set by the Triumph Board, that are not included in the statute, include transformation for the future of Northwest Florida, and creation of new jobs. In the early stages, the Triumph Gulf Coast Board asked each county to submit a wishlist of projects the county would like to see the Triumph Board fund.
For more information about Triumph Gulf Coast visit www.myfloridatriumph.com