Risa's Interiors hosts "Angel Tree" to benefit Caring and Sharing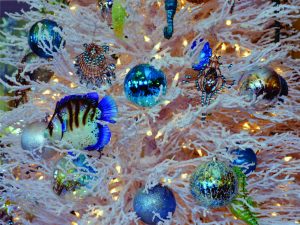 A stroll through Risa's Interiors in Miramar Beach this season will find you surrounded by all kinds of beautiful "Coastal Chic" Christmas Trees, decorated with unique ornaments of glittering gold and ornate sculptured figures; dolphins, sea animals and even a mermaid carrying the Star of David! Owner Risa Priestly certainly has a style all her own, as befits a 35-year veteran Gulf Coast Interior Designer.
This year, while shopping for your special tree, stop in to Risas, it's certainly worth the trip!
This year, the public will also have an opportunity to share their good fortunes with a family in need through Risa's collaboration with Caring for Sharing of South Walton. Each year, Caring and Sharing provides Christmas gifts to families here in our own backyard. This year, Risa's 'Angel Tree' will provide "A little something extra" to the Moms coming to pick up their children's Christmas gifts at the Caring for Sharing facility in Santa Rosa beach.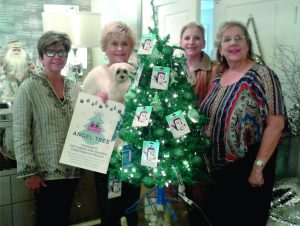 "When families, (mostly single mothers) come in to pick up gifts for their children, we like to a add gift card in the care package as well, just to help with the added expense the holidays bring", says Kim Hope, Director of Caring and Sharing. "We are so thankful to all our volunteers and everyone in our community that continues to show an amazing generosity. Your support is our inspiration," she said. This season, stop in to Risa's Interiors in Miramar Beach, Say hi to Risa and her wonderful staff and, be blessed as you are a blessing.