Habitat Walton County Doubles Volunteers at 2nd Annual Women Build Day
Over 37 volunteers dedicated time and strength to help build Habitat Homes 47 and 48 at all-women home build event.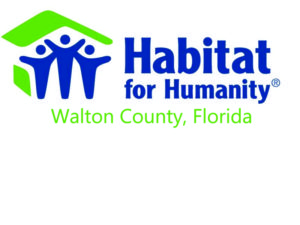 In December Habitat for Humanity of Walton County hosted the 2nd annual Women Build Day with over 37 volunteers, double that of the previous year. The all-women crew worked from 8:00 a.m. – 12:00 p.m. on new construction Habitat homes 47 and 48, located on Santa Rosa Street in Santa Rosa Beach.
Giving a collective 148 hours, volunteers painted bedrooms and bathrooms, learned construction skills, and used power tools to frame doors, hang interior doors, install shelving, and caulk window seals for two hardworking, deserving Walton County families – the Garricks and the Shaws.
Women of all skill levels were led by female crew leaders to help oversee the construction on-site. The day provided a bonding experience unlike any other. By the end, women who had never held an electric drill were confidently installing closet shelving; others who had only used a hammer and nail were cutting door frames with jigsaws!
Volunteers were treated with a special mid-morning healthy spread, catered and donated by The Honeycomb – A Boutique Culinary Experience, as well as meeting and getting to know the future homeowners of build 48, Samantha Garrick and her two daughters, who volunteered alongside the women.
Samantha shared her story of losing her husband, the family's sole provider, suddenly and tragically in 2015. Since then, she and her two daughters have been living in a one-bedroom studio above a friend's garage. Through homeownership with Habitat, Samantha is hopeful for their future and excited to have a place of their own again.  
"Getting to watch Sam and her youngest girl paint the front door of their new home was especially touching," noted Cindy McCue, Women Build committee volunteer and crew leader, "A cheerful pink, so fitting of their bright personalities and happy outlook."
Positive feedback from Habitat's 2016 Women Build Week and requests for more women-centered volunteer opportunities lead Habitat to introduce a Women Build Day to the program last fall. Held the week before Mother's Day each year, Women Build Week is filled with build days and other women-centered activities, giving women the opportunity to come together to support, empower, and uplift one another while working together to build and advocate for decent, affordable homes in Walton County.
Habitat Walton County will host the 2018 Women Build Week from Friday, May 4 through Sunday, May 13. New volunteers are welcome and no prior construction skills are needed. Women willing to learn, looking for camaraderie and an opportunity to make a hands-on difference for families in Walton County are encouraged to participate.
For more information about sponsorship opportunities, donating in-kind, monetary gifts, team builds or volunteering, visit waltoncountyhabitat.org or call (850) 660-1681.
Celebrating over 20
years of building houses and hope in Walton County, Habitat for Humanity of Walton is a non-profit Christian housing ministry dedicated to eradicating substandard housing by building simple, decent, affordable homes in partnership with low and very-low income families in need.. For more information, visit waltoncountyhabitat.org or visit the Habitat for Humanity RESTORE on Hwy  393  in Santa Rosa Beach.