February Happenings at The Village of Baytowne Wharf in Sandestin
Located along the shores of the Choctawhatchee Bay in Sandestin, Florida,   The Village of Baytowne Wharf features an array of boutiques, eateries, galleries and nightlife — not to mention a jam-packed schedule of outdoor festivals and special events for the entire family. Recently voted Best Place to Be Seen on the Emerald Coast and Best Local Attraction, Baytowne Wharf features 16 retail shops, 11 activity and entertainment establishments, and 18 award winning restaurants and night clubs. This month we have four great events for the public to enjoy!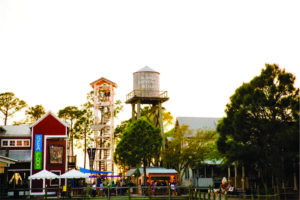 15th Annual Mardi Gras Dog Parade
February 11, 2018; 2 p.m.
The Village of Baytowne Wharf at Sandestin Golf and Beach Resort
Join Sandestin for the annual Mardi Gras Dog Parade featuring "Bone Appetit" as this year's theme. The streets will be filled with costumed dogs and their humans throwing a myriad of throws, beads, and parade favors. Themed convertibles, small floats (pulled by masters), golf carts, bicycles, and decorated wagons will be everywhere and Mardi Gras music will fill the air! The Mardi Gras dog parade is one of the premier canine events on the Emerald Coast with members of the four-pawed community coming far and wide to participate.
16th Annual Fat Tuesday Baytowne Bash Parade
February 13, 2018; 5 p.m.
The Village of Baytowne Wharf at Sandestin Golf and Beach Resort
Prepare to let your hair down on what many call the most festive day of the year, Fat Tuesday, the day before Ash Wednesday. "Laissez les bon temps rouler" (let the good times roll) with the 16th annual Fat Tuesday Baytowne Bash Parade rolling through Sandestin. Yell "throw me something mister" as unique and colorful floats, golf carts, and pick-up trucks roll down the streets and marchers dressed up in all their Mardi Gras best shower parade-goers with a barrage of beads, moon pies, and other trinkets. The post-parade celebration continues into the night at various Baytowne establishments.
 Sandestin Gumbo Festival
Feb 16 & 17
The Village of Baytowne Wharf at Sandestin Golf and Beach Resort
The Sandestin Gumbo Festival has been known as one of the largest and most popular winter food events along Florida's Emerald Coast. Now in its 29th year, the event takes over The Village of Baytowne Wharf during Presidents Day weekend. Kick-off the weekend Friday, Feb. 16 at Hammerhead's Bar & Grill with a delicious Baytowne Seafood Boil beginning at 5 p.m. On Saturday, Feb. 17 from 12-4 p.m. guests will enjoy live Zydeco music from Dikki Du and the Zydeco Krewe, family activities and the best gumbo cook-off on the Gulf Coast.
Festival guests can vote for "The People's Choice" awards in gumbo and become eligible for raffle items from the participating restaurants. After "The People's Choice" honors are given, judges will award first, second and third place for the participant categories, and even a "Best Display". This year, event sponsor Community Broadcasters is awarding a $1,000 commercial prize package to their favorite gumbo. The awards ceremony will begin at approximately 4 p.m.
Tickets are $25 in advance and $30 on event day and are now available to purchase atSandestinGumboFestival.com.
Bubbly Baytowne
February 22, 2017; 5pm
The Village of Baytowne Wharf at Sandestin Golf and Beach Resort
Sip and shop through the Village streets. Enjoy an evening of champagne, live music, and shopping during the Bubbly Baytowne event. Stop in various retail merchants as you enjoy a selection of premium champagnes
*This event is free and for 21 and up only. The Village will be open to the public during this event.
For more information on events and merchant happenings, follow Baytowne's Facebook posts and live tweets.https://www.facebook.com/baytownewharf/